Gabriel Vitale Receives First "Award of Excellence in Sweeping"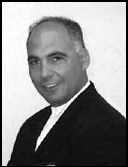 In recognition of the tremendous effort he has made during his 2 years as president of NCSI, (now called naPSa) and for his other contributions to sweeping, Gabriel Vitale was chosen as the first recipient of our sweeping industry Award of Excellence.
Except for a 7-year sabbatical, during which time he also earned a degree in marketing at Arizona State, Gabriel has been, in his own words, "in the sweeping business since grammar school. When I first started with this we were a 3-sweeper operation and we have been fortunate to have grown tremendously over the years. A good portion of our success I attribute to what I have gained through networking with other members of NCSI. I was able to realize that I was not the only one with the same problems, and that there were other people out there who have the answers. "It was my intent to make NCSI an association that had so much to offer that others in sweeping couldn't afford not to belong. We're not there yet, but I truly think we can get to that point."
Our editor, Ranger Kidwell-Ross, presented Vitale with a commemorative certificate at the NCSI breakfast at the 1995 National Pavement Maintenance Exposition in Atlanta.
This article is reprinted from American Sweeper magazine, v4n1.