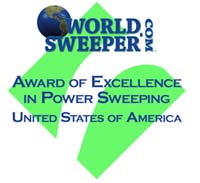 Davidson-Macri Sweeping, Inc. and SweeperMarket magazine receive 2008 WorldSweeper.com Award of Excellence in Power Sweeping
In recognition of the contributions to the power sweeping industry by the principals of Davidson-Macri Sweeping, John Davidson and Joe Macri, their company is the recipient of WorldSweeper.com's Award of Excellence in Power Sweeping for 2008.
The two men started their sweeping company together in 1993 in Bellevue, a suburb of Seattle, Washington. This year marks Davidson-Macri's 15-year anniversary.
"When we first got into the industry, I was doing some work for a shopping center and one of the people there asked me if I would do their sweeping," reminisces Davidson. "At the time, I didn't even know what sweeping was. Being very customer-oriented, though, I looked into it. Soon, with a 'homemade modified' TYMCO 210, I was sweeping their parking lot. Then, next was an old 1972 Mobil used for construction sweeping and it kind of took off from there."
Joe Macri was the operations manager for an established sweeping operation in the area. Both cautious, the two men knew each other for about two years before making the move into a partnership. "I'd known John as an acquaintance, really. We rode together to a regional show called 'Sweepers Northwest.' Then when he looked at some equipment that was there for sale and didn't buy it, I knew he was smart. We started into business together soon after."
Today, in addition to a host of other equipment, the operation operates about 35 sweepers. Their market covers all types of sweeping throughout the area. Why did they grow: "Seattle in the '90s had a huge growth spurt and that was part of it," the men agree. "But when someone asked us to do something that was impossible we found a way to do it. That's made the real difference."
That Davidson-Macri's professionalism is at the forefront of the Northwest is reflected in the fact they have long had one of the 'plums' of the area's business, the Microsoft campus. This is an environmentally-sensitive account and, since Microsoft has outgrown its land area, there are a number of underground parking and other areas that need swept on a routine basis. It's like a little city underground. The company has one or two sweepers at Microsoft every night.
"Microsoft has a number of managers, for different parts of their campus. These all report to a central property manager. Our job is to keep them all happy. This is difficult since it's such a large, complex operation. Our drivers almost have to leave a little breadcrumb trail to remember where they've been."

Starting in the late '80s, a man named Bill Riddle compiled a small, monthly used sweeper pamphlet called The Used Sweeper Newsletter. When Riddle died in the late '90s, they stopped receiving the publication. Unlike most people, Joe and John had the foresight to call and find out why. Long story short, they purchased the rights to the publication and, under the capable editorship of Mark Boyer, turned it into the well-known SweeperMarket magazine.
Few would question that SweeperMarket magazine is now the dominant publication of the sweeping industry. Over time, they have expanded this into allied areas with sister publications called PaverMarket and SnowMarket.
Congratulations to all of the managers and employees of Davidson-Macri Sweeping and MarketMagazines. Your WorldSweeper.com Award of Excellence in Power Sweeping for 2008 is well deserved.
To learn more about how the company operates and to learn some of the tips of the trade this duo has picked up through the years, we invite you to listen to an approximately 25-minute interview with the two men. Unfortunately, the audio quality is poor due to an analog-to-digital anomaly. However, it is well worth listening to.

Our editor, Ranger Kidwell-Ross, presented the award to Joe Macri and Mark Boyer at the National Pavement Exposition in Nashville, Tennessee, on January 31, 2008.