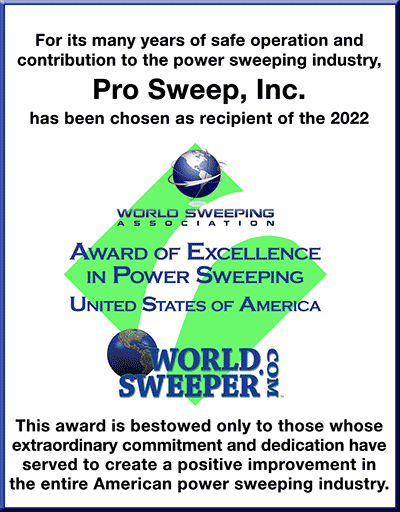 Normally, the WorldSweeper.com/World Sweeping Association's Award of Excellence in Power Sweeping is awarded at the National Pavement Exposition, typically held in late January or early February. However, this year due to the pandemic WorldSweeper's Editor declined to attend NPE.
As a result, our 2022 Award was presented via a Zoomcast with Bruce Christianson, the founder and General Manager of Pro Sweep, Inc. Christianson started the company with a used Tennant, a dump truck and a single parking lot sweeping customer. However, since then the company has expanded significantly, especially into the highway sweeping arena for North Dakota DOT and others. Although Christianson sold the company a decade after founding it, in 2010, he has stayed on as the General Manager.
The company was chosen as this year's recipient for two reasons: One is its significant success in one of America's harshest operating environments. When the company was featured by the World Sweeping Association in 2016, the mid-January temperature was 25-degrees by day and minus 8-degrees at night, though the a few days previously, Bruce told us, the daytime temperature had been minus 20-degrees below zero.
Today, the company sweeps the streets of 60 municipalities and a total of 4,000 parking areas in its yearly 10 months of operation. Plus, the work encompasses three different states, North Dakota, South Dakota and Minnesota. Since joining the American General Contractors in 2015, Pro Sweep has also been awarded Certificates of Commendation from the AGC from that year forward.
Perhaps the biggest factor in the choice of Pro Sweep for the 2022 Award, however, is the firm has not had a single injury or accident in its 21 years of operation. The only caveat to that is there was a person who chose running headlong into a sweeper as a way to commit suicide. This was termed by the highway patrol as such and the company and its sweeper operator were completely exonerated from the incident, tragic though it was.
Since we couldn't present the Award in person, WorldSweeper.com's Editor (who is also Director of the World Sweeping Association) called Bruce about doing another feature story on his company. The @15-minute Zoomcast interview, which ended in the Award presentation, is a thoroughly enjoyable and informative video that discusses Pro Sweep's safety program in detail and is one that any contractor or other concerned with safety should watch. Click on the image below and the video will open to the YouTube file in a new browser window.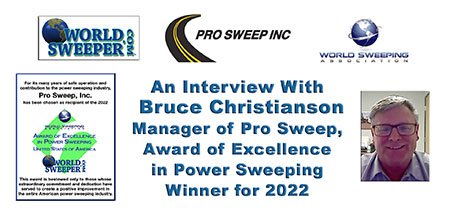 For more information about Pro Sweep, Inc., we invite you to visit the company's website, which is located at www.prosweepinc.com. Pro Sweep's phone number is 701.640.3256 and you may also contact the company via email sent to info@prosweepinc.com.
If you have questions or comments about this article, please, let us know and, if appropriate, we will add it in as an addendum to this article.