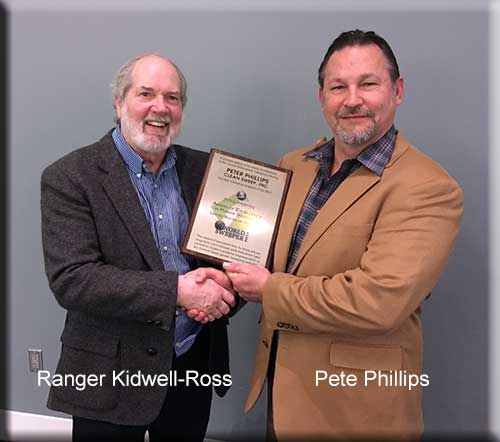 Pete Phillips and his company, Clean Sweep, Inc., won the 2017 WorldSweeper.com/World Sweeping Association Award of Excellence in Power Sweeping, the United States power sweeping industry's highest honor.



At the National Pavement Exposition, held in Nashville in February of 2017, the WorldSweeper.com/World Sweeping Association Award of Excellence in Power Sweeping was awarded to Clean Sweep's president, Pete Phillips.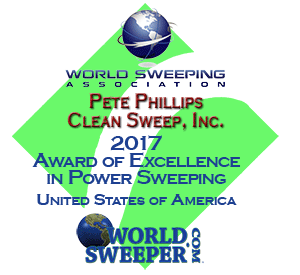 The following is an overview of the background of the Clean Sweep organization.

Pete Phillips' father, James, started Clean Sweep, Inc. in 1984. The company was created when Pete's mother, Audeline, a rental property manager, couldn't find a sweeper to clean her rental lots. James was a laid-off electrician at the time, so with this built-in customer in hand he bought a truck and three weeks later started the company.
Since Pete had graduated from high school the year before, it was only natural that he become involved in the new family business. As typically happens with a well-run business, over time his father retired and the business expanded. Today, Pete is not only president but also heads up the sales operation for the organization. They have about 15 total employees; three office personnel and the rest are laborers. Although in 2017 the companies day and night sweeping was 70% night, parking lot work, and 30% daytime construction sweeping, Pete's ultimate goal is to attain a 50-50 split in this regard.
Located in Chattanooga, Tennessee, we provide services 365/7/24. Clean Sweep operates with all appropriate licenses, complies with Workers' Compensation requirements and are insured to industry standards. The firm obtains customers primarily through its website, Google Adwords, social media, and its membership with 1-800-SWEEPING.
Clean Sweep, Inc. still serves many of the customers it has had since the business started. Pete cites as the reason that his organization provides fast, reliable service that ensures high quality results and ongoing customer satisfaction. Clean Sweep also makes sure its customers know that it adheres to all state and city regulations regarding the disposal of debris. That goes a long way toward customers knowing for sure that all of Clean Sweep's practices are environmentally-friendly. Management also conducts monthly safety meetings to make sure that their team is up-to-date on best practices for the sweeping industry.
There are no required national standards for power sweeping. However, Clean Sweep adheres to the top ethical values promoted by the sweeping industry. The firm is a Founding Member of World Sweeping Association as well as of its Ethics in Power Sweeping Program, which has also been adopted by the North American Power Sweeping Association (NAPSA). Pete says they are proud to adhere to the standards the program requires.
In February of 2006, Clean Sweep, Inc. became the first sweeping company in Tennessee to attain national certification through NAPSA, as well. This is the leading certification in the power sweeping industry and it requires, in addition to adherence to a host of correct business methods, a minimum of five years in business.
Other environmental actions the company has taken is to use a shaker system to separate its waste stream, which keeps approximately seven tons of waste out of landfills each week. They are also planning to move from diesel sweepers to gas/propane units in the near future.
Clean Sweep is an active member of the Business Owners and Managers Association (BOMA). Working with BOMA members allows them, says Phillips, to keep in touch with the latest in the needs of property management professionals, as well as keeping up with any legislative changes that have occurred or are on the horizon regarding legal requirements.
In addition to running a successful sweeping operation, the owner of the company has long been involved with helping others and promoting a greater level of professionalism throughout the industry. Pete Phillips also has built his company around becoming educated on the many environmental, as well as other, benefits of power sweeping. He also emphasizes and teaches safety to his employees and preaches it to other sweeping contractors.

For more information about Clean Sweep Inc., we invite you to visit the company's website, which is located at www.cleansweepinc.com. The company's phone number is 423-877-9192 and you may contact them via email sent to info@cleansweepinc.com.