Profile on Mohawk's 'Labor Saver Dirt Shoe'
by Ranger Kidwell-Ross
posted April 2010

Mohawk Sweeping's 'Labor Saver Dirt Shoe' Saves Money, Downtime and Aggravation
New York-based Mohawk Sweepers was begun in 1966 by Tom Ostuni. For many years, Tom was one of the leading contractor names in the U.S. power sweeping industry. He was active in his own business and, as a strong proponent of sweeping industry professionalism, one of the initial founders of power sweepings' first-ever contractor association, the National Contract Sweepers Institute (NCSI).
In addition to being a full-line power sweeping company, Mohawk has for over two decades been one of the largest servicing centers in the U.S. for mechanical broom sweepers. In addition to repair and refurbishing the company's own broom sweepers, they do the same for clients throughout the U.S. In addition, the company typically has at least a dozen refurbished used Mobile sweepers for sale at any given time.
His son, Charlie, virtually grew up in both sides of the company. Today, as vice-president of the Mohawk organization, Charlie oversees the sweeping and repair sides of the business. His brother, John, is president and handles the administrative side of the firm. Under their capable management, Mohawk continues to be known far and wide as not only a complete sweeping company, but also one of the best places to turn for any type of broom sweeper repair or questions, no matter what brand.
"During all these years of operating and repairing mechanical broom sweepers," says Charlie, "we've seen absolutely every way the machines can be broken. Although we can't prevent most of these, we've hit upon a solution for one of the most frequent-occurring damages, bent dirt shoes.
"These are the skids the main broom rides on. As anyone who has owned a mechanical broom sweeper for any amount of time can attest, dirt shoes tend to catch on a wide variety of items encountered on the street, from raised manhole covers to curbs. When they hit something, they usually bend. Sometimes the skid can be bent back into shape; other times, a replacement has to be purchased.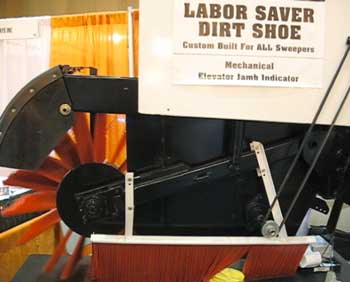 "Either way, it's expensive in terms of time, money or both. And, of course, sweeper downtime and possible customer dissatisfaction. After countless times of our operators bending skid shoes and repairing many bent shoes on customer machines, we came up with a solution. We call it the 'Labor Saver Dirt Shoe.'"
Mohawk's Labor Saver Dirt Shoe replaces existing, easily bent OEM shoes with an easy-to-install bracket system designed for each mechanical broom sweeper make and model. The system is designed to use Tuff-Strip broom segments to replace the old-style skid shoe. Once installed, you've seen the end of bent shoes and the expensive trouble and time they cost. Although the system is priced comparably to standard OEM dirt shoe skids, since they won't bend they are typically good for the life of the sweeper.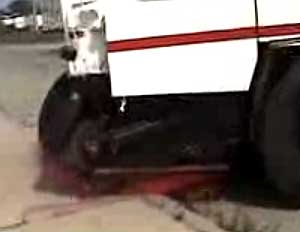 "Many of our Labor Saver Dirt Shoes have been swapped over to another sweeper in the fleet when the machine they were on went out of service," says Ostuni. "No matter what type of sweeping you do, from standard street work to construction to milling cleanup, our Mohawk replacement works great. With our dirt shoe installed, a broom sweeper can actually back over a curb without damage. You won't be trying that with a set of standard skids, I can tell you."
In the approximately 8-minute audio interview with Charlie Ostuni, embedded below, he discusses the idea of this innovative product, as well as how it works and some of the many comments they've received from users. Note that the audio will play without downloading any files onto your computer. If you hear the interview at 'chipmunk speed,' you will need to download the latest version of Adobe's free Flash player.
Note: If the player embedded above does not operate for your browser, click here to play the audio.
---
To make it easier to see what this innovation consists of, I have embedded two YouTube.com videos below, as well. If you have questions or would like pricing for your makes and models of sweepers, use the contact information at the very end of this article.


This video shows the amazing versatility provided by the Labor Saver Dirt Shoe.
In it, the sweeper it taken forward and backward over manhole covers and even a curb!
---
This video was taken by the author, WorldSweeper.com's editor, Ranger Kidwell-Ross, at the American Public Works Association Congress and Exposition
In it, John Ostuni explains how the Labor Saver Dirt Shoe works.
---
For complete details, you may reach Mohawk by calling 631.491.1411 or 631.484.8102. You may also use this link to send Charlie an email.