by Ranger Kidwell-Ross

---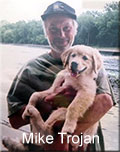 Mike Trojan's 30-year career has largely been as an investigator of the best ways to remove stormwater runoff pollution. In a related @45-minute Zoomcast, held two months after the one linked here with Randy Neprash, Trojan discusses more details of how a comprehensive study by his workplace, the Minnesota Pollution Control Agency, among other participants, has determined that removing phosphorus via street sweeping is orders of magnitude less expensive than any other method. Check out the link to that later article. (For your convenience the story will open into a new browser window.)
---

---
Randy Neprash, PE, is a water resources consultant who works for the community-focused international engineering services company, Stantec Consulting. He serves as staff with the Minnesota Cities Stormwater Coalition and is Vice-Chair of the National Municipal Stormwater Alliance.

Neprash was chosen to provide the opening statement for the webinar announcing that, based upon its study results, Minnesota would start providing its Municipal Separate Storm Sewer System (MS4) permittees with credits due directly from their street sweeping efforts.

---
Webinar Overview: Minnesota Cities Get MS4 Permit Credits for Phosphorus Removal Via Sweepers

The webinar's info page at the Minnesota Stormwater Manual's Wiki website provides information on the importance and value of street sweeping for controlling nutrient loading to receiving waters; an overview of a new street sweeping crediting tool for phosphorus; a discussion of street sweeping guidance; and, a discussion of additional research needs.
---
The information, which was summed up as follows by Randy Neprash at the beginning of the Minnesota webinar, is groundbreaking in terms of permitting by MS4s around the US. Phosphorus is the most important pavement-based pollutant degrading Minnesota waterways. As a result, the following information all pertains to phosphorus removal via street sweeping.
Project Highlights:
Street sweeping can be a cost-effective practice for reducing phosphorus loads in urban stormwater
Minnesota Pollution Control Agency (MPCA) lacked a phosphorus credit for street sweeping
A credit was desired, one that would be based upon material collected
University of Minnesota worked with cities to develop relationships between material collected via sweeping and phosphorus
The consulting firm, Tetra Tech, developed a simple Excel workbook to calculate a P credit
Street sweeping guidance is currently being developed
There is a lot we don't yet know
---
by Randy Neprash, PE, with Ranger Kidwell-Ross

Many do not realize how much phosphorus is contained by street sweeping. The short answer is "a lot". Minnesota researchers have done a remarkable job of developing methodologies to measure the amount of phosphorus that is removed via street sweeping. A different set of protocols correlate with the scientific data, and these may now be used by Minnesota cities to quantify the amount of P removed by their sweeping efforts.
All of that information serves as the basis for a crediting system under stormwater regulations. That is to say, Minnesota cities now have an easy system of developing a formula that – easily and inexpensively – derives an amount of credit they will receive under their stormwater regulations. MS4 cities in Minnesota can now claim the credits under their MS4 permits and can use that for demonstrating their progress toward meeting their TMDL requirements.
All of the above is linked to the MS4 cities' local street sweeping programs, which can also be optimized so as to maximize P removal and so increase the amount of credits received. An 'enhanced street sweeping program' can be optimized – based on tree canopy cover and phenology (when the trees drop seeds, flowers and leaves).
Minnesota has documented an astonishing cost-effectiveness for phosphorus removal via street sweeping: At certain times of the year sweeping removes P for under $100/lb total cost! Neprash says that makes street sweeping one of the most cost-effective, as well as just plain effective, stormwater BMPs available. He also emphasizes that cities with significant tree canopy cover, or ones that are increasing tree cover, should enhance their street sweeping program.
Neprash also says that MS4 cities around the US should work with their respective states to recognize the work that has been done by the State of Minnesota with the goal of having it enact a similar crediting system. As has long been advocated by WorldSweeper, Neprash further suggests that city sweeping programs become part of their stormwater program so as to be eligible to use stormwater utility funds and other funding sources for buying and operating street sweepers.
"As part of this process," says Neprash, "get and utilize tree canopy cover data for your city. Then, utilize that information to optimize your sweeping routes, including developing timing for sweeping that maximizes tree detritus removal. Then, quantify the benefits for your sweeping work."
A great amount of information on this topic is now available in the Minnesota Stormwater Manual. However, Neprash says there is much work still to be done. "For one, we should be looking at street sweeping and trash, not just nutrients, as well as the relationship of sweeping to the removal of bacteria and solids, i.e.; dirt, particles and the pollutants adsorbed to them. We also need more information about the impact of street sweeping on other BMPs, e.g., rain gardens, ponds, etc.
"Streets should be seen not as 'sources' of pollutants, but rather as useful collectors of pollutants, surfaces where we can pick up and remove them relatively easily. Finally, [when it comes to phosphorus removal] we should look at all the other leaves contained throughout our city systems."
On May 25, 2021, WorldSweeper's Editor (and the author of this article), Ranger Kidwell-Ross, conducted an hour-long, in-depth Zoomcast interview with Randy Neprash. This exchange is linked below in its entirety. In addition to Neprash's information about Minnesota's findings, the Zoomcast includes information from Kidwell-Ross on how to modernize your sweeping program via instituting the latest possible best practices.
Every month, WorldSweeper offers an award-winning free e-newsletter, with a variety of information about the power sweeping industry. This includes links to studies and reports, among many other topics. If you do not currently receive the newsletter, use this signup link.
---
Editor's Note: Click on the image to open the interview video on the YouTube site in a new browser window. The direct link is: https://youtu.be/K157O3Ueazo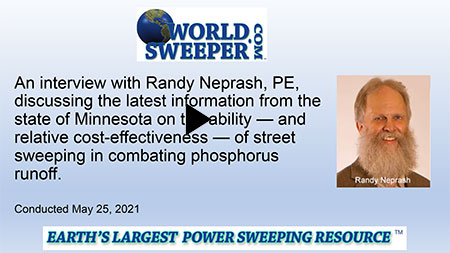 ---
In the event you have questions or comments for Randy Neprash, he may be reached via email sent to Randy.Neprash@stantec.com. To reach Kidwell-Ross send to editor@ worldsweeper.com.