by Ranger Kidwell-Ross

Our interview with John Meola is based on his 2009 APWA Congress and Exposition presentation entitled Regulatory Updates in Workzone Safety. In the audio interview with him, he explains why it is so essential to place an extraordinary emphasis on safety when highway and construction sweeping.
Meola, whose company operates a number of sweeping operations on a weekly basis, lists a number of safety items and safeguards that sweeping companies should employ. He also provides us with the PowerPoint presentation he used at APWA. I modified this to be a PDF file, to assure everyone could download it. The presentation is a terrific resource that contains a host of website links that offer the info necessary to ensure compliance with state and federal statutes in this regard.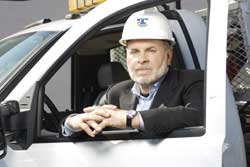 In the following 20-minute audio interview, Meola details a variety of safety methods that should be considered by anyone conducting highway street sweeping. Along with this, he provides ideas on when to use each and the relative value that each offers. This interview is a 'must listen' for anyone who operates a highway sweeping operation.
Note: The audio will play without downloading any files onto your computer. If you hear the interview at 'chipmunk speed,' you will need to download the latest version of Adobe's free Flash player.
---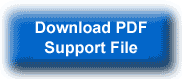 The PDF version of John Meola's presentation at APWA 2009 is available here on the WorldSweeper.com website. Use the button shown to the right to access it.
There are also other articles by John Meola on safety that are available on the WorldSweeper.com site in our general Sweeper Safety area.
---

To learn more about the services offered by Transfield Services, visit www.transfieldservices.com/. John Meola may be reached by via email sent to MeolaJ@ transfieldservices.com.