Extra Caution Needed While Sweeping Across Train Tracks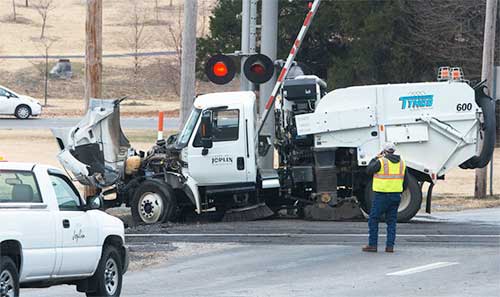 Train hitting sweeper illustrates danger when sweepers cross train tracks while operating.
by Ranger Kidwell-Ross, Editor of WorldSweeper.com
The operator of a Joplin, MO, street sweeper apparently did not hear the bells ringing at the train crossing due to the operational noise of his sweeper. If just another second had elapsed that fact would have probably cost him his life.
According to Joplin Police Department Cpl. Joe Kowis, the sweeper was working and had arrived at the railroad crossing when the traffic arms came down and struck the top of the truck. Although the sweeper's operator attempted to back out of the crossing he was unable to get clear of the train in time.
The accident should serve as a safety reminder to train sweeper operators of correct procedures when crossing railroad tracks, especially when the auxiliary engine, brooms, etc. are operating. Consideration should be given, at railroad crossings with cross arms, lights and bells, to halting until it is determined the lights are not flashing. This will take into account that the operator may not be able to hear any bells that accompany the alert that a train is oncoming.
The photo above, and video below, serve as a reminder of what can occur when proper training procedures are not provided by management and/or followed by operators...