Guidelines for Dealing with Heatstress in the Workplace

When temperatures are high it's important that you provide extra care, planning and – heat safety training – for your employees.
by Ranger Kidwell-Ross
Posted in July, 2012.
For many in the power sweeping industry, high summer temperatures can make for extremely dangerous working conditions unless the right steps are taken to ensure hydration and other aspects of worker safety.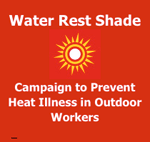 Here is a link to expert information on the subject provided by safety expert, John Meola, a long-time contributor to WorldSweeper.com on the topic of safety. However, Meola published this particular article, titled 10 Hot-Weather Safety Tips for Construction at For Construction Pros. You will find that it is an excellent overview of tips for dealing with heat.
In addition, check out the additional links to appropriate OSHA website locations, below:
In addition, we include a PDF from the law firm of Seyfarth/Shaw, LLC, on steps to take in order to decrease your workplace liability in the event the worst happens and an employee becomes heat-injured. Click here to download this information as a PDF file.
Ranger Kidwell-Ross is editor of WorldSweeper.com. If you have new information to provide on this topic, let him know and we can add it in as an addendum to this article.
This article was added to WorldSweeper.com in July of 2012. At that time, 5,000 high temperature records had been set in the U.S. in the preceeding 30 days.
---