Fast Track to Safety: Elgin Sweepers' NASCAR Sweeping Program
Elgin Sweeper, as part of its Green Sweeper Initiative, has developed a specially-built Elgin EcoInfused Crosswind (Gen 6.0) that will be used during the 2015 NASCAR season – as Gen 5.0 was used in the 2014 NASCAR season – is poised to become the first-ever vehicle to be present at all 38 NASCAR Cup Races.
by Ranger Kidwell-Ross, Editor of WorldSweeper.com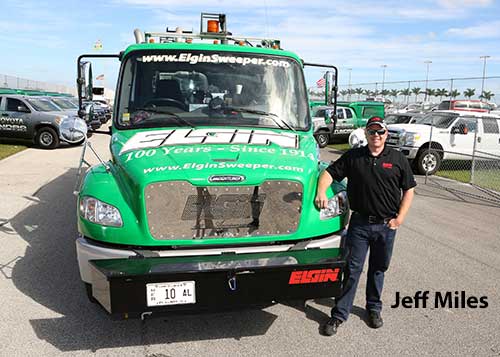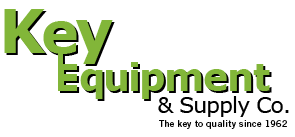 Jeff Miles is the Branch Manager for the Kansas City branch office of Key Equipment & Supply Company. Jeff has long been involved with NASCAR and cleaning race tracks and coming up with innovative solutions on how an Elgin Crosswind Sweeper can do that job, better, faster and more effectively.
Miles started with Key Equipment 22 years ago as a mechanic, then worked his way up to Service Manager and today is the Manager of Key Equipment's Kansas City office. This is Key Equipment's 53rd year in business with the main office in St. Louis and a branch in Kansas City.
"In terms of the NASCAR program," said Miles, "It all started by tying together my passion of racing and my experience of bringing sweeping solutions to municipal agencies, state agencies and turnpikes at Key Equipment & Supply Co. When they decided to build the Kansas Speedway back in 1999 in Kansas City, Kansas – and since I was born and raised in the Kansas City area – I knew wanted to supply the new track with a street sweeper that would be very valuable to them."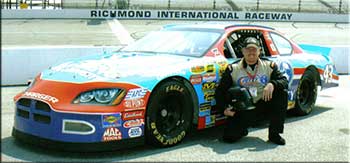 Miles took it upon himself to become educated about the challenges a sweeper faced when cleaning a NASCAR-class speedway. He started off with a big advantage in that he had grown up around racing. Currently, for example, Miles (as shown in the photo to the right) drives for the Richard Petty Driving Experience on the weekends and has driven on pretty much every significant racetrack in the United States. As a result, he understands the importance of a clean racing surface for safety and for better competition.
From his extensive experience, Miles knew a sweeper would need to be capable of quick action and of handling the multiple challenges on the racetrack itself, including fluid spills and the highly-banked surface. The sweeper also needed to work well on the paved areas in the pit area as well as on the roads outside the track, as well as wherever else sweeping might be needed. He educated himself on other needs, like to minimize airborne dust particles that might affect the fans and maximizing track water removal after a rain event.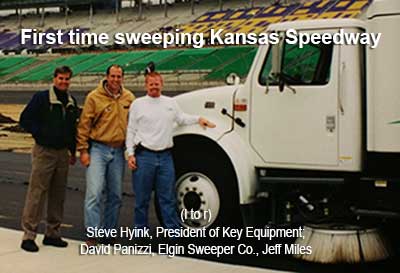 "I kept knocking on race track doors until they started to open for me," Miles remembers. "Then, Steve Hyink and I did a lot of different demonstrations with Kansas Speedway. Our St. Louis office also did quite a bit of work with Gateway International until we really got to know what the requirements of the sweeper would be."
"We built the first purpose-built Elgin Crosswind for the Kansas Speedway. It featured everything that we had learned initially. The sweeper was equipped with a number of different features to make it more productive on the racetrack as well as around the track complex. It included features designed to solve issues that were initially identified. For example, how do you take a 20,000# weighted machine up on a banked service and prevent it from sliding down the track?
"And, you can't have the banked surface affecting the ability of the sweeping components down on the surface of the track. Something a person might not think of initially, for example, is that all the machine's fluids have to be kept both operational and in a container where they won't spill out on the high-banked track surfaces. Oil can't run away from pickup points for the engines and hydraulics, etc."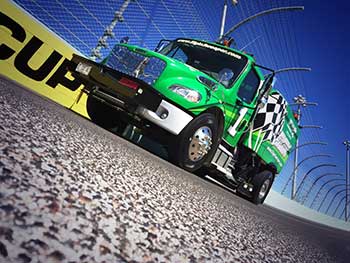 Very quickly, this Kansas Speedway/Elgin Crosswind 'Generation #1' made a positive impression with NASCAR during the Kansas Speedway races. For the first several years this machine was taken by a sister track, Daytona International Speedway, and used during their races, as well. The sweeper really started to get a good reputation and from that, years later, in 2014 Elgin Sweeper Company reached an agreement with NASCAR to become the Official Sweeper of NASCAR Green. NASCAR valued Elgin Sweepers leadership, knowledge of the racing culture, and expertise; partnering with Elgin to provide reliability and expected performance with the track drying program
"I have worked closely with Elgin's product management team over the years to enhance the design and we are coming out with what we call 'Generation Six' of the Elgin Crosswind Track Sweeper. It has even more benefits, with more features on the machine that can be valuable during a race weekend."
Since the program covers all the NASCAR tracks, there was also the need for regional designs unique to the different racetracks. There was also the requirement of making sure the sweeper doesn't cause any damage to the special asphalt that's put down for racetrack surfaces. To address that issue, as just one example, the sweeper now includes specially-designed dirt shoes that spread the weight of the head out to bigger footprint. The sweeper is also outfitted with a blower attachment, which has proven to be a very valuable tool at the racetrack.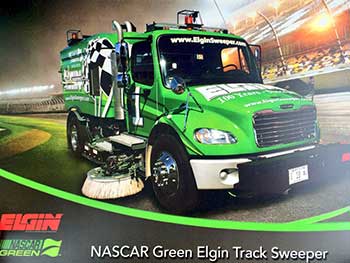 The blower attachment is one that Elgin also utilizes for airport runway sweeping, where you can't sweep in between runway lights and other obstacles on the runway. It delivers 20,000+ CFM of air and directs that energy toward the ground on the left side of the machine. "It works well", says Miles, "on many types of material from grass clippings to whatever other relatively lightweight material might be in an area. Using this feature is less time-consuming than sweeping and he said Team Elgin has found that it works quite well to assist in cleaning an array of surfaces."
"It's taken a lot of thinking and trial-and-error testing to come up with solutions to all those different variables," said Miles. "When there's a caution situation where debris is on the track, we need to get the track cleaned up quickly so that the race can continue and the people in the stands, as well as watching on TV, can get back to being entertained by the race. That's definitely more fun than watching sweepers and other equipment going back and forth on the track.
"There are so many questions we've had to address: 'Is there a specific speed that must be attained no matter what? Or, is that part not as important as doing a really good job?' The training of the operators is crucial, as well, and in this we have enlisted the involvement of Elgin dealers throughout the U.S. where the different NASCAR tracks are located. We have a group of very experienced operators that we start with and then they are put through an extensive NASCAR training program.
"Safety is always the number one priority, by both NASCAR and by Elgin. The operators all have headsets and receive very precise directions during a caution period. Our other twin goals are to get the cleanup done quickly, yet in a very environmental way that doesn't impact the fans in the stands. We have developed a number of 'best practices' in that regard."
Because the sweeper operators have such extensive experience and training, they are given limited amount of personal leeway in making the best decisions given their judgment of the situation. However, the radio system back to the tower is there whenever additional direction is needed, or a NASCAR chase vehicle is onsite to provide extra guidance.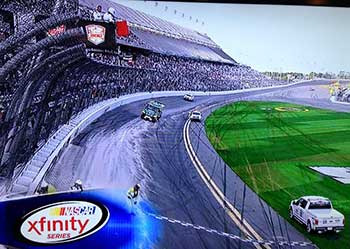 Through the years, Elgin has developed a core team that is well versed in knowing what's needed. The operators must take online courses on their own time, as well as perform well in real world training that simulates situations that are likely to occur. Elgin's demo specialist, Alan Gussarson and Jeff Miles help coordinate the training and work with each of the participating Elgin dealers to get operators trained to where they earn 'NASCAR's blessing.' Each track has its own mandatory safety training and each of the Elgin dealers participate in continuing education programs throughout the year, as well.
Everyone goes through the online training NASCAR provides, even though much of it doesn't actually pertain to the sweeper's activity. However, the training courses provide needed insight into what all the other safety equipment will likely be doing during a caution period, from the tow trucks to the ambulances to the chase cars. That helps greatly in increasing the safety and performance of the largest vehicle at the track, the Elgin Crosswind.
"All the people involved have a very distinct job to do during a caution," said Miles. "That includes us, the tow trucks, the ambulances and other emergency responders, as well as any other components of a cleanup crew. It's like a ballet where everyone must be completely coordinated with each other. We strive to get training to where it almost seems like working in slow motion to the operators, yet it's all actually being done very quickly, efficiently and confidently."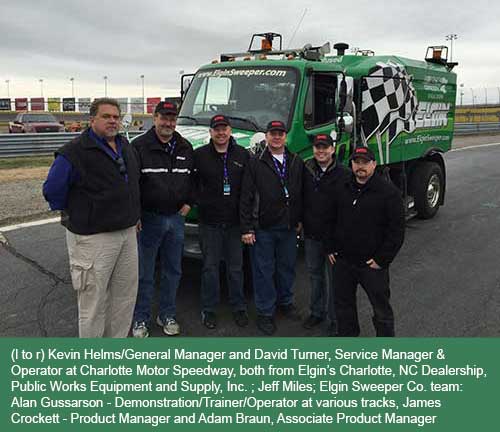 Prior to 2014 Elgin took the purpose-built track sweeper to about 70% of the tracks. However, in 2014 Elgin Sweeper Company signed a contract with NASCAR to become the Official Sweeper of the NASCAR Green Program. As a component of that agreement, Elgin will now be bringing its track sweeper to every NASCAR Cup race.
"We attended every single NASCAR cup race last year, which is the first time any piece of machinery – let alone a sweeper – has done that in NASCAR's 50+ years of racing," said Miles. "We're enormously proud of that. The race teams don't use the same race car each week; the ambulances are not the same nor are the tow trucks. We did all 38 Cup Events and we didn't have one minute of downtime last season, through qualifying and practices for all the races. That speaks volumes about the preparation and quality of the Elgin Dealer Network.
"The entire program is done through our Elgin Dealers internally; we don't use contractors for this program. That's not to say the program doesn't benefit contractors in other ways, though," Miles stressed in the interview. All the different options, features and adjustments are constantly evaluated, he says, to see how they might be utilized to benefit contractor machines, as well as other sweeping applications. Miles correlated the value to the well-recognized advancements that have been made in other industries. Elgin has been able to use findings from the racetrack sweepers to work with municipalities and contractors to better clean in other challenging situations. Some of these innovations and adjustments have made it onto Elgin's standard production models.
"Elgin has a great engineering and product management team that has expended a lot of time and effort to see and brainstorm on the hurdles we encounter with our NASCAR program," continued Miles. "It's even made me look at things in a different way when I learn about challenges our municipal customers are encountering. I think 'What if we tried this or that tweak that we've learned on the racetrack?'"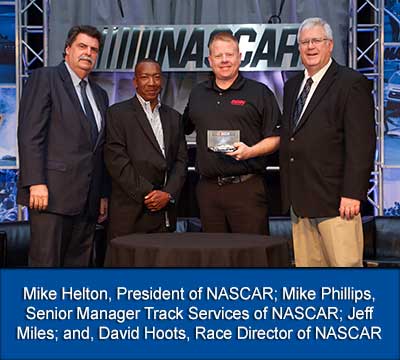 In January of this year, Miles received an Innovation Award from NASCAR. However, he was quick to acknowledge that it was really an award for the team effort by Elgin Sweeper and the dealer network, even though it's his name on the Award.
"I was just the spokesman for every dealer in the Elgin Dealer Network who has helped this program move forward," Miles enthused, "and for everyone on the team at Elgin who did the same. The NASCAR Innovation Award is definitely a award for all of the people actively involved. Plus, what we've learned is being mimicked at all of our Elgin dealerships, where we are training everyone how to get the same quality of operation, quality of repairs and sweeper productivity.
"Innovations to Gen 6 came from myself, the Elgin team and many dealers. As examples; Carey Olcott from Haaker Equipment, who runs the program at Phoenix, Vegas and California, came up with an innovative hopper scoop design that helps dust suppression drastically. Justin Bone, from Virginia Public Works, who runs the program at Richmond and Martinsville supplied several ideas and fabricated an internal rear cab wall storage device himself that made it safer to keep maintenance items inside the cab and restrained from moving around.
Larry Davis & David Turner from Public Works Equipment & Supply Inc. in Charlotte, that runs the program at Charlotte, Bristol and Darlington, supplied many productivity designs to the regenerative head to deliver more energy to the ground through the blast orifice's 'air knife.' Plus many other dealers contributed in some fashion, including Environmental Products of Florida, A&H Equipment, Maryland Industrial Trucks, Muncipal Equipment, Standard Equipment, Doheny Supplies, CN Wood, Kinloch Equipment, Joe Johnson Equipment Inc., Sansom Equipment Co., Bell Equipment Co. and Owen Equipment Co. I'm proud to report that even dealers that don't have a track in their territory supplied assistance and ideas. This project has definitely been a team effort!
If you're a fan of racing – and even if you're not – you'll definitely enjoy the 42-minute audio podcast interview with Jeff Miles. The material covered is much more extensive than that provided in the article and includes many 'sidelights' to racing that will keep race fans, especially, glued to their seats. If you have an updated web browser, you should be able to play the audio using the link shown below.
---
---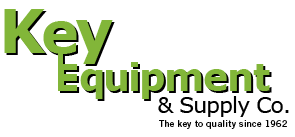 You can reach Jeff Miles through the Key Equipment Branch Office that he manages in Kansas City, Kansas. The URL is www.keyequipment.com and the phone number is (913) 788-2546.