---
The 'Water Conundrum' of Power Sweeping
by Ranger Kidwell-Ross, editor
WorldSweeper.com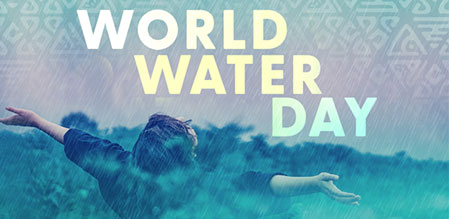 My intent was to publish our March newsletter on the 22nd, World Water Day. The reason: In the mid 1990s, when I decided to found American Sweeper magazine the primary motivating factor was to provide information about the value of power sweeping in reducing stormwater runoff. Unfortunately, publication was delayed waiting/hoping for the answers we were promised concerning Walmart's recent shift in sweeping schedules in some parts of the country.
Back in the '90s – and unfortunately this ignorance still exists in some places today even though studies by Florida and Minnesota are conclusive – public works directors acted like they were still removing horse poop from roadways instead of remnants of brake linings, clutch plates, phosphorus-rich vegetation and a host of other serious pollutants. Fortunately, many municipalities are starting to factor in the extraordinary value of sweeping when it comes to achieving more efficient stormwater pollutant removal.
At the same time, the sweeping industry has an increasingly serious problem. Today, after some 30 years of covering the industry, sweepers still foul millions of gallons of perfectly good drinking water every year. This is being done via sweeper dust suppression systems that spray water throughout their sweeping systems, then collect back the majority of it into their hoppers before dumping the wet debris slurry into landfills. It's a serious problem that I can only hope will be solved by some or other bright engineer in the near future.
In this newsletter issue we lean more toward the parking area sweeping part of the industry, though, due to our extensive coverage of the recent National Pavement Expo in Charlotte, NC. Even if you followed our near real-time coverage as it happened, you'll want to check back in for the links we now have added of the World Sweeping Association-sponsored seminars.
We also provide info to date on our contacts concerning Walmart and several of its third party providers. For this issue we provide an overview of the situation and a list of the questions we raised to Walmart Corporate and its relatively new Manager of Exterior Services, Courtney Paynter. I know I'll be interested in the answers, which we hope to offer in our April issue, as much as many of our sweeping contractor readers.
As always, if you have any news of potential interest to the power sweeping community, please let us know. Between this publication, the WorldSweeper.com website, and the World Sweeping Association, we'll be sure to get the information passed along to interested readers.
Good Sweeping,



Editor, WorldSweeper.com
Executive Director, World Sweeping Association
Member, PAVEMENT Hall of Fame
PS If you're a contractor I urge you to check out the many benefits of membership in the World Sweeping Association. Also, if you haven't 'liked' our WorldSweeper Facebook page, what are you waiting for? That's where we offer a variety of industry previews and updates on an ongoing basis.

---
March Newsletter Contents
(Scroll down to read stories or click on links below.)
---
North Dakota's Pro Sweep, Inc. Wins 2022 Award of Excellence in Power Sweeping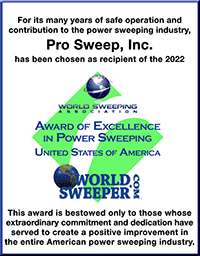 Bruce Christianson founded North Dakota-based, Pro Sweep, Inc., in 2000. He got started in the business due to being in a parking lot in January of 2000 when the lot was hit by a big gust of wind.
"When I saw all the trash blowing," said Christianson," I wondered if anybody swept it. The next day I went to my local grocery store and asked if anybody swept. The next day I did some research, probably through WorldSweeper, found out some pricing info to go back and tell him and since then we've been growing and expanding."
In 2010, Christianson sold the company but stayed on as General Manager of the operation. Despite working in some of America's most demanding weather and where there's lots of 'windshield time' due to the sparse population, Pro Sweep has expanded significantly. Today, the company sweeps 60 cities and 4,000 parking lots in the 10 months of the year sweeping is able to be performed. However, one of the primary reasons Pro Sweep was chosen for this honor is its unbroken safety record that spans 21 years. The company places an extraordinary emphasis on safety and it has paid off through the years.
Take a look at the 2022 winner info.
---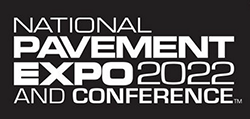 Coverage of National Pavement Expo 2022
In late February, WorldSweeper provided near real-time information about what happened at this year's National Pavement Expo. The info includes award winners, photos from the show floor and, new for this newsletter issue, a detailed synopsis of several of the seminars held at the event.
Due to the pandemic and a NE/Midwest snowstorm, according to organizers this year's attendance was down about 35% so WorldSweeper's coverage will at least give readers a taste of what it would be like to be there. Although some of you no doubt checked in on our coverage in 'real time,' since the close of the show new items have been added.
---
Changes at – and Questions for – Walmart

In early March a number of contractors contacted us to report that Walmart had reduced sweeps/week significantly. This included at least some instances of moving from sweeping 7 nights/week to 3 nights/week. The ensuing outcry from sweeping contractors was tremendous, with contacts being made to both WorldSweeper and the World Sweeping Association.
In support of its membership, WSA contacted Walmart with the intent of providing its members with as much information as possible. Because of the wide-ranging impact Walmart's actions can have on the parking lot segment of the sweeping industry, we are providing WorldSweeper's readers with a subset of the WSA report. In addition, on March 22nd a list of questions posed by contractors was submitted to Walmart for review and, hopefully, to get answers. An update on that topic will be included in the April newsletter edition.
Check out our Walmart Special Report as a PDF file.
---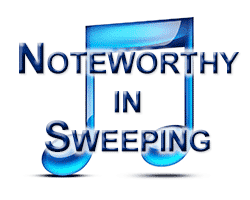 Frank Davis, Safe, Dependable – and Now Retired – Street Sweeper Operator
Frank Davis' morning rounds will look a little different going forward. Instead of scrubbing the borough's roads aboard a street sweeper, the lifelong Madison, New Jersey, resident will be driving his grandchildren to preschool in his landscaping truck.
Davis, 58, clocked in his last day for the Department of Public Works (DPW) on Tuesday, January 4th after more than 38 years in the department, the past 20 as its street sweeper operator, where he never had an accident on the job.
Check out the info on Davis.
---
New "Road Sweeper – Street Cleaning" Game App Available:

The info for this app reads: "Not all vehicles are fast. Not all of them look streamlined. But there is a particular vehicle type that is slow and looks very differently. It's called a street sweeper. Try it and believe me: Cleaning was never such fun!
"Your fuel empties quickly, your waste collector fills nearly as quickly – plan well so you don't have to return to the base during the cleaning, because then you lose a lot of valuable time. And when you do it right you can earn enough money get a bigger and better sweeper or upgrade the current one!"
Go to Apple or other app store and search for "Road Sweeper – Street Cleaning" The app is made by Catmoon Productions.
---