---
A Year-End Review of 'Earth's Largest Power Sweeping Resource'
by Ranger Kidwell-Ross, editor
WorldSweeper.com

At the end of any year it's always a good idea to conduct a review of the your company's operation over the previous year. Fortunately, digital technology provides good tools for that since WorldSweeper is an online-only resource.
First off, we learned that the WorldSweeper website takes up a whopping 54 Gigabytes of disk space for what are currently 62,670 items. Although some files are support in nature, that gives you an idea of the vast number of photos and article files the site offers in the 44 main categories into which the information is segmented. In addition to the U.S., the site offers sweeping-related stories from an additional 30 countries around the world.

Last year, the WorldSweeper website won an APEX Award for Publication Excellence for the quality of information and overall presentation of this e-newsletter. That marked the 27th consecutive year at least one aspect of our World Sweeping Company projects was honored with an APEX Award. The most memorable of these came in 2004, when my travelogue about sweeping in Europe was recipient of one of only 100 Grand Apex Awards given to the 5,500+ entries reviewed that year.
In 2021 our YouTube videos, which we started uploading almost 14 years ago, and which now number over 100, received over 11,000 views. We garnered a total watch time of nearly 27,000 minutes. The top number of views were from, not surprisingly, people located in the United States. The next two countries with the most views were India and Canada, in that order. We added a total of 23 new YouTube videos to our account in 2021.
I'm proud to report that we brought a total of 96 news stories to the industry via this newsletter, which we distributed to more than 3,000 subscribers each month. Many of those stories were the result of original reporting. If you've missed an issue, you can find it at our 16 years of Newsletter Archives.
Finally, this month marks the 10th year of operation for our sister project, the World Sweeping Association. Last year, in addition to the many money-saving benefits only WSA members received, they also received 24 WSA Member Update emails containing sweeping contractor-centric 'news they could use.' If you're not a WSA member, you simply don't know what you're missing...
We take our tag line of 'Earth's Largest Power Sweeping Resource'TM seriously. As always, if you have any news of potential interest to the power sweeping community, please let us know. Between this publication, the WorldSweeper.com website, and the World Sweeping Association, we'll be sure to get the information passed along to interested readers.
Good Sweeping,



Editor, WorldSweeper.com
Executive Director, World Sweeping Association
Member, PAVEMENT Hall of Fame
PS If you're a contractor I urge you to check out the many benefits of membership in the World Sweeping Association. Also, if you haven't 'liked' our WorldSweeper Facebook page, what are you waiting for? That's where we offer a variety of industry previews and updates on an ongoing basis.

---
January Newsletter Contents
(Scroll down to read stories or click on links below.)
---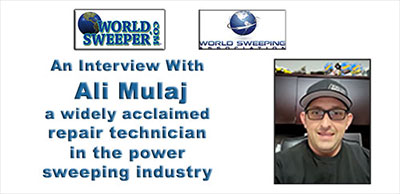 Fleet Management Tips From a Pro Sweeping Tech
Master Technician Ali Mulaj is one of the most experienced sweeper maintenance persons in America: Just ask the sweeping contractors around the country who have his cell phone on speed dial. Mulaj has been involved with sweeper repair since he was a high school student over 20 years ago.
To date, Ali has been involved with:
The Ford vs. Ferrari movie,
Discovery Channel's Monster Garage,
Episodes on the Speed Channel,
And the 24 Hours of Le Mans race...
... All in addition to overseeing service and preventive maintenance requirements on up to 60 pieces of a major sweeping company's rolling stock.

The link below offers an hour-long Zoomcast between Mulaj and WorldSweeper's Editor, Ranger Kidwell-Ross. A synopsis of some of the information from the Zoomcast has also been added as a written article.

Check it out to get tips on maximizing the lifetime of your sweeper fleet.
---
Elgin Sweeper Introducing New Non-CDL Sweeper Models... and More
Eric Marx is the New Product Development and Program Manager at Elgin Sweeper. In this frank conversation, Marx discusses the latest at Elgin Sweeper. News includes the first-time availability of both the Broom Bear and RegenX on a non-CDL, 26K GVW chassis.
You'll also learn about the new single-engine RegenX model that's now in production, Elgin's EV and hybrid plans and Marx's take on the state of autonomous sweeper development in the U.S.
Check out the conversation.
---
Maximizing Your Sweeping Time by Eliminating Time Wasters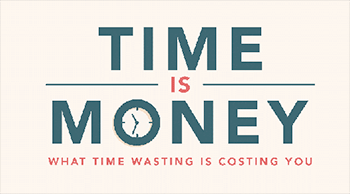 All of the time your sweeper operators and related personnel spend waiting each day is time that cuts into your operating budget and, as a result, into the profit margin of contractors and resource utilization of municipal operations. The linked article was inspired by Brad Humphrey's recent post in ForConstructionPros entitled 'Overcoming Time Wasters at the Job Site.'
WorldSweeper's Editor, Ranger Kidwell-Ross – who is also the Director of the World Sweeping Association – adapted Humphrey's construction-oriented information to be specific to the power sweeping industry.
Check out the sweeper-specific article.
---
Global Orders $5.5M Worth of Battery Powertrain Kits for Electric Street Sweepers

When it comes to street sweepers, Global Environmental is California's largest fleet supplier. In recent times, the organization has been selling more electric sweepers to the state and, in late December of last year, Global inked a $5.5 million purchase order with US Hybrid for that company to supply battery powertrain kits for its electric street sweepers.
US Hybrid says its electric powertrains "can be easily managed and maintained by municipal departments of sanitation and transportation. Zero-emission street sweepers reduce both air and noise pollution and can be impactful game-changers in moving towards a fully electrified world. Each electric street sweeper will save an estimated 89 metric tons of carbon emissions over the lifetime of the vehicle, which is the equivalent of taking 19 cars off the road for a year."
---
World Sweeping Association Marks a Decade of Operation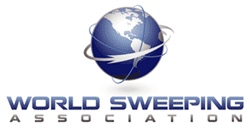 January of 2022 represents the start of the 10th year of operation for the World Sweeping Association. WSA was founded by Ranger Kidwell-Ross, who is also Editor of this website, with the mission of increasing the professionalism of the industry by providing wide-ranging educational resources for sweeping contractors along with negotiated group discounts from a variety of sweeping industry suppliers.
In addition to discounts from a number of manufacturers, WSA membership allows access to a collection of over 250 sweeping-oriented articles spanning 28 different categories more than 100 informational podcasts with sweeping contractors – and more. In addition, WSA Members receive an exclusive WSA Member Update email on the 1st and 15th of each month. These offer a variety of current information designed to help WSA member contractors be more professional and profitable. For more information, check out WSA's informational link shown below. Membership is a modest $350/year.
Check out the World Sweeping Association.
---
National Pavement Expo and Conference is a 'Go' for Late February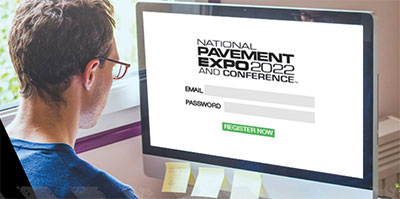 "We are 110% go for NPE." So says Morgan Wilson, the new Group Show Director for Emerald Expo, sponsor of the upcoming National Pavement Expo and Conference slated for February 23rd to 26th in Charlotte, NC.
Also according to Wilson, the Emerald organization has developed an extensive health and safety plan and are confident those will keep its audience safe. The current protocols, which include mask restrictions per county guidelines can be found here. Wilson also said they are closely monitoring the situation and want you to know the health and well-being of their audience is their top priority. The Emerald team is optimistic, but also realistic, and feel it's likely they won't hit pre-Covid numbers. That said, they expect a strong turnout and quality interactions.
Check out the signup and info page for NPE.
---
WorldSweeper's Bulletin Board Discontinued
The WorldSweeper Bulletin Board was discontinued starting this month. The resource made sense 16 years ago when the site was started but now with the availability of so many other venues, such as Facebook, Twitter, etc., we believe that type of resource had reached the end of its useful lifetime.
Those types of PHP-based sites are difficult to keep from getting spammed. They take constant monitoring in that regard and are also resource-intensive for keeping up with in other respects. In a future issue of this newsletter we'll showcase some of the Facebook Groups and other web locations where those same conversations are taking place.