---
Driverless Sweepers Advancing On Many Fronts
by Ranger Kidwell-Ross, editor
WorldSweeper.com


It's hard not to be excited at the prospect of driverless sweepers, which are rapidly advancing to reality and away from their historic position somewhere on the future horizon. In our July newsletter, we reported on Trombia's autonomous testing at Helsinki Airport. As soon as the test results are made public we'll have that information for you.
However, in this issue we are reporting on two other sweeping companies that have entrants into the self-operating sweeper marketplace, Bucher and Boschung. That Bucher's sweeper has been approved for operation in such a major locale, Singapore, should give the organization a headstart in working to gain similar approval in other geographical regions of the world.
When I traveled to Singapore in 2007 to meet with members of Singapore's Environmental Health Department it was clear that the country truly took sweeping of its roadways seriously – starting with the fact that sweeping was overseen by the country's National Environmental Agency.
The US marketplace for sweepers is also seeing its share of other changes. In this issue we cover two top management promotions, by FAYAT and Schwarze. The former should spell a more serious effort by FAYAT to become a significant player in the US, advancing the visibility of the parent company's four different sweeper makes.
My favorite story this time around, though, centers on how the self-named "Bastards" of the US National Guard went into Afghanistan and kept the airport operational by fixing a variety of rolling stock – including a broken airport runway sweeper. I also enjoyed how Sweeprite's Dario Manti "made lemonade" out of the fact his company's S3 sweeper fell while transitioning from trailer to loading dock at the recent APWA PWX show. Finally, congratulations to the two WSA Memorial Scholarship winners for 2021/2022!
We're proud to keep our readership up-to-date on the very latest goings on in the US and worldwide sweeping industry. If you know of others in your organization or elsewhere who might not be getting this multi award-winning newsletter in their email in-box each month, here's the link where they can sign up.
As always, if you have any news of potential interest to the power sweeping community, please let us know. Between this publication, the WorldSweeper.com website, and the World Sweeping Association, we'll be sure to get the information passed along to interested readers.
Good Sweeping,



Editor, WorldSweeper.com
Executive Director, World Sweeping Association
Member, PAVEMENT Hall of Fame
PS If you're a contractor I urge you to check out the many benefits of membership in the World Sweeping Association. Also, if you haven't 'liked' our WorldSweeper Facebook page, what are you waiting for? That's where we offer a variety of industry previews and updates on an ongoing basis.

---
September Newsletter Contents
(Scroll down to read stories or click on links below.)
---


A Look Back at NPE 2016
Five years ago, the 2016 National Pavement Expo was held in Charlotte, NC. It was the year Larry Dyck, co-founder of the MASCO line of sweepers, won our Award of Excellence in Power Sweeping. Scott Cerosky won the NPE's Alan Curtis Industry Service Award and New Jersey-based C&L Sweeper Service was honored as the winner of the organization's award for 'Sweeper of the Year.' Mike Musto, owner of U.S. Pavement Services and the 1-800-PAVEMENT network, was the 'Contractor of the Year.'
WorldSweeper.com's coverage included two seminars, which are now available to non-World Sweeping Association Members for the first time. John Meola's "How to Set up and Run an Effective Safety Program" was very informative. WSA also sponsored the CEO of Pursant, Mark Herbick, whose "The Good, Bad & Ugly of Buying and Selling a Business: Learning by Example" detailed what business owners need to know prior to buying or selling their businesses. The info from each of these seminars is still valid today and for the first time have been unlocked at the linked page so non-WSA Members can access them.
We also offered nine NPE vendor videos, a slideshow of photos taken at the event, and even a video of the ad hoc 'Contractors Go-Kart Racing Championships.' If you attended, you're probably in one or more of those. Finally, at the Contractors Roundtable, there's a brief video of when we all sang Happy Birthday to Peggy Schwarze, who was turning 80. Today Peggy, the co-founder of Schwarze Industries, Inc., still sometimes answers the phone at Victory Sweepers! Check out the 2016 NPE link: We think you'll find it an enjoyable reminiscence and can still learn from the seminars.
Take a look at WorldSweeper's coverage of the 2016 National Pavement Exposition.
---
Bucher Municipal's Autonomous CityCat 2020ev Approved for Public Road Use in Singapore

Bucher Municipal has announced that its first all-electric compact sweeper, the CityCat 2020ev, is now autonomous. The driverless model, dubbed "Donner," was equipped with the technology for autonomous operation by a software manufacturer of self-driving utility vehicles, Berlin, Germany-based ENWAY.
Recently, Donner passed the Singapore Land Transport Authority's test for autonomous vehicles and officially received approval for public road use in Singapore. Singapore's National Environment Agency (NEA) is now starting trial operations on public roads to make the city-state cleaner and more sustainable. The self-driving sweeper is monitored remotely via a teleoperation center where cleaning routes and times are determined and adjusted if necessary. For more information on the fascinating process, as well as access to a video of the machine in operation, use the link shown below.
Take a look at Bucher's autonomous sweeper announcement.
---
Boschung America Introduces New Autonomous Urban-Sweep S2.0 at PWX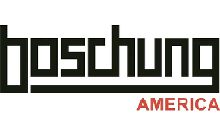 At the recent PWX Show, Boschung America introduced the autonomous Urban-Sweeper S2.0, an all-electric street sweeper with an autonomous driving feature. As may be seen in the chart above, the machine boasts a fast charging capability and can operate one entire work shift after just 100 minutes of charging time.
The electric S2.0 offers a 2 cubic meter / 2.6 cubic yard sweeper hopper that Boschung promo says "combines ease and suction power with the most progressive technologies of today. Street-smart, intuitive and compact, the Urban-Sweeper S2.0 was engineered and designed for maximum performance."
Take a look at the new Boschung sweeper.
---
World Sweeping Association 2021/2022 Scholarship Winners Announced


The World Sweeping Association has announced the winners of WSA's Memorial Scholarships for the 2021/2022 academic school year. Winner of the Dale McCaskill Sr. Scholarship is Alexis Kannewurf, sponsored by Illinois-based KLM Commercial Sweeping, Inc. The recent high school graduate will be attending the University of Illinois at Urbana-Champaign starting this fall. Her goal is a degree in Animal Science.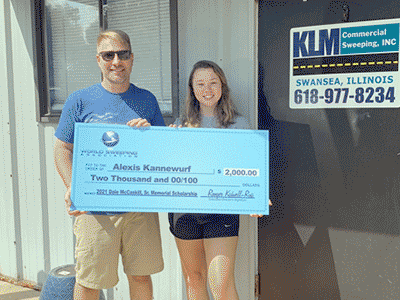 The recipient of the Carl J. Austin Memorial Scholarship for 2021 is Kyle Christianson, sponsored by Pro Sweep, Inc. of Fargo, North Dakota. Kyle has been out of high school for over a decade. Now married with two children, he decided to return to college in pursuit of a law degree. He will be attending Mitchell Hamline School of Law this fall with the goal of becoming a lawyer.
The WSA annual scholarships are nominally for $1,000 each; however, if the winning recipients are sponsored by a WSA member the scholarships are doubled to $2,000 each. FYI, the judges are unaware of whether or not the applicants are sponsored by a WSA member or not, since the competition is open to the entire power sweeping industry. We invite you to take a look at the link below at these worthy recipients, as well as learn more about WSA's Memorial Scholarship as well as the many benefits of the World Sweeping Association.
Read about these worthy recipients.
---
Victory Sweepers Touts New 'Full Service' Website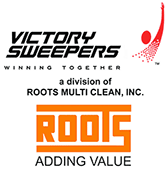 The management team at Victory Sweepers, a division of Roots Multiclean, Inc., has announced a completely re-designed website. The new site offers users the ability to see details about all of the various components of the company's extensive line of parking area sweepers.
In addition to specifications, users are able to navigate between Victory's eight models and read about the capabilities of each. This helps those newer to the industry to be able to understand which model(s) are designed for their type of sweeping needs.
In addition, Victory Sweepers now offers action videos for most all of the sweeper models. These are linked from each model's home page and are helpful to see what that particular model can accomplish. In addition, viewers can read about the extensive and multi award-winning background of the cleaning division of Roots Multiclean organization, which includes being the first Indian cleaning equipment manufacturer to become ISO 9000 and 14001 compliant. Roots purchased Victory Sweepers in 2017 and has since expanded the Victory product line throughout the United States.
For more info, check out Victory Sweepers' newly redesigned website.
---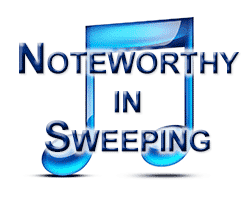 Noteworthy in Sweeping: 'Commandeered' Sweeper Key to Clearing Kabul's Airport


All of America and beyond watched as the recent evacuation in Afghanistan unfolded on our electronic screens, large and small. Unfortunately, much of the coverage centered on how the U.S. could have accomplished this task better, faster, more completely, etc.
The linked article is about what the self-named "Bastards" from the National Guard did that were key to the entire effort. As is said in the article, "Our previously skeptical active duty counterparts quickly spread the word that the Bastards from the National Guard seemed to know what they were doing. Not only were we tactically and operationally proficient, but we brought talents to the battlefield that aided the entire effort."
The linked article is a fascinating trove of information about how it all came down. If you want to find the part the Guard played by commandeering and repairing a non-operational sweeper, just search for "sweeper" once on the page. However, we bet that once you start reading you'll want to keep going through the entire lengthy article.
Check out how a sweeper was commandeered to keep the Kabul airport operational.
---
FAYAT Group Appoints New GM for USA Operations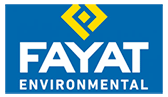 FAYAT Environmental Solutions (FES) America is pleased to announce the appointment of Michael Nelson as its new General Manager for the USA.
Nelson will be responsible for the overall management and performance of FES' USA operations. The FAYAT product line of companies for the US includes Mathieu, Ravo, Scarab and Dulevo.
Read FAYAT's press release about Nelson.
---
Schwarze Industries Promotes Joe Hendrickson to VP of Sales & Marketing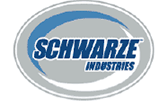 Joe Hendrickson has been promoted to Vice President of Sales & Marketing at Schwarze Industries in Huntsville, Alabama, effective September 6, 2021. Hendrickson has been a member of the Schwarze leadership team as the Director of Sales Operations.
Read Schwarze's press release about Hendrickson.
---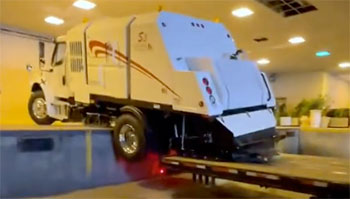 Sweeprite Offloading Accident at APWA's PWX Show "Not All Bad"
So far, over 611,000 people have seen the video of an unfortunate accident offloading a Sweeprite sweeper at the recent APWA PWX tradeshow. While going from trailer to loading dock the trailer appeared to move, which dropped the middle part of the sweeper onto the loading dock with the rear wheels on, well, nothing but thin air.
However, as Sweeprite's Sales Manager, Dario Manti, wrote us in part... "That's 21,000 lbs. of Sweeprite S3 sweeper duplicating Isaac Newton's apple experiment... Here is the amazing part: Only two items were damaged, a plastic water fitting ($10) and a rubber skirt... that could have easily been patched with duct tape.
"Sweeper Works of San Jose, CA is now offering demonstrations with this 'flying' S3. It's a beast and you simply can't beat the power of four hydraulic pumps in a milling operation. Proof once again that a twenty year old Sweeprite is just 'worn in.'" To read all of what Manti wrote to us, or to watch the viral video of the incident, use the links below.
Read Manti's email to WorldSweeper or watch the video of the "falling Sweeprite sweeper" being unloaded at PWX.
---