---

by Ranger Kidwell-Ross, editor
WorldSweeper.com

Ready for Some 'Deja Vu' Along With Your Latest Industry News?
---

Today, March 22nd, Celebrates World Water Day 2021
Worldwide, clean water is under extreme threat from a growing population, increasing demands of agriculture and industry, and the worsening impacts of climate change. Remember: Power sweeping is the world's 'first line of defense' method to keep water bodies clean via removal of pavement-based pollution runoff!
---

Today, March 22nd, Also Celebrates Launch of the 1st Astroscale Space Debris Sweeper
Our orbital highways are already polluted with more than 23,000 pieces of debris larger than 10 cm in diameter and hundreds of millions that are smaller. Astroscale's mission is to develop the technology and ensure policies to facilitate on-orbit servicing and active debris removal to secure safe and sustainable orbits for generations to come. (WorldSweeper was founded as an expansion of our previous 'American Sweeper.' Before long we may have to, once again, change our name...)
---
The pandemic has taken its toll on many aspects of our personal and business lives, both in America and around the world. On the business side, one big change has been our current inability to gather together at conferences to see the latest equipment and attend seminars showcasing industry best practices.
As examples, the APWA's annual PWX Show this year has morphed into an offering of 'an all-new learning experience... (with) education sessions, exhibits, and networking opportunities presented... throughout 2020-2021. The 2021 National Pavement Expo, normally held last month, was a virtual event that offered a total of 16 seminars.
In our last issue we indicated that WorldSweeper, to address the same pandemic-caused situation, would offer a reprise of our past many years of NPE coverage. However, when I reviewed info we have offered, which started in 2007, I realized there was way too much total info to present in that fashion. So, in order to allow our readers a realistic opportunity to browse through the multitude of our archived tradeshow information, we have decided to showcase for you a particular year of NPE and/or APWA coverage in each of our 2021 newsletter editions. For the first such, we go back a decade to our NPE 2011 coverage.
Although back in 2011 we offered coverage of just one seminar, Kraig Kramers "Evaluating Your Business Methods Hold Key to Maximizing Growth and Profit," the info Kramers provided is as valuable today as it was a decade ago. When you look back on the industry provider videos we filmed in 2011 you can see what product changes have occurred in the last decade. My personal favorite was looking back at the two photo slideshows we offered of the event. If you were an attendee that year you'll definitely want to take a look at those.
In addition, our March newsletter also has our usual slate of current articles and information, including our presentation to the 26th annual "Award of Excellence in Power Sweeping" winner. For 2021 we chose second-generation contractor, Jim Blackerby, for his ground-breaking industry software, Sweep Inspect. I encourage every sweeping contractor reading this to check it out.
Good Sweeping,



Editor, WorldSweeper.com
Executive Director, World Sweeping Association
Member, PAVEMENT Hall of Fame
PS If you're a contractor I urge you to check out the many benefits of membership in the World Sweeping Association. Also, if you haven't 'liked' our WorldSweeper Facebook page, what are you waiting for? That's where we offer a variety of industry previews and updates on an ongoing basis.

---
March Newsletter Contents
(Scroll down to read stories or click on links below.)
---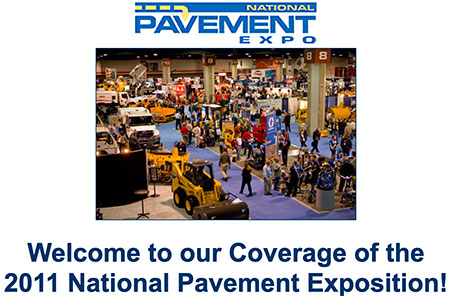 Looking Back at NPE 2011
Ten years ago, WorldSweeper.com's NPE 2011 included comprehensive coverage of the TYMCO-sponsored seminar by Kraig Kramers, two slideshows that included many sweeping industry attendees from that year, and nearly a dozen videos showcasing the product lines of attending vendors.
We encourage all sweeping contractors to revisit the Kramers seminar info and – especially if you attended NPE in 2011 – you'll be certain to want to check out the photos. It's also interesting to see the product lineup from 2011: See if you can spot the changes that have occurred in the last decade.
Given the ongoing pandemic, next month we'll be offering more coverage from years past at the NPE, the APWA's PWX Show, or both!
Check out WorldSweeper's coverage of NPE 2011.
---
Louisville Pavement Sweep Wins 26th Annual Award of Excellence in Power Sweeping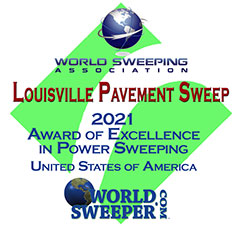 This marks the 26th year that WorldSweeper – and since 2014 in conjunction with the World Sweeping Association – has chosen an entity in the power sweeping industry most worthy of receiving the Award of Excellence in Power Sweeping. Previous winners have been some of the largest organizations in the industry, such as our 2020 Award to Elgin Sweeper. However, this year we chose a second-generation sweeping contractor who is making a difference at an early age.
Jim Blackerby's Louisville Pavement Sweep has grown fast during its first few years of operation. Jim was also the first to alert the media about the pandemic-related problem of people leaving masks and gloves on parking lots.
However, the main driver for Blackerby winning this year's Award is due to his development of the very innovative software app for, primarily, parking area sweeping contractors. Called Sweep Inspect, the app that started out as an easy way for managers to check up on operator quality has morphed into a very full-featured product that does much more.
See the Award info and watch the Zoomcast about the recipient.
---
Stormwater Management: Keeping Trash, Pollution and Nutrients Out of Biscayne Bay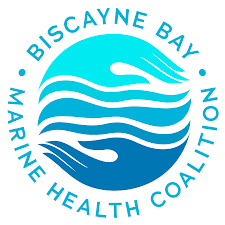 On February 19th of 2021 the Biscayne Bay Marine Health Coalition (BBMHC) organized this webinar for Stormwater and Public Works professionals to share about their work to keep trash, pollution and nutrients out of Biscayne Bay, Florida. Much of the same information would be in play for anyone tasked with keeping any other water body near a municipality cleaner.
To provide those truly interested in the relative efficiencies of differing stormwater approaches to be able to see all aspects of the webinar our link, below, will allow you to view the entire webinar. However, starting at 34 minutes, 50 seconds, you will find the portion conducted by Dr. John Sansalone of the University of Florida, who is the author of the groundbreaking study we first reported on in November of 2019.
The study he led covered data provided by 14 Florida municipalities over the course of over a decade. With a confidence level of 95%, the data show street sweeping to be the most cost-effective method for removing Total Nitrogen and Total Phosphorus from pavement's runoff stream – by orders of magnitude. If pavement-generated pollution removal matters to your organization you'll definitely want to see the details from the study Dr. Sansalone headed up.
Check out the webinar in its entirety or only the info from Dr. Sansalone.
---
Non-CDL Sweeper Chassis Facing Supply Shortages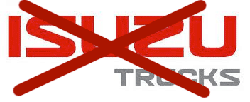 Largely due to pandemic-related issues, the supply of both cabover and conventional chassis needed for non-CDL sweeper mounting are in short supply currently and are slated to be for the next several months. A new supply of Isuzu's 19,500 GVWR NRR chassis with a 109-inch wheelbase are forecast to not be available until June or July; availability of Isuzu's 17,950 GVW NQR chassis may not occur until the end of 2021.
On the topic of conventional trucks, sources report that both Chevrolet and Ford are "waiting on chips." Those models are apparently caught up in the computer chip shortage that readers may have heard about. Although most contractors prefer cabover chassis by a wide margin, the conventional chassis shortage effectively eliminates an alternative for someone who needs a new sweeper badly enough to want to move to a Chevrolet or Ford conventional chassis-mounted sweeper.
Thanks to Mark Schwarze of Victory Sweepers, along with Dario Manti of Merit Sweeprite, for digging into this situation so as to alert the sweeping industry about the emerging problem.
---
Exterior Maintenance Overview Provided by Manager of PAVEMENT Magazine's "2020 Sweeping Contractor of the Year"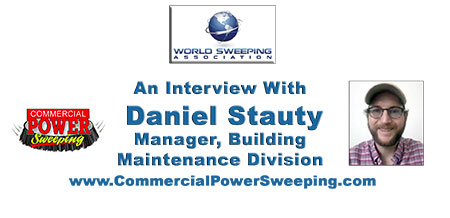 Especially in these challenging times, one of the best ways for a sweeping contractor to expand is via additional services that can be provided to existing and new customers. To assist its members in learning about those many services and how they can be added in – or provided by other vetted area contractors, perhaps after entering into partnership agreements – the World Sweeping Association conducted a two-part webinar with Daniel Stauty, an industry expert in that area.
Daniel Stauty – Manager of Exterior Services for Virginia-based and multiple award-winning, Commercial Power Sweeping – discussed his company's approach to a wide variety of non-sweeping services. In WSA's two-part video series Daniel offers insights and information spanning a number of exterior maintenance services Commercial Power Sweeping provides.
The webinars were provided free to WSA members. However, the Association is also offering the information to non-WSA members for a $60 donation to WSA's Memorial Scholarship Fund. So that non-WSA members have a better idea about the contents of the combined 60-minute webinars, WSA has provided a 5-minute trailer on YouTube showing the various topics covered, along with a link to sign up to watch the two webinars if you choose to do so.
Check out the 5-minute informational trailer. WSA Members can use this link to see both webinars (must be logged in to WSA account to view).
---
"Cutting-Edge Sweeper" Award – CAM South Taking an All-Encompassing Approach to Technology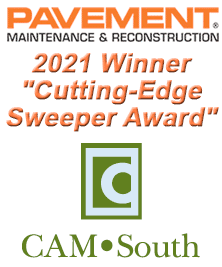 From dashboard cameras to real-time GPS tracking to payroll efficiencies, CAM South has taken an all-encompassing approach to how technology can improve the company's productivity, job quality and profitability. The company's efforts in those areas have earned them PAVEMENT magazine's "Cutting-Edge Sweeper" Award for 2021.
CAM South, located in Birmingham, AL, is owned by Andy Coolidge. Since purchasing the company in 2014, Coolidge has implemented technology and innovative practices to his sweeping business to help his company gain a competitive edge.
With an emphasis on parking lot sweeping, portering and pressure washing, CAM South also offers trash and debris removal as well as pavement maintenance services that include striping, crack sealing and infrared pavement repair. For more information about CAM South's Award and the company's many innovative methods of operation, use the link shown below.
Take a look at CAM South's innovative operations.
---
PAVEMENT Magazine Now Accepting 2021 Pavement Top Contractor Applications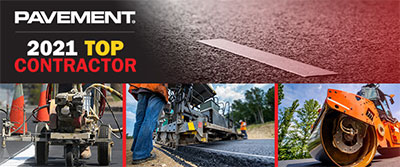 For the ninth year in a row, Pavement Maintenance & Reconstruction will develop a list of top-selling contractors within each industry segment of: Paving, Sealcoating, Striping, Sweeping and Pavement Repair. Those who qualify for the lists will be published in the 2021 June/July issue of Pavement.
If your company qualifies as a 2021 Top Contractor, you can boast placement on the list in future marketing pieces. Companies who qualify will also receive an exclusive report and breakdown of the survey findings plus free exposure on Pavement's social media platforms.
---
Global Announces City View Specialty Vehicles as New Dealer in Ontario, Canada

Says Chad Bormann, Director of Sales, Global Environmental Products: "We are very excited to have City View as our dealer in Ontario. Their expertise in selling and servicing specialty vehicles in Ontario is exceptional. We believe the launch of Global's fully electric street sweepers will fit nicely alongside the electric vehicles they are currently offering to their customers."
Read about Global's new dealer.
---
SCA Announces Purchase of Two California Sweeping Companies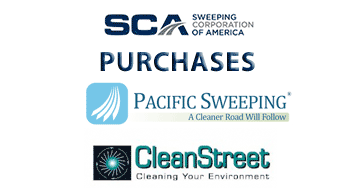 SCA's acquisition of Pacific Sweeping and CleanStreet mark the company's first expansion into the California marketplace. Both are leading providers of street sweeping services to Southern California municipalities, private contractors and commercial properties.
"SCA's expansion into California is consistent with our strategy of building a nationwide presence," said Christopher Valerian, President & CEO, SCA. "CleanStreet and Pacific represent industry leading companies with decades of successful operation. We look forward to continuing (the companies) tradition of excellence and providing support to their talented workforce as we continue our growth plans in California."