---

Today marks WorldSweeper's 16th year of operation. Many thanks to our advertisers and readership for providing the website with such a strong track record!

---

Time Flies – It Doesn't Take the Bus...
by Ranger Kidwell-Ross, editor
WorldSweeper.com

It's astonishing to think that today marks 16 years since the WorldSweeper website was founded, which occurred on June 21st of 2005. I published our first quarterly newsletter in October of that year, a schedule we continued for the following five years before moving to a monthly publication. That makes this newsletter edition the 159th in our ongoing series.
From the very start – and even before then in the pages of American Sweeper magazine, which I founded in the early 1990s – I have promoted the concept that street sweeping was "America's first line of defense in combating pavement-based runoff pollution." It has been very gratifying to finally have independent validation via the conclusive studies announced in the last couple of years that show sweeping to be by far the most efficient and cost-effective way to remove both nitrogen and phosphorus from the runoff stream. This month's hour-long Zoomcast with Randy Neprash puts an exclamation point on that topic.
Likewise, on the parking lot sweeping side of the ledger one of the largest complaints has been the proliferation of third party vendors and, more recently, the individual apps required to log in and out of properties managed by them. Jim Blackerby's Sweep Inspect app has made enormous strides in combating that problem with its recent integration with ServiceChannel. More such linkages are on the horizon. You'll read about that great news in this newsletter, as well.
I have navigated over 30 years in the power sweeping industry, during which time a number of key players have retired. However, few have had the stature of Jack Moran, long-time sales manager for Keystone Plastics. We're glad to offer a Zoomcast tribute to Moran, which was joined by several other well known industry luminaries so as to give Jack a proper send-off into his retirement years.
Finally, I urge each person reading this to let their employees know about the World Sweeping Association's annual Memorial Scholarship Program. For the ninth year in a row, WSA is offering two scholarships of up to $2,000 each. To be eligible, students must be somehow involved with our industry. These are typically children of sweeping organization employees headed off to attain most any higher education, including trade schools, colleges and technical schools. Post the info on your bulletin board and include handouts in your employee meetings. $2,000 can make a big difference in the life of both the student and the employee!
As always, if you have any news of potential interest to the power sweeping community, please let us know. Between this publication, the WorldSweeper.com website, and the World Sweeping Association, we'll be sure to get the information passed along to interested readers.
Good Sweeping,



Editor, WorldSweeper.com
Executive Director, World Sweeping Association
Member, PAVEMENT Hall of Fame
PS If you're a contractor I urge you to check out the many benefits of membership in the World Sweeping Association. Also, if you haven't 'liked' our WorldSweeper Facebook page, what are you waiting for? That's where we offer a variety of industry previews and updates on an ongoing basis.

---
June Newsletter Contents
(Scroll down to read stories or click on links below.)
---


Welcome to NPE 2010!
Eleven years ago, the 2010 National Pavement Expo was held in Nashville, TN. It was the year Allan Heydorn, now retired as Editor of Pavement magazine, won our Award of Excellence in Power Sweeping. WorldSweeper.com's coverage included a total of eight seminars, several of which contain information still valid today.

We also offered 10 NPE vendor videos, some of which feature products no longer seen in the sweeper marketplace (Tow-Vac, Black Dawg Franchises, Green Sweeper) and a variety of other out-of-date info, like an explanation of the benefits of Elgin's tilting curb broom done by Brian Giles, who switched his affiliation to Schwarze Industries some years ago. There was also an extensive slideshow of photos taken at the event; if you attended, you're probably in one or more of those.

Check out the link: We think you'll find it an enjoyable reminiscence and can still learn from the seminars, with topics like "CEO Tools for More Productivity and Greater Profits," "Accident Readiness for Your Drivers," "Strengthening Your Sales and Customer Service Skills," and "How to Write an Employee Handbook and Set Company Policy."

Take a look at WorldSweeper's coverage of the 2010 National Pavement Exposition.
---
Keystone Plastics' Jack Moran Retires After 30+ Years in the Industry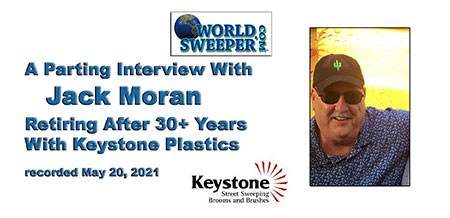 In 1988 Jack Moran moved from managing a small broom manufacturing plant, Keystone Plastics, into sales for the items he'd previously been making. He and Keystone's relatively new owner, Marvin Naftal, then embarked on travel throughout the US educating sweeper users about the capabilities of the company's product line.
In the intervening 30+ years Jack became a well-known fixture in the sweeping industry and Keystone Plastics became a juggernaut in the sweeper broom and brushes business. To commemorate Moran's retirement, WorldSweeper's Editor held a Zoomcast that provided some stories from that span of years, as well as tributes from some of the industry pros who knew Jack well.
Watch the entertaining Zoomcast.
---
Hourlong Zoomcast on Street Sweeping Study Showing Pickup of Phosphorus at Less Than $100/lb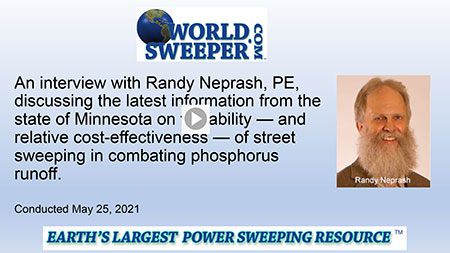 In June we provided initial information about the ground-breaking study information coming from Minnesota about the cost-effectiveness of street sweeping in combating phosphorus (P). Keep in mind that some locales are picking up phosphorus at the end of the pipe for well over $10,000/lb! Because of the importance of this data – especially since Minnesota will now be providing direct credits for sweeping to its MS4 cities – WorldSweeper's Editor, Ranger Kidwell-Ross, conducted an hour-long Zoomcast with Randy Neprash, PE, who serves on staff with the Minnesota Cities Stormwater Coalition and is also Vice-Chair of the National Municipal Stormwater Alliance.
If you sweep streets, we urge you to watch and learn as Neprash and Kidwell-Ross, two of the nation's pre-eminent experts on stormwater and sweeping, respectively, discuss the implications for the US effort to effectively remove pollutants via sweeping in order to best keep America's water bodies as free as possible from stormwater runoff pollutants.
You'll also hear about the latest technologies to alert citizens about sweeper movements and ways to make street sweeping programs 'be all they can be.'
Read and watch all about it in last month's article, which has been updated with the Zoom video.
---
Sweep Inspect Hits the Big Time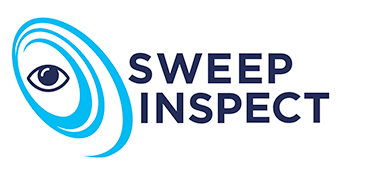 In November of 2019 we wrote about Sweep Inspect, the very elegant, full-featured, inspection app developed by Jim Blackerby, owner of Kentucky-based Louisville Pavement Sweep. The app was initially designed so sweeping company managers could easily rate the job done by sweeper operators. In the intervening timeframe, Sweep Inspect has added a host of updates and new features.
Perhaps the biggest news is that if a company is using Sweep Inspect, they will no longer need to use the ServiceChannel app to report services. Additionally, owners/managers will no longer need to manually write out the work order numbers for their drivers to enter once on site of a property that requires the use of ServiceChannel verification. At the same time, operators will be able to check in and out of all their other properties with Sweep Inspect
Sweep Inspect will also be adding integrations for FM Pilot and Field Tech Connect soon, with the goal of allowing owners/managers the ability to be able to only use one app for all of their work verification requirements. The software is $200/month for companies regardless of size, with a discount for members of the World Sweeping Association.
For more info, check out the story.
---
Seattle's Latest Street Sweeper Gets a New Name: Ok Broomer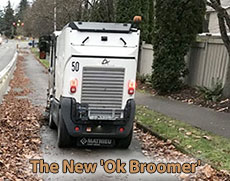 Seattle's latest naming contest has just wrapped up, with the city's newest street and bike lane sweeper being named Ok Broomer. According to the Seattle Department of Transportation, the name gained over 1,500 votes on Twitter, securing the new name for the street sweeper.
Ok Broomer came in narrowly ahead of the second-most popular name: Sir Sweeps-a-Lot. The contest was done 'sweet-sixteen style,' starting out with 16 names chosen from those submitted, with winners in each 'bracket' then announced and the contest going forward with just those names. It's hard not to chuckle when you see some of the names suggested!
Check out Ok Broomer in Seattle.
---
Reminder About World Sweeping Association Scholarships


We want to remind everyone to get info about WSA's Memorial Scholarship program up onto your bulletin boards and distributed to your employees. This marks the ninth year that WSA will be providing two scholarships of up to $2,000 each toward tuition and other education costs to two students connected with the sweeping industry. These may be employees, or children of employees, who are or will be attending an accredited university or technical school.

Here is a link to the WSA Memorial Scholarship page as well as all the application instructions. Click here for a ready-to-print PDF form you can use as a way to get the info to your employees. Chances are that some of your workers have kid(s) that would really benefit from getting a scholarship. The amount of each scholarship is $1,000, which is doubled if a winning student is connected to a company that is a WSA Member.

We encourage you to distribute info about the availability of these scholarships widely throughout your organization. Applications will be accepted until August 1st.

Learn more about the WSA's Memorial Scholarships as well as WSA Membership.
---