---
Get The Word Out: Street Sweeping is up to 150 Times More Cost-Effective at Removing Phosphorus From the Runoff Stream Than Any Other BMP
by Ranger Kidwell-Ross, editor
WorldSweeper.com

The face of street sweeping is one that's fast-changing – and needs to be even more so, given the accelerating pace of degrading water quality due to population growth and climate change. Worldwide, as well as in the U.S., there are innovations in machines and methodology that are, ahem, sweeping away the old. In this issue we have information about the latest in innovation at two ends of the spectrum.
On the lower end, you can read in this issue about the person in the process of developing a low-cost, bicycle-powered, bike lane sweeper. An emerging and definitely serious problem is keeping the increasing number of bike lanes free and clear of anything that will cause bicycle crashes. Yet, the smaller sweepers offered to the market in this regard are still expensive to buy and to use; and, even though more narrow they often can't handle the even narrower bicycle lanes. You'll be impressed by the concept of employing bicyclists themselves to address the problem.
At the other end is the latest testing process being done by Finland's Trombia Technologies on its model that sweeps completely autonomously. In its most recent test of its 'Trombia Free' sweeper that also sweeps without using water for dust suppression, the pilot will focus on finding how well the sweeper removes dust from the parking lots via its waterless technology. The electric, completely robotic, Trombia Free sweeper is predicted to save an estimated 26kg/h of Co2 carbon emissions just in its scheduled 10-day test.
However, in terms of overall importance, the fact that Minnesota is joining with Florida in offering MS4 municipalities significant (read: "millions of dollars in") credits based on their respective studies that show, conclusively, that pavement-based phosphorus can be removed by a sweeper for up to 150 times less than by the next most viable manner, which occurs at the end of the pipe with catch basins.
Each and every reader involved with street sweeping needs to make sure this information reaches the highest levels of their municipal clients, state legislatures, DOTs and EPA contacts. Send them the links and let's get these credits – which are occurring because of two impeccable studies with high confidence results – available in all U.S. jurisdictions.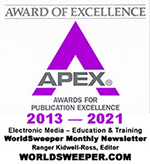 You'll be reading all about it, we're proud to announce, in this e-newsletter that just won a 2021 APEX Award for Publication Excellence, which it has done each and every year since 2013. We're honored, humbled and extremely proud of that unblemished track record. And, we're the ONLY organization to receive an APEX for some aspect of our output in each year since our first submittal, which was for my fledgling American Sweeper print magazine back in 1994.

Finally, this is absolutely your last chance to let your employees know about the World Sweeping Association's annual Memorial Scholarship Program. For the ninth year in a row, WSA is offering two scholarships of up to $2,000 each to, typically, children of sweeping organization employees headed off to attain most any higher education, including trade schools, colleges and technical schools. Applications must arrive electronically or be postmarked by August 1st. $2,000 can make a big difference in the life of both the student and your employee!
If you are one of WorldSweeper.com's advertising sponsors, thanks to you, as well, for the critical part you play in supporting 'Earth's Largest Power Sweeping Resource.'SM I am honored by your collective votes of confidence in what this organization provides to the power sweeping industry. Likewise, if you are one of the industry suppliers providing WSA Members with savings on your goods and services, thank you for providing those WSA Member Benefits. And, if you sell to the sweeping industry but don't yet advertise with us, please consider doing so.
Good Sweeping,



Editor, WorldSweeper.com
Executive Director, World Sweeping Association
Member, PAVEMENT Hall of Fame
PS If you're a contractor I urge you to check out the many benefits of membership in the World Sweeping Association. Also, if you haven't 'liked' our WorldSweeper Facebook page, what are you waiting for? That's where we offer a variety of industry previews and updates on an ongoing basis.

---
July Newsletter Contents
(Scroll down to read stories or click on links below.)
---


Welcome to NPE 2013!
Eight years ago, the 2013 National Pavement Expo was held in Nashville, TN. It was the year Karl Stauty, principal with Virginia-based Commercial Power Sweeping, won our Award of Excellence in Power Sweeping. WorldSweeper.com's coverage included three seminars, which were offered to non-World Sweeping Association Members for a limited time. All of these contain information still valid today and have been unlocked so non-WSA Members can access them.
We also offered six NPE vendor videos, at least one of which, Whart Hog, features a product no longer seen in the sweeper marketplace. There was also an extensive slideshow of photos taken at the event; if you attended, you're probably in one or more of those.
Check out the link: We think you'll find it an enjoyable reminiscence and can still learn from the seminars, which have these titles:
"Property Managers Provide Ideas for Selling to Their Peers"
"Best Practices: Useful Tips Cover a Variety of Areas"
"Employee Hiring Best Practices"
Take a look back at WorldSweeper's coverage of the 2013 National Pavement Exposition.
---
Minnesota Pollution Control Agency Will Offer MS4s Rebates for Sweeping

Mike Trojan's 30-year career has largely been as an investigator of the best ways to remove stormwater runoff pollution. In this Zoomcast, Trojan discusses how a comprehensive study by his Minnesota Pollution Control Agency, among other participants, has determined that removing phosphorus via street sweeping is orders of magnitude less expensive than any other method.
The study showed that phosphorus removal via street sweeping was done for as little as $100/lb whereas, for example, costs of phosphorus removal per pound at the 'end of the pipe' has been tracked in the Chesapeake Bay area at over $15,000/lb.
This @45-minute discussion between Trojan and a 30-year sweeping industry veteran, WorldSweeper's Editor, Ranger Kidwell-Ross, discusses this latest study information. The two also discuss the emerging technology that can leverage the value of sweeping, such as recognition of potholes, overhanging branches, etc., via a sweeper camera; determining the amount of material left on the street when vehicles are not removed during sweeping; new ways to ticket parking scofflaws and more.
Watch the informative Zoomcast. Includes link to previous background MPCA seminar info article.
---
Bike Lane Sweeper Concept is Bicycle-Pulled Sweepers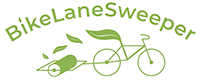 The problem of keeping bike lanes clean has, in recent times, become a problem that's gained recognition in a number of cities across the U.S. and around the world. Because of their small tires relative to other vehicles, bicycles need – and deserve – to have a path of travel that's free of debris.
This is the story of an avid bicyclist who came up with the idea of making a bike lane sweeper powered by a bicycle, not just a traditionally-powered sweeper designed to pick up debris in a relatively narrow pathway. Pierre Lermant knows all too well the problems created by roadway debris, including flat tires, debris-caused accidents and others that occur when bicyclists swerve into the main roadway to avoid objects in the bike lane. To address these various issues, Lermant's idea is to build a sweeper designed to be towed by a bicyclist.
Read about the new concept; includes a video with Lermant, the company's founder.
---
Trombia Technologies "Trombia Free" Autonomous Electric Sweeper in Test at Helsinki Airport

Trombia Technologies is testing, together with facility services company ISS, to see how autonomous sweeping technology suits the needs of busy and high maintenance aviation premises. Focus of the pilot is to develop ways autonomous street sweepers can support facilities maintenance work in busy closed areas like parking lots, where cleanliness is key both for the security and for the atmosphere.
Finnish street maintenance technology developer Trombia Technologies continues its commercial pilot program with the full-power autonomous and electric Trombia Free street sweeper in Helsinki Airport premises. The frontrunner pilot partner is facility services company ISS Finland.
The target of the pilot, which started July 13th, is to focus on developing future ways autonomous street sweepers can support facilities maintenance work in busy traffic and industrial areas.
For more info, check out the press release.
---
This Newsletter Wins 9th Consecutive APEX Award for Publication Excellence.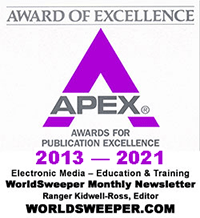 This year marked the 9th year in a row for the monthly WorldSweeper Newsletter to win an APEX Award for Publication Excellence in the category of 'Electronic Media – Education & Training. One or more aspects of the various articles, blogs and publications of our WorldSweeper.com editor, Ranger Kidwell-Ross, have received an APEX Award for an internationally record-setting 27 years in a row, having won at least one APEX every year since 1994.
An APEX Award is received if the judges determine the work product is of high enough quality to earn one, which this year meant that 471 awards were dispensed to the nearly 1,200 entries. However, in the history of the international competition, no other individual or organization in the U.S. has ever won an APEX that many years in a row during the 33 years of the competition's existence.
Check out the history of WorldSweeper's Awards.
---
Reminder About World Sweeping Association Scholarships


We want to remind everyone to get info about WSA's Memorial Scholarship program up onto your bulletin boards and distributed to your employees. This marks the ninth year that WSA will be providing two scholarships of up to $2,000 each toward tuition and other education costs to two students connected with the sweeping industry. These July be employees, or children of employees, who are or will be attending an accredited university or technical school.

Here is a link to the WSA Memorial Scholarship page as well as all the application instructions. Click here for a ready-to-print PDF form you can use as a way to get the info to your employees. Chances are that some of your workers have kid(s) that would really benefit from getting a scholarship. The amount of each scholarship is $1,000, which is doubled if a winning student is connected to a company that is a WSA Member.

We encourage you to distribute info about the availability of these scholarships widely throughout your organization. Applications will be accepted until August 1st.
Learn more about the WSA's Memorial Scholarships as well as WSA Membership.
---