---

by Ranger Kidwell-Ross, editor
WorldSweeper.com

Thanks to Charles Brooks and So Many More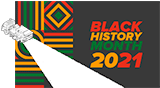 This month is Black History Month. After the inequities that the Black Lives Matter protests brought to the fore, we thought it made sense to remind our readers about Charles Brooks, considered to be one of the first inventors of a street sweeper. That initial contribution has been followed by the host of other Black Americans who continue to contribute to our industry on a daily and nightly basis.
The many Black individuals who are essential workers within the sweeping industry truly qualify as unsung heroes since COVID-19 is much more likely to be fatal for their demographic. For example, in Louisiana 32% of the population is Black but that cohort accounts for 70% of fatalities. In Illinois the ratio is 15/42% and in Michigan it's 14/41%. We encourage all reading this to assist their Black workers, especially, toward understanding the overwhelming value in getting vaccinated as soon as they qualify.
For those of us who make the annual trek to the National Pavement Expo each February, the fact that NPE was only virtual this year really underscores the impact of the pandemic. We've decided to soften the blow at least somewhat in our March newsletter edition by compiling the extensive NPE reporting WorldSweeper has provided through the years.
Our goal is to have as many previous years of NPE links as we can available in our March newsletter edition. We'll also be announcing our Award of Excellence Contractor of the Year in next month's issue. BTW, the National Pavement Conference's Virtual LIVE event starts today and runs until February 25th.
In this issue we continue with the popular Zoomcast reporting we started several months ago. Whether you're a sweeping industry old-timer or a newbie, you'll have fun listening to the beginnings of the parking lot sweeping industry from Mike Dyck. Mike started selling sweepers for his brother's company, MASCO, over 40 years ago. In the Zoomcast I did with him, Mike recounts what those early days were like.
I also conducted a brief Zoomcast with Matt Starnes, the host of Bucher Municipal's relatively new 'Sweepers & Tankers' podcast. We also have a link to Starne's most recent episode, which featured an interview with me on the topic of street sweeping's extraordinary value as the well-documented 'top method' for removing pavement-based pollution.
Plus, in this issue you'll find much more of interest to anyone involved with power sweeping, from some small cities that are working together to share a sweeper to a typical day in NYC's massive street sweeping program.
As always, if you have any news of potential interest to the power sweeping community, please let me know.. Between this publication, the WorldSweeper.com website, and the World Sweeping Association, we'll be sure to get the information passed along to interested readers.
Good Sweeping,



Editor, WorldSweeper.com
Executive Director, World Sweeping Association
Member, PAVEMENT Hall of Fame
PS If you're a contractor I urge you to check out the many benefits of membership in the World Sweeping Association. Also, if you haven't 'liked' our WorldSweeper Facebook page, what are you waiting for? That's where we offer a variety of industry previews and updates on an ongoing basis.

---
February Newsletter Contents
(Scroll down to read stories or click on links below.)
---
Charles Brooks – a Black man – Patented One of America's First Self-Propelled Street Sweepers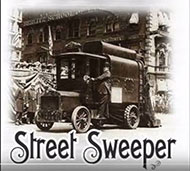 Charles Brooks, of Newark, NJ, received a patent dated March 17, 1896 (which he filed on April 20, 1895), for a self-propelled sweeper truck. Historically, prior to Brooks' new patented mechanical sweeper, streets were commonly cleaned by walking workers picking up by hand, sweeping with a broom or operating horse-drawn mechanical machines.
The truck had brushes attached to the front fender. The brushes would revolve and could be interchanged to a flat scraper that could be used in the winter months for snow and ice. In celebration of Black History Month, we have found a brief YouTube video of Charles Brooks and his invention and added it to the previous coverage we had of Brooks in our History section.
Check out this industry pioneer's patented sweeper design.
---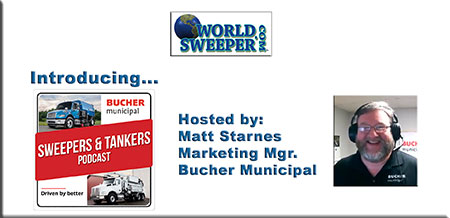 To assist people in knowing more about Bucher Municipal's periodic podcast called 'Sweepers & Tankers,' I recently did a 6-minute Zoomcast with Matt Starnes, the host and interviewer. Matt is Bucher Municipal's US Product Marketing Manager. I wanted to make sure our readers could listen to past episodes and/or link to the podcast should they so choose.
The podcast, says Starnes, is designed to cover "all things to do with the two main products we offer at Bucher, sweepers and tankers. My intent is to have all manner of information from different experts in those two industry segments." After starting as an audio-only podcast, his last two (one of which he recently did with me that you will read about further down in the newsletter...) also offer video since they have been produced via Zoomcast.
Watch WorldSweeper's introductory Zoomcast about the Sweepers & Tankers podcast.
---
40 Years of Industry Memories: A Zoomcast Interview With Mike Dyck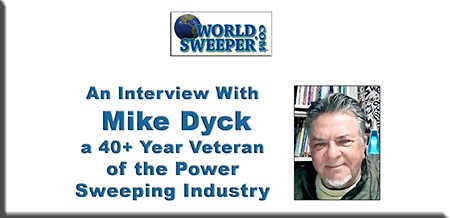 "It's the easiest thing in the world to tell you about me and my opinions. It's something I happen to know a lot about." So says Mike Dyck in his opening statement in the fascinating hour-long Zoomcast linked below.
In the summer of 1976 Mike, who had recently completed a degree in Education at the University of Oregon, went to work for his brother, Larry, in the fledgling sweeper manufacturing company called Mr. Air Sweepers – now MASCO. He then stayed on for 35 years.
If you want to hear about the early days of the parking lot sweeping business – back when sweepers were put onto Ford Courier' and Datsun' chassis in the era in which high-dumping hadn't yet been invented – you'll definitely enjoy listening to Mike's tales about traveling around the country selling sweepers, learning and, ultimately, teaching contractors about best practices.
Starting in March, Mike will continue to educate sweeping contractors in his new role as an Advisory Board Member for the World Sweeping Association.
Check out our enjoyable and informative interview with Mike Dyck.
---
Pavement Maintenance & Reconstruction Announces 2021 Pavement Awards

For the last six years, Pavement Maintenance & Reconstruction magazine has recognized individuals and companies who have enhanced the paving and pavement maintenance industry through their pursuit of excellence, professionalism, dedication to education and adoption to technology.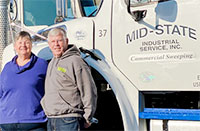 The Pavement staff and its Advisory Board evaluate each nomination and the organization has just announced the 2021 award winners for the contest, which is sponsored by Elgin Sweeper. Winners will also all be showcased in Pavement's February magazine edition. The winner of Pavement's 2021 'Sweeper of the Year' designation is Oregon-based Mid-State Industrial Service. The link to Mid-State's win, as well as to all the other winners, is shown below.
Check out all the Awards or use this link to read about Mid-State.
---
Here's How NYC Manages Street Trash With 'Awesome Tiny Garbage Trucks'

You will recall that last month we offered a tongue-in-cheek link to a two-minute video of several of NYC's Global Environmental Products' sweepers going back and forth on New Year's Eve looking for trash to pick up, which was largely non-existent due to no revelers being allowed because of the pandemic. In response – presumably to show what NYC's fleet of 450 Global sweepers actually do – we got the linked story from Sebastian Mentalski, a principal with Global.
The link is to a video offered by Jalopnik, a news and information website dedicated to discussing the many vehicles that transport people including, in this case, NYC's sweeper fleet. Jalopnik reporter, Justin Westbrook, spent a shift riding in one of NYC's Global M4 Hybrid street sweepers with the operator, Kristen Shalbinski. The resulting article and video are a light-hearted, but informative, look at how sweeping is done on the streets of New York City.
---
WorldSweeper's Editor Educates About Stormwater Pollution Removal on Sweepers & Tankers Podcast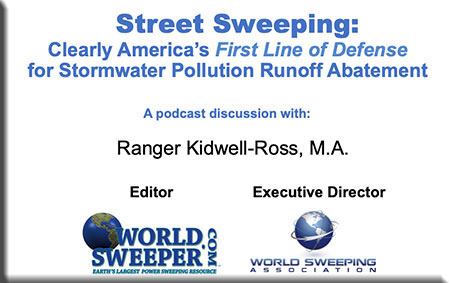 In this half-hour Zoomcast, which is the most recent episode of Bucher Municipal's 'Sweepers & Tankers' Podcast, WorldSweeper.com's Editor, Ranger Kidwell-Ross, provides the latest documented proof showing street sweeping to be nearly seven times more cost-effective than the next best method (catch basin systems) for removing Nitrogen and Phosphorus from the pavement runoff stream.
If you want to know more about the pollutant removal value offered by street sweeping, there's no better way to find out than to watch this half-hour episode of the Sweepers & Tankers podcast, which is hosted by Matt Starnes, Marketing
Watch the Zoomcast to learn about the importance of street sweeping for pollutant removal.
---
NJ Municipalities Sharing Resources – Including Sweepers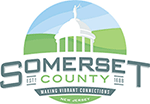 Somerset County, New Jersey, has introduced a new way for its 21 municipalities – and the county – to save money during austere times. The county has started an online marketplace where municipalities can discover what services or equipment the county and other municipalities are offering to share. Municipalities can also post what they have to offer for sharing. According to County Commissioner Melonie Maranot, this is believed to be the first such arrangement in NJ.
For example, when the state's stormwater regulations required municipalities to reduce the amount of pollution flowing first into storm drains and then rivers, municipalities like Green Brook needed a street sweeper. However, says Marano, the cost was prohibitive. So, the township went looking for a street sweeper and found a partner willing to share theirs in neighboring North Plainfield.