---
The U.S. Infrastructure Bill: This Time For Sure...
by Ranger Kidwell-Ross, editor
WorldSweeper.com

It's football season once again, and by that I don't mean the start of National Football League games. Rather, once yet again the politicians whose job it is to keep the U.S. rolling are teasing about how they'll 'soon' be passing the infrastructure bill that's so sorely needed – and has been for many years now.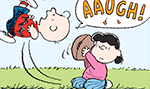 Even if both the $1 trillion bipartisan infrastructure plan and the 'Infrastructure Investment and Jobs Act' (IIJA) were to pass, as was recently reported by ForConstructionPros.com there was no fix included for the issues faced by the Highway Trust Fund (HTF). The HTF is the driver-funded program designed to keep U.S. roads in good repair via federal gas tax revenue.
Unfortunately, the gas tax has not been raised since 1993 while, at the same time, vehicles have attained better fuel economies and there's been a tax-reducing increase in hybrid vehicles. Those factors mean the funds needed for infrastructure funding will still be lagging even if, this time, Lucy can manage to hold the football while both the House and Senate somehow get together and kick the new bills through their respective goal posts. The good news is that within the next month or so we should finally get some kind of infrastructure bill. However, it remains to be seen exactly what U.S. politicians will be capable of providing for their citizens.
I'm pleased that our August newsletter edition provides broad spectrum info on several facets of the power sweeping industry. Those in municipal sweeping will want to learn about Fayat group's acquisition of Dulevo, as well as Global's clever online operation and maintenance program. We also provide an update on what Filthydelphia, er, Philadelphia, is doing in terms of getting its city street sweeping act together... again.
No matter what type of sweeping you do – and whether you are a contractor or represent a municipality – you will benefit by watching our 20-minute, very informative, Zoomcast with Phil Duncan on the topic of accident reduction and the impact of accidents on insurance rates. I also offer insights given the role I've had in several expert witness cases involving sweeper accidents. Remember, an ounce of prevention is worth many pounds of headaches!
Contractors will also want to read and/or listen to the two webinars we've re-posted from the 2015 NPE. In one, national safety pro, John Meola, discusses the top safety issues for pavement contractors, while the other offers the results of a panel discussion on how to best work with third-party providers.
Finally, in this issue we provide you with an opportunity to win a scale model sweeper! All you have to do is be the first to recognize the manufacturer of the classic motorcycle sidecar sweeper photo sent by Karl Stauty. Someone out there must know about this model; in over 30 years in the industry, though, I haven't seen one before now.
As always, if you have any news of potential interest to the power sweeping community, please let us know. Between this publication, the WorldSweeper.com website, and the World Sweeping Association, we'll be sure to get the information passed along to interested readers.
Good Sweeping,



Editor, WorldSweeper.com
Executive Director, World Sweeping Association
Member, PAVEMENT Hall of Fame
PS If you're a contractor I urge you to check out the many benefits of membership in the World Sweeping Association. Also, if you haven't 'liked' our WorldSweeper Facebook page, what are you waiting for? That's where we offer a variety of industry previews and updates on an ongoing basis.

---
August Newsletter Contents
(Scroll down to read stories or click on links below.)
---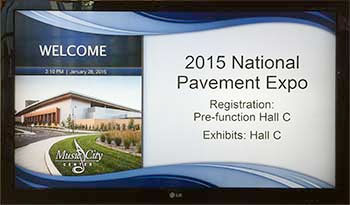 Welcome to NPE 2015!
Six years ago, the 2015 National Pavement Expo was held in Nashville, TN. It was the year Les Hulicsko, inventor of the Sweeprite line of sweepers, won our Award of Excellence in Power Sweeping. WorldSweeper's coverage included two seminars, which are now available to non-World Sweeping Association Members for the first time.

John Meola's "Top Safety Issues for Pavement Contractors" was one of NPE 2015's top-rated seminars. WSA also offered a five-person panel discussion entitled "How to Make Third-Party Providers Work for Your Business." Both of these contain information still valid today and have been unlocked at the linked page so non-WSA Members can access them.
We also offered five NPE vendor videos and a slideshow of photos taken at the event; if you attended, you're probably in one or more of those. Check out the link: We think you'll find it an enjoyable reminiscence and can still learn from the seminars.
Take a look at WorldSweeper's coverage of the 2015 National Pavement Exposition.
---
FAYAT Group Buys Dulevo Sweepers

The Fayat group has acquired sweeper manufacturer, Dulevo International S.p.A. When the purchase was completed this past May, Dulevo became part of FAYAT Environmental Solutions. Dulevo's well-established reputation and professional expertise, particularly in self-propelled mechanical sweepers, will further strengthen the Group's position in this industry segment.
Going forward, the entities will be able to share best practices and harmonize business processes in order to maximize the benefits that this wider pool of knowledge brings to everyone involved. Leveraging these benefits, FAYAT Environmental Solutions will be able to offer dealers and end-users the best possible customer experience and the highest possible level of service.
---
Global Environmental Products Offers 'Special Ops' Online Training Course

Global Environmental has taken a unique approach to operator and technician training of its M3 and M4 sweeper models. Global's new "Special Ops" series provides important information and detailed video of proper procedures for operation and maintenance of the Global M3 and M4 Street Sweepers. The information includes the company's state-of-the-art 100% plug-in electric, hybrid, hydrogen and diesel-powered models.
As of mid-August, 2021, there were a total of 11 Special Ops training segments available.
Check out the Global training concept.
---
Street Sweepers (Finally) Return to Philly: A Sign of Progress?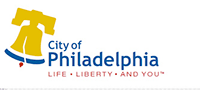 Philadelphia is the only major city without a comprehensive street sweeping program, following years of budget cuts and complaints about related parking regulations. Following a limited street cleaning pilot in 2020, the city committed to boost mechanical sweeping and rolled out plans for the "phase two" pilot program that commenced in early August of 2021.
The latest city spending plan that took effect last month includes $62 million over five years for street cleaning. However, Mayor Kenney's administration said the pandemic has slowed the timeline for expansion citywide.
For more info, check out the latest on Philly sweeping.
---
Reducing Accidents – Lowering Insurance Costs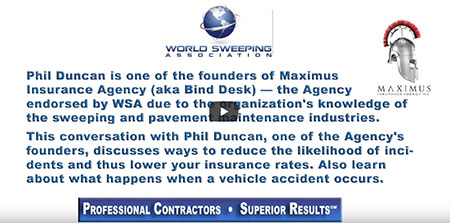 Phil Duncan is a principal and one of the founders of the Maximus Insurance Agency – and someone who has become very skilled at working with power sweeping contractors on their insurance needs. The link is to a Zoomcast interview that Duncan did with WorldSweeper's Editor – who is also the Director of the World Sweeping Association – Ranger Kidwell-Ross.
Because of the information covered in the seminar about how to reduce accidents/incidents and the impact of them on insurance rates, the decision was made to offer this particular Zoomcast episode in the series out to the entire industry. Kidwell-Ross, who has industry experience as an expert witness, also discusses inside information about the investigation that will occur when a serious, sweeper-involved, accident happens. Note that for WSA Members, two more in the ongoing series with Duncan have been completed and more are scheduled.
Check out the @20-minute video presentation.
---
Schwarze Industries Promotes David Heigl to President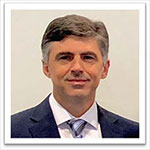 David Heigl has been promoted to unit company President of Schwarze Industries in Huntsville, Alabama, effective August 23, 2021. David Heigl has been a member of the Schwarze leadership team as the Vice President of Sales & Marketing since February of 2018.
Check out Schwarze's press release in our 'Industry Updates' section.
---
Can You Identify This Sweeper?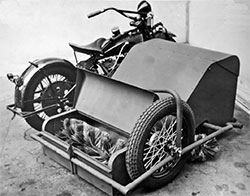 In a tongue-in-cheek email from Karl Stauty, principal at Commercial Power Sweeping, he included a photo of his "new sweeper." As may be seen, the sweeper is attached to an Indian motorcycle. Unfortunately, since it didn't come with instructions or an owner's manual, we're wondering if any of our readers might know more about the sweeper seen in the photo above.
If you're the first person who can identify the sweeper brand for him/us, we'll send you a scale model of a Johnston sweeper, provided courtesy of Bucher Municipal. Click on the sweeper photo to see a larger version.
You can find this image posted in our 'Sweeping is a Funny Business' section.
---