---

by Ranger Kidwell-Ross, editor
WorldSweeper.com

Street Sweeping, Water Quality and Roger Bannerman's Legacy
As promised, our October issue offers the latest information regarding the impact of street sweeping on minimizing pavement-based pollution. Unfortunately, it also includes the news that Roger Bannerman, long an icon in stormwater pollution prevention circles – and a contributor of numerous articles to WorldSweeper.com through the years – has passed away.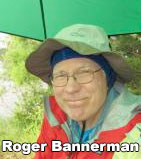 When I founded the first magazine for power sweeping in the early '90s, American Sweeper, Roger Bannerman was a very well regarded Wisconsin-based stormwater professional. Because my main goal in starting the publication was to educate the public works officials of America about the value of sweepers in reducing stormwater runoff pollution, Roger and I quickly became professional friends.
Bannerman began his career at the Wisconsin Department of Natural Resources (WDNR) in 1975. He retired from the WDNR in August 2012 and went on to be a contract employee for the Wisconsin United States Geologic Survey (USGS). During his career he worked tirelessly to incorporate science into the regulatory framework for stormwater management in Wisconsin and also used it to guide the stormwater goals in Wisconsin's Municipal Separate Storm Sewer (MS4) permit program.
Roger was a man whose lifelong work was dedicated stormwater quality as well as to bettering America's extended community as a whole. As an environmental specialist for the Department of Natural Resources and a volunteer on numerous boards and committees, Bannerman brought a unique combination of curiosity, energy and an ability to connect with people. This meant being able to reduce arcane studies to easily understandable, everyday language.
In addition to his articles printed in American Sweeper magazine and posted at WorldSweeper.com, Roger was involved in countless research projects for urban stormwater quality describing the pollution in urban runoff and the effectiveness of stormwater practices including street cleaning, wet detention ponds, pervious pavement, grass swales, biofilters, infiltration basins and rain gardens.
In Wisconsin, one of the leading environmental states, Roger's work led to a ban on coal tar-based driveway sealants; training for people who spread road salt; and, an effort to keep streets clear of leaves, a major source of the phosphorus that causes algae blooms on urban lakes.
Casey Hanson, Executive Director of the Friends of Lake Wingra, where Bannerman served on the board for nearly a decade, described him as "the Bill Nye of stormwater management" for his enthusiasm and ability to communicate complex information.
"Bannerman's strength was not the science," said Jim Baumann, who worked with Bannerman for nearly four decades, "but his ability to coordinate research and communicate it in ways that could be used to solve problems."
"Roger's strength was connecting science to policy," said Bill Selbig, a research hydrologist with the U.S. Geological Survey. "Roger was the one who helped put the science behind it."
Roger passed away on October 15th at the age of 75 due to complications from prostate cancer. This issue of the WorldSweeper e-newsletter is dedicated to his memory and body of work: we should all be so fortunate to leave a legacy such as Roger's – personally and professionally – when our time on earth is through.
As always, if you have any news of potential interest to the power sweeping community, please let us know. Between this publication, the WorldSweeper.com website, and the World Sweeping Association, we'll be sure to get the information passed along to interested readers.
Good Sweeping,



Editor, WorldSweeper.com
Executive Director, World Sweeping Association
Member, PAVEMENT Hall of Fame
PS If you're a contractor I urge you to check out the many benefits of membership in the World Sweeping Association. Also, if you haven't 'liked' our WorldSweeper Facebook page, what are you waiting for? That's where we offer a variety of industry previews and updates on an ongoing basis.

---
October Newsletter Contents
(Scroll down to read stories or click on links below.)
---
The Intersection of Sweeping and Stormwater Pollution Removal: An Interview with Rachel Sim, Editor of STORMWATER Magazine

In August of this year WorldSweeper's Editor, Ranger Kidwell-Ross, was chosen to participate at StormCon 2020 Virtual, in a 'roundtable webinar' with three other presenters. The webinar was moderated by Rachel Sim, Editor of STORMWATER Magazine. In a turnabout of roles, for this issue of the WorldSweeper newsletter Ranger conducted a Zoom interview with Rachel on the topic of the increasing intersection between the sweeping and stormwater industries.
Says Sim, "I think it's worth emphasizing that sweepers truly are an equitable BMP. Because they're mobile, they can serve any area of a city instead of just the downtown core or wealthier neighborhoods, which often end up the recipients of aesthetic green infrastructure, and they are a visual way for municipalities to signal "we care about this area."
Watch the Zoom event and/or read a synopsis of the interview.
---
Street Sweeping: America's Proven First Line of Defense for Stormwater Runoff Pollution Abatement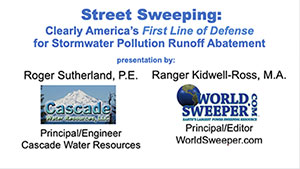 Street sweeping has long been recognized as an effective best management practice (BMP), one that can reduce the amount of stormwater pollutants entering storm conveyance systems and receiving waters.
In this 2020 update, noted sweeper research professional, Roger Sutherland, teams up with WorldSweeper's Editor to recreate for the sweeping industry their 'StormCon 2020 Virtual' webinar presentation from August of this year. These individuals offer a combined 80 years of experience within the power sweeping arena and both have long been avid proponents of sweeping as the 'first line of defense' for keeping pollutants out of the runoff stream.
Over a span of more than three decades, each has conducted and/or reported on numerous street sweeping investigations and studies, as well as have written and/or edited an extensive number of articles on a wide range of street sweeping-related topics. Included is an overview article in addition to the 46-minute Zoom-based video presentation hosted on YouTube.
Take a look and learn firsthand about the groundbreaking information.
---
Evaluating Stormwater and Sweeping on the World's Longest Floating Bridge
Paul Fendt, PE, is a water resources consultant who works for Parametrix, a 100% employee-owned ESOP organization that in 2019 was voted one of Washington State's Top 100 companies for which to work. Paul has 36 years of experience in his profession and was a central figure in the three-year BMP development and monitoring effort on the world's largest floating bridge.

In the accompanying Zoom-based interview, Fendt discusses the project with WorldSweeper's Editor, Ranger Kidwell-Ross; also includes a PDF of Fendt's PowerPoint presentation.
Check out the information and watch the Zoom-based presentation.
---
An Interview With Trombia Sweepers' CEO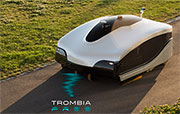 In our September issue we wrote about the imminent launch of a ground-breaking new autonomous, all-electric, sweeper by Trombia Technologies. The machine represents a worldwide-patented street cleaning technology that the founders cite decreases the power consumption of high-power street dust and debris cleaning to only 15% of that of the currently available technologies. This unlocks, says company CEO, Antti Nikkanen, the potential for mass-electrification of heavy street cleaning equipment.
According to Nikkanen, "This is also the world's first high performance street cleaning device that is built to be operated fully autonomous in all-weather conditions in the modern smart cities and industrial destinations." A few days after the September 29th launch, WorldSweeper's Editor, Ranger Kidwell-Ross, conducted an exclusive Zoom interview with Antti Nikkanen. The 34-minute exchange discusses the many new features and aspects of Trombia sweeper' technology.
Learn more and/or watch the Zoom interview.
---
Keystone Plastics Partners with 1-800-SWEEPER to Supply Replacement Street Sweeping Brooms

Sweeper broom and brush manufacturer, Keystone Plastics, has announced it has partnered with 1-800-SWEEPER to supply their North American sweeping partners with replacement street sweeping brooms. Keystone manufacturers OEM quality replacement brooms for all model street sweepers and will now be the exclusive supplier of brooms to 1-800-SWEEPER.

"The 1-800-SWEEPER team has done a great job building a strong partner network of sweeping companies. We are excited to build a productive working relationship with each company in the network and supply them with our quality brooms," notes Michael Naftal, Executive Vice President at Keystone Plastics.

Read about the new partnership.
---
Broom Badger Customers to Receive Continued Parts, Service and Warranty Support from Elgin Sweeper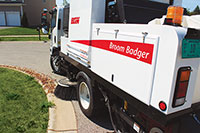 Elgin Sweeper has announced it will continue to provide parts, service, and warranty support to current Broom Badger customers and those looking to purchase a Broom Badger through its extensive dealer network. This announcement follows our recent report of the expiration of an eight-year strategic alliance with Challenger Manufacturing Ltd., to distribute the Broom Badger mechanical street sweeper in North America.
The Broom Badger has earned a successful reputation with municipal and contractor customers as an economical, compact, and easy-to-operate sweeper. "To ensure that the Broom Badger provides the best return on investment for contractor and municipal customers, Elgin will continue to offer and support our industry-leading standard warranty for this model," said Mike Higgins, Vice President and General Manager of Elgin Sweeper. "Our Broom Badger customers can rest assured knowing that Elgin and their dealer are with them for the life of their sweeper."
---
Pavement Maintenance & Reconstruction Announces November 1st Deadline for Applications

For the seventh year in a row you can enter your work to receive a 2021 Pavement Award. Presented by Pavement Maintenance & Reconstruction, the annual awards provide industry-wide recognition for contractors involved in a variety of aspects of pavement maintenance.
This year's sole sweeping award, called "Cutting-Edge Sweeper Award," is open to all contractors who generate 50% of sales or more from sweeping and sweeping-related services. Nominations will be accepted from contractors, suppliers, pavement advertisers and National Pavement Expo exhibitors. The nomination deadline is November 1, 2020, with selection announced in February 2021. Use the link shown below to see the other categories, rules, etc.
---

Vancouver B.C. Provides Vouchers for Free Leaf Disposal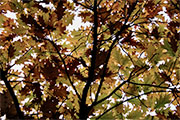 In recent years, the city of Vancouver, B.C., along with nearby Clark County, Washington State, have made a program available to residents, one that has greatly improved their public works departments' ability to address the many leaves falling each autumn.
In both locales it is the responsibility of every homeowner to rake, collect and dispose of all leaves on their property. To rake or blow leaves into the street or gutter is illegal. That doesn't mean doing so has not occurred in years past.
Enter the Fall Leaf Coupon Program. The free process allows any resident to use free leaf disposal coupons at several composting locations across the respective areas. Coupons can be found online and in the mail, along with a list of locations accepting them. It's an idea to consider for any municipality or similar that has trouble with fall catchbasins clogging faster than street sweepers can keep them open.