---

by Ranger Kidwell-Ross, editor
WorldSweeper.com

Who Knows What's Next?

We want to wish a Happy Thanksgiving to all of our U.S.-based readers, along with our sincere wishes for staying safe during that day and the remainder of the upcoming Holiday Season.
For the past 11 years our November newsletter edition has included an article listing best practices guidelines for business holiday parties, historically entitled "Avoiding a Holly Jolly Lawsuit."
Although the information in that article is still correct, this year a more sensible admonishment might be to forego holiday parties altogether. As I write this editorial, more than 1 million COVID-19 cases were reported in the United States over the last 7 days.


As cases continue to increase rapidly across the United States, the U.S. Centers for Disease Control and Prevention guidelines are, for example, that the safest way to celebrate Thanksgiving is to do so at home only with the people you live with. For the sake of your employees and families, we encourage you to 'take the high road' and follow the CDC recommendations.
Last month's newsletter edition showcased a number of ways the U.S. street sweeping industry is fast-changing. Our interviews this month with representatives of Ft. Collins, CO, and Rubicon extend that information even further. More and more technology is becoming available to increase the value and cost-effectiveness of street sweeping programs throughout the U.S. and the world.
The sale you will read about below – of Sweeping Corporation of America to financial giant, Warburg Pincus – is news that will put sweeping companies in the crosshairs as other private equity firms see the potential for making money in the 'sweeping sector.' In that regard, if you are a sweeping contractor who might consider selling then I encourage you to get your business' financial affairs in order in case you are contacted in that regard.
Finally, I encourage everyone to read our article about the India students who built a 'sweeper' for the elderly lady tasked with keeping their schoolyard kept up. Although the story doesn't have much to offer in the way of helping out your own business entity, there's no question we can all use some heartwarming news to augment other events we are being subjected to at the moment.
As always, if you have any news of potential interest to the power sweeping community, please let us know. Between this publication, the WorldSweeper.com website, and the World Sweeping Association, we'll be sure to get the information passed along to interested readers.
Good Sweeping,



Editor, WorldSweeper.com
Executive Director, World Sweeping Association
Member, PAVEMENT Hall of Fame
PS If you're a contractor I urge you to check out the many benefits of membership in the World Sweeping Association. Also, if you haven't 'liked' our WorldSweeper Facebook page, what are you waiting for? That's where we offer a variety of industry previews and updates on an ongoing basis.

---
November Newsletter Contents
(Scroll down to read stories or click on links below.)
---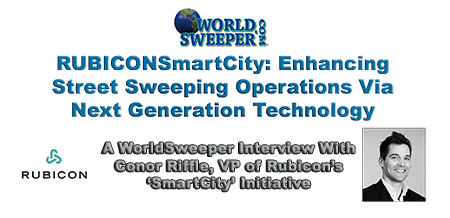 Using technology to drive environmental innovation, RUBICONSmartCity helps turn businesses into more sustainable enterprises, and neighborhoods into greener and smarter places to live and work. Rubicon's mission is to end waste – in all of its forms – by helping its partners find economic value in their waste streams so "they may confidently develop and attain their sustainability goals."
Since its founding in 2008, Rubicon has become the worldwide leader in providing cloud-based waste and recycling solutions for customers in business, government, and the nonprofit sectors. Once you have watched the interview with Rubicon's Riffle, we suggest you see the next story down, which details the experience the City of Ft. Collins street sweeping program has had in partnering with Rubicon.
Watch the Zoom interview and read more about Rubicon.
---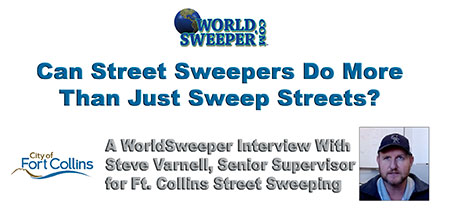 In September of 2019 we reported that five sweepers in the City of Ft. Collins, CO, were taking part in a pilot program with a company called Rubicon. The City's goal was to help improve efficiencies along with providing more insight into the many miles of streets being swept by the City.
Now, a year downstream, you can learn how Ft. Collins' sensor-equipped sweepers are serving as data collectors by scooping up information related to low-hanging tree limbs, poorly parked cars and more. Rubicon's software also allows the City to view where the sweeper had to go away from the curbline due to parked vehicles or other obstacles.
We held our Zoom-based conversation is with the City's Senior Supervisor of Street Sweeping, Steve Varnell. BTW: A few minutes after we recored the Zoomcast, Varnell was contacted by Ft. Collins' COVID department and told he was required to go into quarantine because two of his employees had tested COVID-positive.
Learn how the City of Ft. Collins is utilizing RUBICONSmartCity's software.
---
SCA Sold to Warburg Pincus

On November 3rd, Sweeping Corp of America ("SCA") announced that Warburg Pincus, a global private equity firm focused on growth investing, has entered into an agreement to acquire the company from the previous investor, Soundcore Capital Partners. Financial terms of the transaction were not disclosed.
Warburg Pincus' press release said the investment will allow SCA to accelerate its sales and marketing efforts and help the company identify strategic relationships and acquisition opportunities. Read more at the link below.
---
Remember Your IRS Section 179 Deduction!

If you haven't already, now is the time to make plans for taking advantage of the IRS Section 179 tax-saving program. Essentially, Section 179 of the IRS tax code allows businesses to deduct the full purchase price of qualifying equipment and/or software purchased or financed during the tax year. That means that if you buy (or lease) a piece of qualifying equipment, you can deduct the FULL PURCHASE PRICE from your 2020 gross income.

It's an incentive created by the U.S. government to encourage businesses to buy equipment and invest in themselves. However, you need to plan to take delivery by years' end. And, while we're on the topic, here's a link to 92 small business deductions to use now, plus 11 deductions to avoid...

Read the details on the 179 program or read about the deductions experts say to use and/or to avoid.
---
Looking for Sweeping-Related Toys for Christmas Gifts?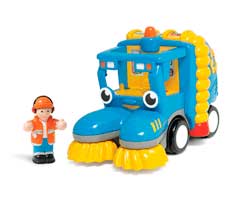 It's that time of year to choose gifts for the kids in your family circle and what better than to generate interest in sweepers via the selection of books and toys in the 'Toys' area of WorldSweeper's website?!

We have collected all the sweeping-related apps, toys, books and other items we know about and include links to where you can purchase them. If you are aware of toys we don't have listed, please take a minute and let us know what they are and we'll add them to the list on the site.

Check out our sweeping-related toy selection.
---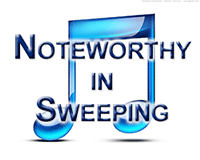 Noteworthy in Sweeping: India Students Build 'Mechanized' Sweeper for School's Elderly Lady Sweeper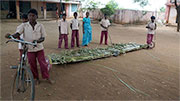 Students at Panchayat Union Middle School, in the Villupuram district of Tamil Nadu, India, noticed many problems in their school. The building was damaged, with paint peeling off, there were unnecessary bushes in the campus, and animals kept entering the premises. But after discussing amongst each other and taking a vote, they decided that the issue they most wanted to address was figuring out how to ease the burden of the elderly lady who swept the school's large playground.
In order to help her, students at the government school built a 'sweeping vehicle' of coconut-leaves-on-wheels. They used the simple 4-step formula of Feel-Imagine-Do-Share that has been developed by Design for Change – a not-for-profit organization that challenges children to solve problems in their community in order to achieve their goal.The project was subsequently selected amongst the 3,600 submissions as one of the Top 26 stories at the 'I CAN Awards' organized by Design for Change.
Take a look at the heartwarming project.
---

Not Exactly Sweeping: App Game Called 'Street Sweeper for PC'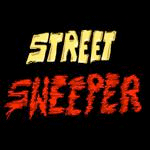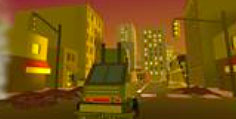 The info for this app reads: "Clean up the streets like they were meant to be swept. Midnight or dusk, in big cities and isolated boroughs, the Street Sweeper vacuums on. It's you versus yesterday's filth – and the clock! – in this single-player, procedurally-generated, arcade experience."
Take a look at the app and/or download it.
---