---

by Ranger Kidwell-Ross, editor
WorldSweeper.com

Street Sweeping Shown to be Most Cost-Effective Pavement-Based Pollutant Removal Method, Period
The U.S. EPA published its 'Results of the Nationwide Urban Runoff Program' – widely known as 'the NURP Study' – back in 1983. Ever since then, the power sweeping industry has been hamstrung by the NURP's long outdated findings. The study used results from now-antiquated mechanical broom sweepers to show street sweeping as an also-ran method for pavement-based pollutant removal. Unfortunately, no large-scale sweeper efficiency testing has been conducted since then – until now.
In late 2019 University of Florida researcher, Dr. John Sansalone, completed a comprehensive study involving 14 Florida MS4s. Even though the study did not differentiate whether submitted data was produced by air sweepers or broom sweepers, the combined results were still astounding and, at the same time, confirmed what I have been teaching for more than three decades: Street sweeping should be considered the first line of defense for removing pavement-based stormwater runoff pollution from our wastewater stream.
You will find that the study – which was co-sponsored by the Florida Department of Environmental Protection and the Florida Stormwater Association – shows street sweeping to be not just a 'little better' than the next best BMP, which is catch basins. Rather, sweeping is shown, very conclusively, to be by far the most cost-effective way to remove pollutants from stormwater runoff.
Prior to this publication as our feature article I provided a preview of the study, along with a link to my recently completed hour-long podcast with Dr. Sansalone, to noted sweeper researcher, Roger Sutherland. Here's what Roger had to say after reviewing all of it:
"The article and the podcast it links to are the most credible, explosive and meaningful endorsement I've ever heard from a third party on the value of street sweeping as a BMP. And, quite frankly, it validates almost everything I have said or written in my hundreds of presentations, articles and studies on this topic throughout my entire 40+ year career."
I couldn't agree more. Pavement-based water contamination is the fastest growing water quality problem: In many rural areas fertilizer nitrates are devastating local drinking water supplies. In urban areas a variety of pollutants, like phosphorus and nitrogen, are making it difficult for cities to keep their water supplies, as well as streams and other water basins, from getting polluted. The runoff of otherwise benign particulate matter from roadways is also damaging fish and other aquatic life in streams and rivers.
The aggregated data from the fourteen Florida municipalities showed that removal of a pound of nitrogen from the wastewater stream via sweeping cost only about two-thirds of removing the same amount via a catch basin; compared to the rest of the BMPs, sweeping cost more than 11 times less. Removing a pound of phosphorus from the runoff stream via catch basins was shown to cost over six times more than with street sweeping, with removal via other BMPs costing over 40 times more. How's that for conclusive?!
We encourage all of our readers who are involved in street sweeping to read this article and then take steps to distribute its findings far and wide. Part of the way power sweeping will take its rightful place as the best, least expensive, method to remove pavement-based stormwater pollutants from the water of the world is by this knowledge being transmitted to those in charge of water quality.
Stormwater professionals must be taught the facts of the matter – so they can then modify their stormwater pollutant removal programs accordingly – because doing so is of vital importance to the world's water quality. It's also further validation of the message I've been preaching for over 30 years.
As always, if you have any news of potential interest to the power sweeping community, please let us know. Between this publication, the WorldSweeper.com website, and the World Sweeping Association, we'll be sure to get the information passed along to interested readers.
Good Sweeping,



Editor, WorldSweeper.com
Executive Director, World Sweeping Association
Member, PAVEMENT Hall of Fame
PS If you're a contractor I urge you to check out the many benefits of membership in the World Sweeping Association. Also, if you haven't 'liked' our WorldSweeper Facebook page, what are you waiting for? That's where we offer a variety of industry previews and updates on an ongoing basis.
---
January Newsletter Contents
(Scroll down to read stories or click on links below.)
---
Florida Stormwater Particulate Removal Study Results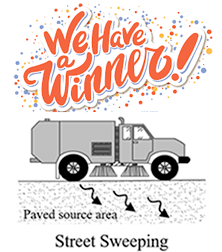 The 2019 University of Florida/Florida Stormwater Association Phase III Study and Report linked below, which includes an hour-long podcast with the principal author, the University of Florida's Dr. John Sansalone, confirmed data collected in the 2011 Phase II Study it was designed to build upon.

The study found street sweeping to be the most economical and dominant practice that MS4s can implement and optimize in order to "maximize nutrient and particulate matter (PM) recovery benefits to urban drainage systems and the environment." The study, which involved a total of 14 Florida MS4s, showed conclusively that recovery of particulates is important – and that when it comes to removing pollutants street sweeping is the cost-effectiveness champion!
Check out the dramatic results.
---
Global Environmental Products Introduces the Global R4AIR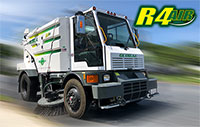 Global Environmental Products (Global) has announced the introduction of what company representatives term "The Ultimate Street Sweeping Machine." The company says its new purpose-built sweeper offers the best maneuverability in its class and exceptional visibility, among other features.

The company's press release further boasts that "the performance-matched 32" suction fan and 72" wide pick-up head provide superior sweeping of all heavy debris quickly and efficiently. The purpose-built chassis is based on four decades of experience designing the most effective, and safe, street sweepers in the industry. The Global R4AIR provides exceptional visibility increases operator and pedestrian safety."
---
Info on Johnston's Sweepers and Tankers Podcast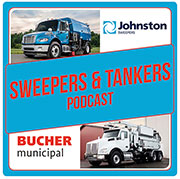 The Sweepers and Tankers Podcast, hosted by Johnston Sweepers' Product Marketing Manager, Matt Starnes, deals with anything and everything in the street sweeping and sewer tanker world. Johnston Sweepers, a BUCHER company, and Bucher Municipal North America, sponsor the podcast.

Guests to date have included a variety of people involved in the power sweeping arena. Moving into February, Matt Starnes plans to record episodes at WWETT Show 2020 in Indianapolis, as well as have an interview with WorldSweeper's Editor, Ranger Kidwell-Ross.
The Sweepers and Tankers Podcast is available on iTunes, Google Play Music and whatever other podcast service you may use.
---
In 2019 San Francisco Spent More Than $70 Million To Clean Up Poop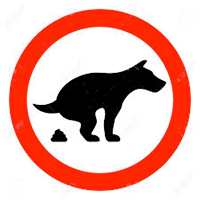 San Francisco's official "Poop Patrol" puts in a lot of work trying to keep the streets and sidewalks feces-free. Seven days a week, crews are onsite cleaning up around tent cities; identifying and neutralizing potential biohazards; and, manually sweeping streets and alleyways.

In the 'Tenderloin area' alone, crews sweep twice per day manually; sweep once per day with a street sweeper; empty garbage cans three times per day; and, staff clean "Pit Stop" public toilet facilities daily until 8pm.

The dawn-to-dusk work represents a $32 million increase in street-cleaning spending since fiscal 2013-2014, an increase of over $6 million a year. The city expects to spend at least $72 million in fiscal year 2020.

---
The Ball Drops: Then Global Street Sweepers Clean NYC Times Square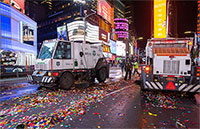 Every year after the NYC New Years Eve party ends at NYC Times Square and all the revelerse go home, Global Street Sweepers take over to clean up the mess.
This year over 3,000 pounds of confetti blasted over the crowd once the world-famous ball completed its drop at midnight, which is about 30,000,000 pieces of colored paper. By morning most of the scene appears back to normal and the roads are clear with traffic flowing at a normal rate.
Check out the party cleanup story.
---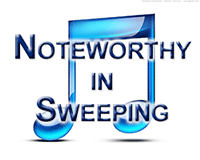 Ray Confer, owner of C&J Sweeping, Knows Customer Service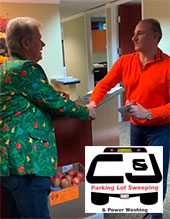 At the time the video linked below was taken in December of 2019, Ray Confer had been in the sweeping industry for about 40 years. His C&J Parking Lot Sweeping company has long been the unquestioned leader in his Greater Detroit market area and, when you see this video, you'll have an idea of why that might be the case.

The video shows only one small aspect of the overall customer service / branding program of Ray's company. However it's one that, Ray says, has paid a lot of benefits to C&J through the years. You'll find out all about it in the video and, while you're there, check out the other 126 ideas to help you improve your operations that are in our 'Tip Clipboard' area.

Check out what Ray does for his customers.
---
Not Exactly Sweeping: The Mysterious Sweeper Identified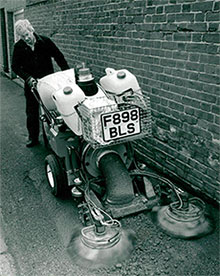 In last November's newsletter we included a contest to identify this walk-behind sweeper whose photo was for sale on an Amazon-based site. We had a contest and that contest had a winner.

Veteran Australia-based sweeper sales person, Malcolm Cameron, was first to tell us the photo was that of an early Applied Sweeper manufactured in Falkirk, Scotland. Malcolm also said he had, "back in the day," known the man operating the machine but could no longer recall his name.

Congratulations to Malcolm whose prize was the scale model of Johnston's V651. Click on the photo shown above to see a larger image (opens into a new browser window). BTW, as of when this newsletter was published, the photo was still for sale at this link.
---
---