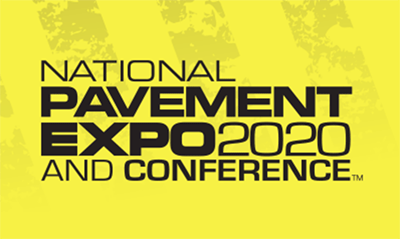 Our February Newsletter Features Exclusive Coverage of the 2020 National Pavement Exposition!

WorldSweeper.com's 2020 National Pavement Expo Coverage is sponsored by:


by Ranger Kidwell-Ross, editor
WorldSweeper.com

Welcome to WorldSweeper.com's Coverage of the 2020 National Pavement Exposition!
The NPE show floor appeared to have expanded to some extent this year, as compared to the last several. It may be that the new management has expended additional effort in attracting both attendees and exhibitors.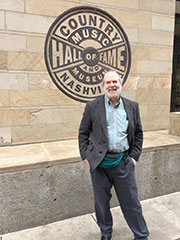 NPE is where the top three awards in the power sweeping industry are typically presented. One is the long-standing Award of Excellence in Power Sweeping, which has been presented by our World Sweeping Companies – WorldSweeper and the World Sweeping Association – starting in 1995. This year's Award went to Elgin Sweeper Company, in large part due to its contractor involvement during the development of its new RegenX sweeper.
Two Members of the World Sweeping Association's Advisory Board were chosen for this year's NPE sweeping industry awards. Michael Nawa, longtime sweeping contractor, was tapped for the Alan Curtis Industry Award, which also includes entrance into the PAVEMENT Hall of Fame. Karl and Lori Stauty's Virginia-based sweeping company, Commercial Power Sweeping, were awarded NPE's Contractor of the Year for 2020. As part of our NPE coverage, we include articles and informative audio podcasts with both of these industry luminaries.
Since we posted walkarounds of most of the sweepers shown at APWA just last September, we did not repeat that process with all the same units on the NPE show floor. We do, however, offer walkarounds of the new Victory Sweepers' entrant into the single-engine market, its hydraulic drive HD model. We also have a walkaround explanation of Elgin Sweepers' newly introduced RegenX, since we missed videoing that machine at APWA.
We also have links to three new tips I picked up for you at NPE, a slideshow of the photos I took while in Nashville and an overview of the information in one of the three seminars sponsored by the World Sweeping Association at this year's NPE. Note that WSA Members will have access to the full 90-minute videos of each of the three WSA-sponsored seminars. If you're a sweeping contractor, that makes now an excellent time to join WSA!
Although by no means is our extensive coverage of NPE a substitute for actually going to the show, it provides you with a host of information that can help you improve your organization and, perhaps, encourage you to attend NPE next year!
As always, if you have any news of potential interest to the power sweeping community, please let us know. Between this publication, the WorldSweeper.com website, and the World Sweeping Association, we'll be sure to get the information passed along to interested readers.
Good Sweeping,



Editor, WorldSweeper.com
Executive Director, World Sweeping Association
Member, PAVEMENT Hall of Fame
PS If you're a contractor I urge you to check out the many benefits of membership in the World Sweeping Association. Also, if you haven't 'liked' our WorldSweeper Facebook page, what are you waiting for? That's where we offer a variety of industry previews and updates on an ongoing basis.


February Newsletter Contents

(Choose stories from Table of Contents or scroll down to read the stories and to view the videos.)
---
---
Elgin Sweeper Wins 2020 Award of Excellence in Power Sweeping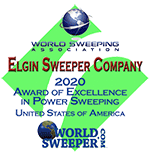 Spurred by the company's extensive efforts to involve sweeping contractors in the design of its latest sweeper model, the RegenX, Elgin Sweeper Company was awarded the 2020 Award of Excellence in Power Sweeping at the National Pavement Expo in Nashville.
Although there are many reasons why America's largest sweeping company was deserving of the Award, judges this year felt that rewarding the firm for working with contractors around the U.S. to get the design 'just right' prior to bringing its RegenX to market tipped the scale for the 2020 Award.

Longtime Sweeping Contractor, Mike Nawa, Wins Alan Curtis Industry Service Award.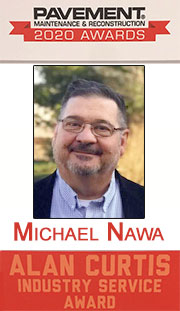 A sweeping industry luminary for 44 years, Michael Nawa, longtime owner of PA-based Custom Maintenance Services, became the second-ever sweeping industry winner of the Alan Curtis Industry Service Award, which also includes automatic entrance into the PAVEMENT Hall of Fame. Nawa follows WorldSweeper.com's Editor, Ranger Kidwell-Ross, who in 2018 was the first sweeping-related person to win the honor.
Michael Nawa served on the Board of the National Pavement Expo for many years and is credited with spearheading the beginning of conferences for that event. In late 2018 Michael sold his company but is still involved in the sweeping industry. Michael serves on the Advisory Board of the World Sweeping Association and has provided professional consulting to a number of members of that organization.
Exclusive coverage by the World Sweeping Association, which is available to non-members for a limited time, includes an audio podcast with Nawa. In the podcast he reminisces about what the parking lot sweeping industry was like in its infancy, as well as provides tips to contractors about how they might improve their businesses given today's challenging market conditions.

Karl Stauty Wins NPE's Sweeping Contractor of the Year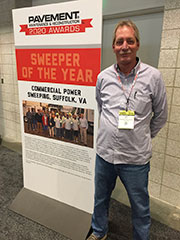 Karl and Lori Stauty, owners of Virgina-based Commercial Power Sweeping, were honored at the recent NPE as the organization's choice for Sweeping Contractor of the Year. The Stauty's modestly credited the Award to their employees.

That said, Karl Stauty has long been a well-informed advocate of street sweeping as the 'first line of defense' for combating stormwater pollution runoff in his market area, which includes the Greater Chesapeake Bay area. The World Sweeping Association is providing its coverage of the Award, which includes a 30-minute audio podcast with Karl Stauty – one that will prove very informative to other industry contractors – to the entire sweeping industry for a limited time.
Check out the article and interview with Karl Stauty.

An Interview With Joe Donlon, Director of Custom Rebuilt, a Division of Standard Equipment

Chicago-based Standard Equipment is one of the largest Elgin Sweeper dealers in the United States. What is perhaps lesser known is the company's Custom Rebuilt division, which refurbishes for sale several types of municipal equipment, including street sweepers from a number of different manufacturers.

Custom Rebuilt has been operating since 2006, initially as a way to resell used equipment the dealership had taken in. However, given the success of the program, they now have an operation where people can purchase sweepers, refuse trucks and underground camera equipment that has been professionally evaluated and refurbished. For this article we interviewed Joe Donlon, a partner in Standard Equipment and the Director of Custom Rebuilt.
Check out the innovative sweeper rebuild program.

2020 NPE New Product Videos
To see videos of many other current sweeper makes and models, check out our late 2019 coverage of the American Public Works Association's Public Works Expo.

Victory Sweepers Introduces New Single-Engine Parking Area Sweeper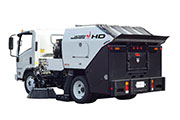 At the National Pavement Expo Victory Sweepers unveiled the latest addition to its product line, the first single-engine parking lot sweeper introduced in many years. The company's new Liberty HD (for Hydraulic Drive) model will provide competition for NiteHawk, which until now has been the only manufacturer of single-engine sweepers in that market space.

According to Victory's management team, "The HD sweeper will be available for purchase starting in April of this year. Innovative features include a clutch, so the oil doesn't flow until sweeping. That means the fan doesn't spin and extra fuel is not wasted during non-sweeping time. Power is provided by a proven, reliable, off-the-shelf belt drive to power the fan that provides warning prior to needing replacement."

Check out the links below for more information. One is to a walkaround Mark Schwarze, Victory's Sales Manager, performed at NPE. The other is to the company's spec sheet handout on the new HD model.

For more information about Victory Sweepers' Liberty HD sweeper model, you can check out the sweeper's specifications by clicking here. You may reach Mark Schwarze by sending an email to markschwarze@victorysweepers.com. To watch the video in full size at YouTube, click here on the video image shown below. (opens in a new browser window).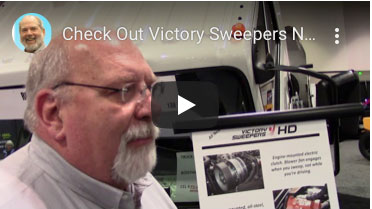 Three New Sweeping Tips Now At WorldSweeper's 'Tip Clipboard'
Before NPE, WorldSweeper offered a total of 127 different tips to our power sweeping industry readers. We added three more we picked up at the Contractors' Roundtable at this year's NPE. These involve the topics of:
Providing sweeper operator bonuses
The value of painting your pickup head
Having your sweeper operators rate each other's work
Check out our latest sweeping tips – as well as see the 127 other tips.



2020 NPE Photo Slideshow and Facebook Live
Take a look at a slideshow of photos our editor took at this year's NPE. If you attended this year's NPE you may even find yourself! To see this video at full size at YouTube.com, click on the video image shown below. (opens in a new browser window).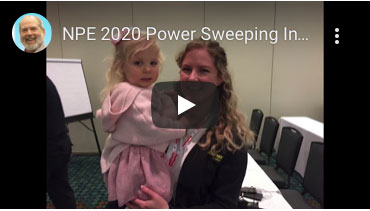 You may also choose to take a look at the Facebook Live video we did at the NPE Contractors' Night Out. If you followed the WorldSweeper Facebook page you would have already received this notification! Just navigate down the WorldSweeper Facebook page to see link to the Facebook Live video.



NPE Seminar of Interest Sponsored by World Sweeping Association

Not Exactly Sweeping: What Exceptional Leaders Do Every Day

At the 2020 NPE this excellent seminar by Randy Goruk, founder of LeadersEdge360.com, provided a host of tips and insights on how to become an exceptional leader: of your business, your community and your personal life. We are providing non-WSA Members with a few of the concepts and ideas Goruk presented, below.
World Sweeping Association Members will be provided with a video of the seminar in its full 90-minute entirety on YouTube which, since WSA sponsored, NPE allows to be available to WSA Members on an exclusive basis.
World Sweeping Association Members were also provided with two other seminar videos from NPE. If you're a contractor, why not join WSA? In addition to a variety of discounts, WSA Membership includes over 250 articles made for power sweeping contractors; over 100 audio podcasts with sweeping contractors, seminar videos, and a member-only nationwide email update every two weeks.
Take a look at some of the concepts provided by Randy Goruk about what it takes to become an exceptional leader.