---

by Ranger Kidwell-Ross, editor
WorldSweeper.com

"These are the times that try men's souls."

So said Thomas Paine, speaking on December 23, 1776 on the topic of 'the crisis' brought on by America having declared its independence from Britain.
Speaking about the panic encompassing our new country at that time, Paine further included: "Yet panics, in some cases, have their uses; they produce as much good as hurt. Their duration is always short; the mind soon grows through them, and acquires a firmer habit than before. But their peculiar advantage is, that they are the touchstones of sincerity and hypocrisy, and bring things and men to light, which might otherwise have lain forever undiscovered."
Although we are by no means at the crossroads spurred by America declaring itself an independent nation, as I write this in mid-December of 2020 America finds itself embroiled by a variety of what can legitimately be called 'panic issues.' May we as a nation come through all aspects of this particular panic era with the best possible outcomes.
Predicting the future is tough under any circumstances, let alone prognosticating about what will be occurring in 2021. Even so, I decided to make an attempt to predict the sweeping industry changes I see as likely in the coming year. I'll be interested in seeing what the industry response and comments might be, as well as looking back this time next year to see how well I did.
My hope is that the information will spur your thought processes on the topic so as to better be prepared for – and weather successfully – whatever the New Year has in store for your sweeping organization, whether a contractor or a government entity.
One change we can count on for 2021 is there will be a new Editor for PAVEMENT Maintenance & Reconstruction magazine, since long-time Editor, Allan Heydorn, is retiring at year's end. You'll no doubt enjoy his reminiscences about how the general pavement industry, including sweeping, has modified and matured through his three decades of writing on the topic.
We offer several other articles in this issue designed to be 'news you can use:' You'll learn about the changes to NPE this year; we're providing a link to a great resource page showing how tremendously perilous distracted driving is; a new review of battery-powered blowers; a shirt just for street sweeper operators; and, as a reminder that 'this, too, shall pass," a brochure on the 'new and totally groundbreaking' 1982 Elgin Pelican Premier.
As we have all taken to doing, I conclude by offering my sincere prayers that you and yours can stay safe and healthy throughout the Holidays and beyond. Oh, and Merry Christmas!
As always, if you have any news of potential interest to the power sweeping community, please let me know.. Between this publication, the WorldSweeper.com website, and the World Sweeping Association, we'll be sure to get the information passed along to interested readers.
Good Sweeping,



Editor, WorldSweeper.com
Executive Director, World Sweeping Association
Member, PAVEMENT Hall of Fame
PS If you're a contractor I urge you to check out the many benefits of membership in the World Sweeping Association. Also, if you haven't 'liked' our WorldSweeper Facebook page, what are you waiting for? That's where we offer a variety of industry previews and updates on an ongoing basis.

---
December Newsletter Contents
(Scroll down to read stories or click on links below.)
---
WorldSweeper's Editor Predicts 2021 Industry Changes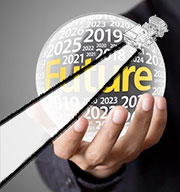 If there was ever a time when it was difficult to make an industry prognostication for the coming year, right now would be a good candidate. Currently, although there is excitement about the prospects of an effective vaccine for COVID-19, we still don't know what the outcome will be.
That said, here are the predictions WorldSweeper's Editor is making as we head into 2021.
Check out what Ranger has to say about the industry changes to prepare for in 2021.
---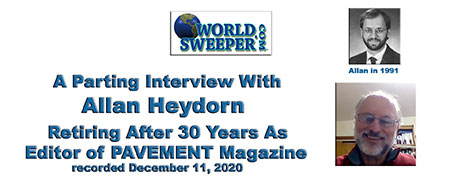 Allan Heydorn took the helm as Editor of PAVEMENT magazine in 1990, when the publication was sold by The Aberdeen Group to Cygnus. Although he had a journalism degree, at the time Heydorn knew almost nothing about the industry he would go on to lead. In fact, the weekend before he started the job he sealcoated his own driveway with much mess and hassle, not realizing he could have a much better job done by hiring a sealcoating contractor.
Allan also became Show Coordinator for the National Pavement Expo and in the intervening years did a tremendous job at both positions. This led to him becoming the recipient of WorldSweeper's Award of Excellence in Power Sweeping in 2010. The hour-long Zoomcast interview between Allan and Ranger Kidwell-Ross, Editor of WorldSweeper, provides a host of information on the topic of pavement maintenance and sweeping, both historic and timely. We know you'll enjoy it!
---
No In-Person NPE in 2021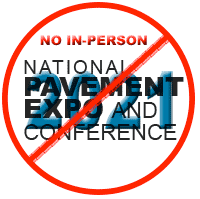 Due to travel and government restrictions relating to COVID-19, Emerald Productions, hosts of the National Pavement Expo and Conference, has reluctantly cancelled the in-person portion of the event, which had been scheduled for January 20-23, 2021 in Nashville, TN.
Russ Turner, the organization's Associate Show Director, said "As part of our commitment to you and the needs of our industry, we are excited to announce that we will be presenting online educational sessions in February 2021. Please stay tuned, as we will be in touch with you on more details in the coming weeks."
---
Distracted Driving Statistics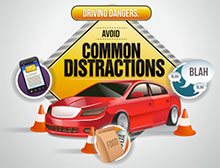 We've discovered the most comprehensive page of information about the perils of distracted driving yet. It provides startling statistics, courtesy of Allstate Insurance, about the difference in stopping time with different types of distractions.
As examples, a texting driver is 23X more likely to get into a crash and had reaction times 37.4% slower than when not distracted. By contrast, drunk drivers are only 12.5% slower... Please be sure all the sweeper operators and other drivers in your company, as well as in your family, are made aware of this information.
Read this startling but excellent info and share it widely.
---
1982 Elgin Pelican Premier Sweeper Brochure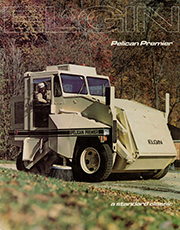 In 1982 the Pelican Premier was called "A TOTAL CONCEPT IN SWEEPING – A special edition Pelican designed and built with standard features not even offered on many competitive machines. Clean, sharp lines, new striping, redesigned fenders and headlights. And loaded with standard features you don't have to pay extra for."
Elgin trademarked the term "Quiet-Zone"TM cab, which the brochure touts as being "designed for operator efficiency, comfort and safety... Increases operator control and productivity." The operating sound level was given as approximately 85 DB.
Take a look at the 12-page Elgin Pelican Premier brochure in PDF format. You may also choose to view our entire collection of old sweeper brochures.
---
Paver & Sweeper Market Cuts Ad Rates Due to No In-Person NPE

Since the cancelation of the 2021 National Pavement Expo and the World of Asphalt trade shows, Mark Boyer, Editor of Paver &amp Sweeper Market has announced the publication will be providing discounted advertising rates. Boyer said the move is being taken to provide more marketing options for affected businesses in the sweeping and pavement maintenance industries. For more details, use the link shown below to visit the publication's website. You may also reach Mark Boyer by calling, toll free, to 1-800-603-9089.
Also, remember that WorldSweeper has an exclusive link to a preview of each month's edition of Paver & Sweeper Market. WorldSweeper readers will have at least a 10-day headstart in availability, as compared to when the publication arrives by mail.
Go to the Paver & Sweeper Market website
---
Street Sweeper Shirts Available in Many Styles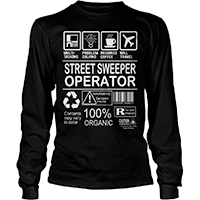 Sorry we didn't learn about these shirts in time for purchase as Christmas presents, but they're good for gifts and reward items year 'round. We liked them so well that we started a new section of the WorldSweeper website called 'Gear.' Please let us know of other sweeping-related gear you know about and we'll add it to the website.
If you want a closer look at the shirt, click on the image to see it in a much larger size.
Check out our 'gear page' for a link on where to buy these shirts.
---

Not Exactly Sweeping: Happy DIY Home Review of Latest Electric Leaf Blowers
The best battery-powered leaf blower can be an elusive thing to find because there are a number available on the current market. To make it more complicated, blowers come in several styles, including backpack, handheld and wheeled models. What features make the best battery-powered leaf blower for your particular needs will depend on your preferences and what type of work you want it to tackle.
As part of compiling an updated blower review the Editor of Happy DIY Home, Jenn Stark, saw the WorldSweeper blower review we conducted in February of 2019. She then contacted us with the gracious invitation to reprint Happy DIY Home's updated effort on the topic, which includes 10 great options for you to consider along with a buying guide designed to help narrow down your choices.
Take a look at the Happy DIY Home's blower review info.
---