---

by Ranger Kidwell-Ross, editor
WorldSweeper.com

Like Many Others, Power Sweeping Industry in 'COVID-19 Flux'
Since the COVID-19 pandemic first hit our radar screen in March, WorldSweeper has done its best to keep the industry up-to-date on the many coronavirus issues facing our industry. First we developed an Industry Update web page with all the information we could find, using both our resources and those of other industry professionals.
We've done our best to separate fact from fiction, show why parking area sweeping, especially, should be considered an essential business occupation, and do whatever else we could to help those in sweeping navigate these difficult times. As new reports have surfaced about best practices and methods to stay safe both on and off the job, we have added them to this sweeping information resource page.
When reports surfaced about all of the potentially infected masks and gloves that were – and still are – being thrown onto the ground outside of retail business locations, we mobilized with the World Sweeping Association to provide government officials and others info about the issue along with our insight about how the sweeping industry could best address this serious health problem. Unfortunately, most of those in positions of power have never even thought about sweepers and sweeping, let alone the central role sweepers play as the first line of defense against pavement-related pollution.

We finally were able to get through by phone on April 3rd to a representative of the U.S. Centers for Disease Control and Prevention (CDC). After several minutes of education about what a sweeper was and why they should be A) deployed nightly on all essential business property locations, and B) the ability of sweepers to use their dust suppression spray systems to sanitize pavement while sweeping up all the potentially infected detritus on these parking lots, the agent said she felt the issue should be "escalated to the next level."
Although I suggested sending her a detailed, bullet-point email to succinctly explain the needed information, she said she regretted to inform me that she and the CDC were "not set up to receive any email. Also," she continued, "the CDC is currently taking 7-to-10-days to respond to escalated medical-related COVID-19 issues." Today, 19 days later, we still have not received a response from the CDC. Ditto with FEMA, to which we sent our bullet-point email four days later.
WSA also sent emails to the central email addresses of 49 national news media outlets: only three were even opened and no responses came back. Similar emails were sent to the 40 state governors whose emails could be found online, also with zero response. Yet, there's no question that public health and safety could be enhanced by requiring nightly sweeping at essential retail locations; however, many if not most of those have cut back on their sweeping schedule since income has been reduced. Using the links shown below we encourage all of our readers to forward the infomation pages we have created to your local newspapers and state legislators.
In the long term there is little question the coronavirus pandemic will spur a renewed interest in pavement cleaning and sanitation, an area where industry contractors and municipal sweeping programs alike can take a forefront position. Combined with the emerging science that shows street sweeping to be by far the most cost-effective way to take on a larger role in the future. That said, it's truly a shame sweeping is, at the moment, not being utilized to the fullest extent it might be to address the ongoing pandemic crisis facing us all.
As always, if you have any news of potential interest to the power sweeping community, please let us know. Between this publication, the WorldSweeper.com website, and the World Sweeping Association, we'll be sure to get the information passed along to interested readers.
Good Sweeping,



Editor, WorldSweeper.com
Executive Director, World Sweeping Association
Member, PAVEMENT Hall of Fame
PS If you're a contractor I urge you to check out the many benefits of membership in the World Sweeping Association. Also, if you haven't 'liked' our WorldSweeper Facebook page, what are you waiting for? That's where we offer a variety of industry previews and updates on an ongoing basis.

---
April Newsletter Contents
(Scroll down to read stories or click on links below.)
---
World Sweeping Association Lobbies for COVID-19 Sweeping Expansion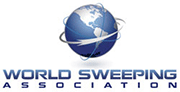 As part of its proactive efforts to do with COVID-19 abatement, WSA contacted the Centers for Disease Control (CDC) and the Federal Emergency Management Administration (FEMA), as well as emailed a message to U.S. governors, national news media, and contractors around the country, encouraging the implementation of nightly sweeping for all still-open retail operations deemed 'essential.' WSA also lobbied for implementing the use of sanitizer in sweeper dust suppression systems.
This was spurred by the widespread reports of people tossing potentially infected gloves and masks onto parking lots of these businesses after shopping. WSA is also encouraging sweeping contractors to forward the message links to their local news media, government officials, etc., as well as to post the info links onto their social media sites.
Read and forward the letter sent to officials and media. Check out the info page about the importance of nightly sweeping and sanitizing – then forward it to officials in your area.
---
Industry Leaders Offer COVID Info Sites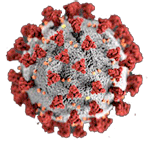 Leading industry organizations have developed COVID-19 information websites specifically designed for those who sweep. Early on in the pandemic response WorldSweeper teamed with WSA to develop this comprehensive information resource that is being updated as new information emerges.
In the interest of promoting a higher level of safety, as well as to provide links to assistance, etc. available in the crisis, both NAPSA and WSA are providing COVID-19 information pages to everyone in the industry, even though these would normally be for just their respective members.
Elgin Sweeper Company launched a website information page demonstrating how sweeper owners can use their Federal Signal product line in COVID-19 cleaning and sanitizing efforts.
---
Louisville Pavement Sweep Article Showcases Nationwide Problem of Discarded Masks and Gloves


After posting some photos like the one you see to the left on his Instagram page, Jim Blackerby, owner of Louisville Pavement Sweep and designer of the 'Sweep Inspect' management inspection portal, was interviewed by the Louisville area's Courier Journal newspaper on the topic.
In the article, Blackerby is quoted as saying "Let me tell you – it is absolutely ridiculous. And this is not just a Louisville and Lexington thing. I'm in a lot of associations with other sweeping companies and this is all anyone can talk about." He went on to talk about the hundreds of masks and gloves being collected by his company's sweepers, a situation that is playing out around the U.S.
---
Victory Sweepers Offers Several New Industry Benefits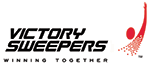 Largely in response to the COVID-19 pandemic, Victory Sweepers has made several innovative efforts in the last month. Initially, as its response for contractors to the pandemic, the company decided to provide contractors affected by the pandemic with 60-day payment terms on up to $2500.00 in parts orders through April 15th. Because of the response to date, the company has extended that offer through the end of May. Go to the Victory Sweepers website for more info. At the same time, Victory's Sales Team developed a page of what it termed "COVID-19 Safety Protocol Suggestions."

More recently, Victory started its 'Sweeping and Parts' Facebook Group. The idea, says the site's administrator, Brad Staley, is to have a social media venue where Victory can post action videos showcasing the abilities of its sweepers, as well as pop-up parts specials and other information.
Because of the changing nature of how companies can operate during the pandemic, Victory's Sales Manager, Mark Schwarze, said Victory wants to do whatever it takes to make sure customers are able to reach help when they need it. So the company has posted the mobile phone numbers of a variety of key employees on its home page, along with a notice that the individuals are ready to take customer calls "anytime."
---
Earth Day Special Report on COVID-19's Impact on Sweeping Personnel in Nigeria, the Philippines and India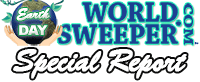 Street sweeping during the COVID-19 pandemic is considered to be an essential service all around the world. As part of its Earth Day newsletter edition, WorldSweeper brings you a snapshot of how those who sweep the streets in Nigeria, the Philippines and New Delhi, India, are coping with the need to balance safety and continuing to work.

As you will read, this is a difficult balance to maintain in other places where access to money, food and safety concerns can become overwhelming. These three vignettes tell the story of individuals whose lives have been changed significantly as they balance their work with all the rest that has become different in their collective realities.
Take a look at the impact on those who are sweeping in other areas of the world during the coronavirus pandemic.
---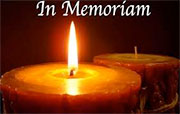 Remembering...

In early 1994, when Bridget and Warren Burge attended their very first National Pavement Exposition, Bridget was pregnant. Her daughter, London Grace Burge, was born that April. The many industry friends of the Burges, who are located in Baton Rouge, LA, and are Advisory Board Members of the World Sweeping Association, will be saddened to learn that London passed away on April 16th, 12 days short of her 26th birthday, after a long battle with drug addiction.
London had a special love for animals and had many special pets throughout her life. She was very compassionate, giving and kind for the less fortunate, animals and the elderly. London loved her family and will be greatly missed. Her obituary page is available for viewing here.
---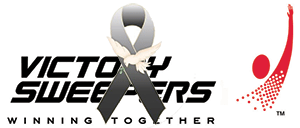 On April 18th, Uma, the wife of Victory Sweepers' President, Soundar Chokalingam, passed away suddenly at age 52 at their home in Coimbatore, India. The couple, who were childhood friends and neighbors, had been married for 30 years. The couple also have two children, Harris (27) and Pratheesh (21).
According to the remembrance of her, Uma was a very spiritual person who worshipped the Lord each morning before work. By all accounts Soundar and Uma had long ago developed an extraordinary level of mutual love and affection for each other. They were also known for being able to solve whatever family issues might surface without hurting the feelings of others.
Uma was, it is said by those who knew her well, a very admirable human being who always took good care of her family and others in need. Condolences may be sent to Soundar, who works at the Alabama-based Victory Sweepers' factory, via email or sent to the Victory factory address.
---

Not Exactly Sweeping: Coronavirus Traces Found in Massachusetts Wastewater at Levels Far Higher Than Expected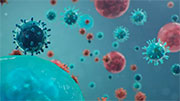 Newsweek reports that researchers screening wastewater in Massachusetts for the novel coronavirus found more traces of the pathogen than expected given the number of confirmed cases in the area.
Wastewater analysis of this kind has previously been used by scientists to track other infectious diseases, as well as substance abuse in a given population. Now, several research groups around the world have started using this method to look for the novel coronavirus in a bid to estimate how many people are infected in a community.
Researchers hope that these kinds of techniques could complement traditional testing, which has been severely lacking in many parts of the world.
---