---

by Ranger Kidwell-Ross, editor
WorldSweeper.com

Our Exclusive Walmart Interview – and Much More

We want to wish a Happy Thanksgiving to all of our U.S.-based readers! (Any resemblance our graphic has to any of your sweeper operators is purely coincidental and entirely unintended...)
The recent move by Walmart to restore its previous sweeping schedule will no doubt contribute to the Holiday happiness of all of those who do work for that company.
The World Sweeping Association has stayed on point with Walmart, doing everything possible to mitigate since we reported the various issues in our October newsletter. WSA was assisted by the donation of $1,000 by Victory Sweepers toward the investigation, which allowed the organization to dedicate more resources toward getting answers. The good news is that on November 17th the Walmart organization went back to its previous sweeping schedule instead of continuing to suspend sweeping two days per week.
As another positive culmination of WSA's extensive efforts, we have in this issue a link to WSA's exclusive interview with Dale Brantley, the person who oversees exterior services at Walmart's approximately 5,000 stores across the U.S. and Puerto Rico. We appreciate Mr. Brantley's willingness to provide the industry with solid information about how the Walmart system operates. Although located on WSA's largely password-protected site, the article is being provided to all to promote WSA's interest in providing ongoing education throughout the sweeping industry.
We also congratulate a number of folks in our industry for their new innovations. For example, Keystone has updated its website with the intent of providing even more information for its sweeping industry clients. Matt Starnes, at Johnston Sweepers, also touts a success story for its VT652 vacuum sweeper in addressing porous pavement cleaning. There's no question that porous is being used more and more as an environmental application.
We are also excited about a dedicated managers' oversight app for parking lot sweeping designed by Jim Blackerby, of Louisville Pavement Sweep. His new app, Sweep Inspect, addresses the many issues that quality inspectors face when doing oversight, especially on nighttime sweeping. The full-featured app is bound to be a boon to contractors who would like a better way to conduct oversight inspections, including an easy way to offer ancillary services for things like large item dropoffs, graffiti, etc.
In a nod to the upcoming Season, we also want to encourage all of our readers who might be planning an office party to review our article about best practices to follow so as to keep your company on solid legal footing. Especially when employees and company-supplied alcohol mix, you simply cannot be too careful.
Since we know many of you will be choosing Christmas gifts for the kids in your extended sweeping family, we also include info on the extensive section of the WorldSweeper that includes toys for sale.
As always, if you have any news of potential interest to the power sweeping community, please let us know. Between this publication, the WorldSweeper.com website, and the World Sweeping Association, we'll be sure to get the information passed along to interested readers.
Good Sweeping,



Editor, WorldSweeper.com
Executive Director, World Sweeping Association
Member, PAVEMENT Hall of Fame
PS If you're a contractor I urge you to check out the many benefits of membership in the World Sweeping Association. Also, if you haven't 'liked' our WorldSweeper Facebook page, what are you waiting for? That's where we offer a variety of industry previews and updates on an ongoing basis.

---
November Newsletter Contents
(Scroll down to read stories or click on links below.)
---
Interview With Walmart's Senior Manager for Exterior Services

Readers will recall the Walmart story in the October WorldSweeper newsletter. The article detailed a variety of contacts initiated by the World Sweeping Association to pushback and/or try to get more information about recent moves by America's largest retailer.

This month, we are pleased to present an in-person interview with Walmart's head of exterior services, which includes parking area sweeping, Dale Brantley. In the first-person interview, Mr. Brantley discusses a variety of information about Walmart decision-making when it comes to parking lot sweeping, which largely also includes company policy concerning landscaping and snow removal/abatement.
---
Keystone's New Streamlined and User-friendly Website to Provide Valuable Insights and Resources for the Street Sweeping Industry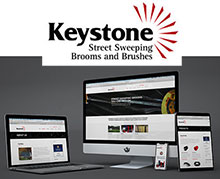 Keystone, a leading manufacturer of street sweeping brooms and brushes, has launched a newly redesigned website, www.KPBrush.com.

The new Keystone website provides industry-related news along with detailed information on the brooms and brushes used by municipalities and other street sweeping agencies.


---
A Johnston Sweepers Porous Asphalt Success Story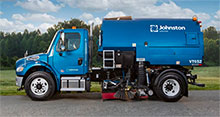 Matt Starnes, Johnston Sweepers' Product Marketing Manager for North America, offers a true-to-life story about how his organization assisted Washington State contractor, Above & Beyond, with its porous pavement sweeping issues.

Starnes relates the difficulty the Above & Beyond owners were having with getting porous asphalt cleaned with a contractor using a regenerative air sweeper. The story talks about the difference that company discovered for that process when using the Johnston VT652 vacuum sweeper. The story includes a link to a more complete audio podcast episode.
Check out the story, the podcast and the results.
---
Reminder About Your Section 179 Deductions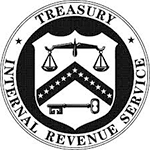 This is the time of year when we get calls from sweeper manufacturers asking us to remind contractors about the accelerated depreciation available through IRS Section 179. They're right: The end of the year is always a good time to review deductions available to you and, for most contractors, the largest deduction generally available is for the purchase of new or used sweepers and related equipment.
This year the Tax Cuts and Jobs Act increased the amount of – and expanded the rules for – Section 179 deductions that may be taken for 2019. One of the links shown below is to the IRS website, where you can quickly get a handle on the latest IRS rules in this area. As a bonus, we suggest you also take a look at the other link shown, which is to an article entitled "92 Small Business Tax Deductions to Use Now (+11 You Should Never Try)," which is also a good resource as well as offers a number of reminders on the topic of writing off general business expenses.
Check out the Section 179 information and then, while you're thinking about it, take a look at the other business deductions you should consider (as well as stay away from).
---
Louisville Pavement Introduces 'Sweep Inspect' Management Inspection Portal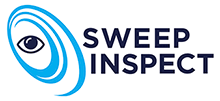 Jim Blackerby, owner of Kentucky-based Louisville Pavement Sweep, has developed a very elegant, full-featured, inspection app. The app is designed for sweeping company managers to use to rate the job done by sweeper operators.
One of the biggest problems for companies that sweep parking lots is oversight of the work product done by their employees. Since much of the sweeping is done at night, with workers who typically have a low level of education, oftentimes management sees the need to check to see how good a job has been done. The Sweep Inspect app is designed to handle that and much more. The article includes an explanatory YouTube video.
Check out the Sweep Inspect app.
---

Trombia Sweepers Names Superior Truck Equipment, Inc. as Dealer in Alberta and Saskatchewan
Snowek has named Superior Truck Equipment, Inc, as the official dealer for its flagship sweeper product, Trombia Airknife sweepers. Trombia sweepers are designed to combat silica dust challenges in working sites and industrial plants, as well as PM10 street dust challenges in municipal streets.

Trombia sweeper attachments have been developed to exploit wheel loaders in year-round street and area maintenance and to assist public and private sector organizations to sweep and collect the finest dust particles and, at the same time, optimize idle time in their wheel loader fleets.
---
Looking for Sweeping-Related Toys for Christmas Gifts?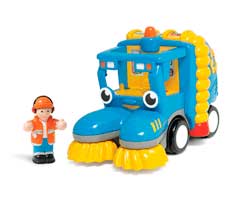 It's that time of year to choose gifts for the kids in your family circle and what better than to generate interest in sweepers via the selection of books and toys in the 'Toys' area of WorldSweeper's website?!

We have collected all the sweeping-related apps, toys, books and other items we know about and include links to where you can purchase them. If you are aware of toys we don't have listed, please take a minute and let us know what they are and we'll add them to the list on the site.

Check out our sweeping-related toy selection.
---
Remember These BMPs for Your Office Parties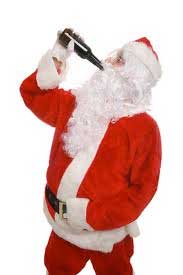 Two attorneys provide what you need to know about planning and execution of your Seasonal office parties. Today's no-nonsense laws on DUI, as well as increased liability for companies sponsoring office parties that result in employee injury, combine to create a lot of potential for negative outcomes to occur.
Holiday parties often also create or increase the risks of inappropriate behavior, whether it is inappropriate dress, inappropriate dancing with co-workers, sexual harassment, assault and even wrongful death claims in the event an accident is caused by a driver who became intoxicated at the party.
Check out the best practices info.
Not Exactly Sweeping: Can You Identify This Sweeper?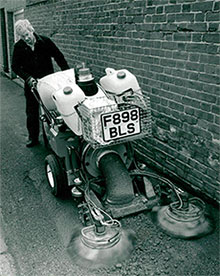 We discovered this walk-behind sweeper for sale on an Amazon-based site where the photo being shown is, or at least was, for sale for a total of $40. However, when we checked with a couple of industry veterans they couldn't recognize the make/model of the machine.

So, with Christmas coming up, we decided to provide some sort of prize if one of our readers was able to definitively identify the sweeper. Our prize, donated by Johnston Sweepers, is a die-cast collector's scale model of that company's V651 sweeper.

If you're the first to identify who made the sweeper and, ideally, also the model, we'll ship you the scale model of Johnston's V651. Click on the photo shown above to see a larger image (opens into a new browser window). BTW, as of when this newsletter was published, the photo was still for sale at this link.

Let us know if you believe you can identify the sweeper.
---
---