To read this WorldSweeper Newsletter in your web browser, click here.
---

by Ranger Kidwell-Ross, editor
WorldSweeper.com

The Power Sweeping Industry's Multi-Faceted Information Stream
Even after more than three decades of writing for this industry I am amazed at the wide-ranging breadth of information that surfaces within it. I'm also glad to be a catalyst for bringing new information to the table, as we have done this issue with the safety information provided by the CEO of Brigade Electronics Inc., Corey Heniser.
After conducting the audio podcast with Heniser, it's hard not to be convinced that all sweepers – as well as other construction site vehicles – should be outfitted with the company's patented 'white noise back-up alarm.' When you read/listen about that, as well as about the new 360-degree camera viewing that can surround a vehicle, we think you'll be a convert, as well.
As you will read in our second story this month, we have been presented with a mystery in need of solving. To do so, we are looking for assistance from our readers to see if anyone else out there has had a hopper 'phage' like the one shown in the article occur, as the result of using reclaimed water or any other situation. As you will read, a Sacramento contractor has convincing evidence that his company's use of reclaimed water for his dust suppression system is causing a mysterious degradation on the inside of his TYMCO 600 sweeper hopper. Please take a look at the photos and then use the email link to provide us with any information you may have about it.
Our article on Denver's recent sweeper purchase shows how there can be no secrets in today's world. The City of Denver has come under fire about how it recently purchased its Dulevo sweepers. The story, initially run by The Denver Post, illustrates that in this day of social media, watchdog organizations and freedom of information requests, it's truly worth it to conduct business operations with the assumption that someone with a loud megaphone is peering over your shoulder!
We know you will also enjoy reading about the logistics of cleaning up after one of the largest parades in the country, the San Francisco Pride March. As with any cleanup of the debris left by an event with an estimated 1 million+ attendees it takes a coordinated effort with widespread involvement by many.
As usual, there's even more to read about in this edition: The World Sweeping Association proudly presents an overview of the two young women scholars that WSA awarded scholarships. This marks the seventh consecutive year the organization has helped students with a sweeping connection with scholarships up to $2,000 each. We are glad for the reminder to remember the two sweeping industry giants who inspired the memorial scholarships, Carl J. Austin and Dale McCaskill, Sr.
Finally, in our 'Not Exactly Sweeping' story this issue, it was interesting to see that over 40% of parking tickets given out in the U.S. are for failure to comply with vehicle removal on sweeping days. Nonetheless, in my opinion – especially with the increasing pollution of water and air that's occurring – vehicle removal should be a component of every street sweeping program in the country.
As always, if you have any news of potential interest to the power sweeping community, please let us know. Between this publication, the WorldSweeper.com website, and the World Sweeping Association, we'll be sure to get the information passed along to interested readers.
Good Sweeping,



Editor, WorldSweeper.com
Executive Director, World Sweeping Association
Member, PAVEMENT Hall of Fame
PS If you're a contractor I urge you to check out the many benefits of membership in the World Sweeping Association. Also, if you haven't 'liked' our WorldSweeper Facebook page, what are you waiting for? That's where we offer a variety of industry previews and updates on an ongoing basis.

---
July Newsletter Contents
(Scroll down to read stories or click on links below.)
---
Brigade Electronics' CEO Discusses New Safety Breakthroughs

Brigade Electronics has long been a pioneer in developing new and innovative safety methods for the commercial vehicle and plant safety sectors. For example, in 1976 Brigade introduced the very first reversing alarm to the European marketplace. Since then the company has become a market leader in vehicle safety systems.
The CEO of Brigade Electronics Inc., Corey Heniser, spoke with us about the issue of safety when it comes to vehicles like sweepers in a 23-minute audio podcast, which is linked in the accompanying article. Several of the latest innovations in safety products have a direct bearing on sweeper safety, especially Brigade's patented "Shhhh, white noise sound" back-up alarm.

Check out the Brigade Electronics article and audio.
---
Reclaimed Water Causing Sweeper Hopper 'Phage?'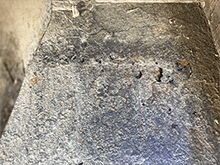 We're investigating reports that reclaimed water being used for sweeper dust suppression is causing the interior of a sweeper hopper to develop a condition that appears may be a bacteriophage; that is, creating patchy areas of grayish spots that scale off. Although the eventual outcome is deterioration of the hopper metal, the coloration doesn't appear the same as the rust-outs also common with hoppers over time. (To see a series of larger photos of the hopper's condition, click here or on the smaller photo above.)

We are including this information in the hope of being contacted by others in the industry who may have experienced the same type of hopper failure after having used reclaimed water; i.e., municipal wastewater that has been processed so as to be used for other purposes, a long-established practice for irrigation, especially in arid countries. However, according to current reports it may not be suitable for use in a sweeper's dust suppression system. If you have experienced this type of occurrence, or have information on the topic, please let us know by using the link shown below.
Contact WorldSweeper's office with information.
---
Paver & Sweeper Market Preview Reminder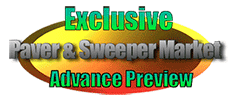 Today's WorldSweeper newsletter mailout was coordinated to be sent out on the same date as the Paver & Sweeper Market publication went to press. Why, you might ask?

The answer is so we could remind our readers that – if they're in the market for a used sweeper or other industry-related equipment – the WorldSweeper website offers an exclusive link to the magazine whenever the editor, Mark Boyer, sends an upcoming edition to the printer.

Unlike when buying new, if you're looking for a pre-owned sweeper they are, by definition, 'one of a kind.' So, when you want to get at least a 10-day head start over those who wait to receive the magazine by mail, be sure to check the WorldSweeper.com website toward the end of each month to see the link. Also, if you are not on the mailing list for the free publication, send an email to mark@sweepermarket.com.

Take a look at the exclusive preview edition of Paver & Sweeper Market we posted today.
---
Denver's Potential Improprieties in Dulevo Sweeper Purchase

Officials at the City of Denver are fielding accusations of impropriety in the City's recent purchase of Italian-made Dulevo sweepers. Unlawful 'perks' that were provided by Dulevo to City employees involved in the purchasing decision included payment for a hotel stay and the production of a commercial featuring a Denver Public Works manager who has since been suspended.

The two other companies vying for the sale "withdrew because it was very obvious it was going to be Dulevo, because it was written for the Dulevo," said Ernest Ivy, whose company was working as a vendor for Global Environmental. This story underscores how important it is for municipal public works personnel to be impartial in their sweeper purchasing decisions and when specifying features required on a sweeper.

Take a look at the story.
---
Cleaning up After the San Francisco Pride March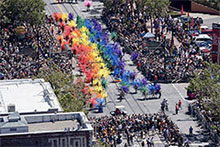 San Francisco Pride is a parade and festival held at the end of June each year in San Francisco, California, to celebrate the lesbian, gay, bisexual, and transgender (LGBT) people and their allies. The parade consists of hundreds of contingents from various groups and organizations.

This year marked the 49th annual edition of the parade, which is described on the official website as "the largest gathering of LGBT people and allies in the nation." As you might imagine, the cleanup after the parade is quite an undertaking...
Check out the story and the mess left behind.
---
Allied Paving Equipment Website Down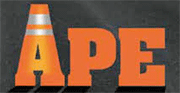 The publisher of Allied Paving Equipment – known throughout the paving industry as APE Magazine – reported on July 25th that, due to the unannounced bankruptcy and subsequent disappearance of its server company, the APE website will be down several days.

The organization is, of course, working very hard to restore the site and they expect to have it up and running again in the very near future.
Check out the APE press release.
---
World Sweeping Association Scholarship Winners Announced

The World Sweeping Association has provided scholarships to students related to sweeping organizations each year since 2013. WSA has announced its Memorial Scholarship winners for the 2019/2020 academic year.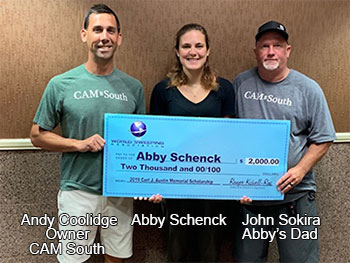 This year's winner of the Carl J. Austin Memorial Scholarship is Abby Schenck, sponsored by CAM South, dBA Sweeping Beauty, Birmingham, AL. Her father, John Sokira, is Operations Manager at the firm.

One of Abby's teachers had this to say about her: "Even as a freshman, Abby took pride in doing everything to the best of her ability. She never slacked off, never procrastinated, and never gave less than 100% in her classes. In addition, her kind and selfless spirit made her a favorite among her teachers and her peers."

Another of her teachers wrote: "Abby is one of those children that make your job as a teacher easy and rewarding. She is eager, smart, dedicated, and always willing to help others. I have seen Abby give of herself to other students, faculty, and staff in ways that show a maturity that most adults would strive to hold.

"I without hesitation recommend Abby for your scholarship. She embodies what we would all like to see in students her age. I know she will be successful in her future and this money would help ensure that she is able to do so."

---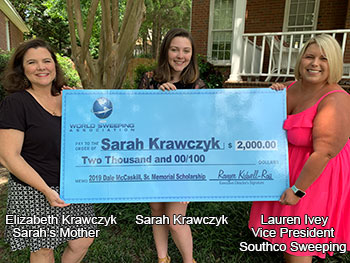 This year WSA's winner of the Dale McCaskill, Sr. Memorial Scholarship is Sarah Krawcyzk. Sarah was sponsored by Southco Sweeping and Maintenance, Darlington, SC, which is the company Dale McCaskill, Sr. founded and operated before his untimely passing. Sarah's mother, Elizabeth, is CFO of that company.

One of her teachers said about Sarah: "I highly recommend this student because she is so driven and enthusiastic. She is a dream to have in class because she is constantly pursuing a deeper knowledge of the world around her."

Another reference letter included: "Sarah is driven and puts no less than 100% of her time and effort toward whatever she goes after... Sarah is also a truly genuine and caring person... She wants to be sure those around her are themselves succeeding in their own ventures and achieving all that they can to reach their personal best.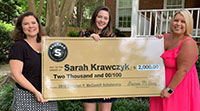 When Sarah won the WSA scholarship, says Lauren Ivey, Vice President of Southco, her organization decided to provide Sarah with a matching $2,000 in the name of her mother, Deborah McCaskill, who passed away in June of 2018. Congratulations to Sarah for this twin windfall to help her achieve her future academic goals!

For more information about the program, use this link. Although the standard scholarship amount is $1,000, this is doubled if the referring company is a member of the World Sweeping Association. Since both Southco and CAM South are WSA Members, each of the scholarship recipients is receiving $2,000 toward her tuition and other school expenses.

Read more about these two scholarship winners here and go here to learn more about the WSA's Memorial Scholarships as well as WSA Membership.
---
Not Exactly Sweeping: Info on Street Sweeping and Other Tickets Nationwide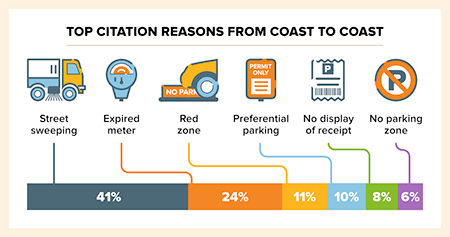 There are hundreds of reasons to get a parking ticket and each can vary by city, yet there's a pattern when it comes to the most common parking offenses. City open data sources show that highly trafficked areas with complex regulations correlate with the number of parking tickets – six offenses being especially prevalent.

Street sweeping is the most commonly issued ticket, representing 41% of all parking citations from coast-to-coast. For example, the City of San Francisco issued almost 540,000 street cleaning tickets for a value of $36,718,640. If you want to see the real cost of parking tickets around the U.S., where just 16 cities rake in over $1.4 billion each year, use the link shown below.

Check it out.
---