---

by Ranger Kidwell-Ross, editor
WorldSweeper.com

Parking Lot Sweeping: Valuable Service or Loss Leader?
In the 3+ decades I've been involved with power sweeping, a number of parking lot sweeping issues have come and gone. For example, sweeper noise abatement was huge in the 80s. After a few years, though, that problem for the most part faded away due to the introduction of quieter, and single engine, sweepers.Today the most pressing topics appear to be low account pricing, getting and retaining drivers, and insurability issues.
Especially since the rise of third-party vendors taking over contractual relationships with many large national retailers, there has been a tendency among sweeping contractors to accept mandated pricing for their services that is too low. This was exemplified a few years back when a well-known contractor stood up at the Contractors' Roundtable at the National Pavement Exposition and proclaimed to all that he was comfortable pricing his sweeping services under market cost, because he could then make it up in snow removal. That is clearly backward thinking.
Thirty years ago, most parking area sweeping contractors only swept, allegorically emulating the famous KFC slogan that ran from 1981 through 1987 of "We do chicken right." Today, that's still the case with a few contractors, although most have added at least some exterior maintenance tasks as additional profit centers. Although a wave of the future, in some cases this has eroded the focus and professionalism of their core service.
The need to learn more, coupled with lower profit margins, often results in sweeping company employees not getting as much training and/or oversight as was previously the case. Coupled with the tempting distraction of cell phones and social media, there has also been a rise in distracted driving and the incidents they often cause.
For that reason, our lead story in this issue discusses the many ways to work with your operators – whether you are a contractor or manage sweeping for a municipality – so you can increase the accountability of their actions. I strongly urge all who manage any type of sweeping operations to read that story, written via an interview with Scott Cerosky, who started providing insurace to this industry 27 years ago. If you are a contractor you will also benefit from listening to the additional information contained in the accompanying audio podcast.
The overall softening of retail sector profits due to online purchasing, combined with third-party vendor rakeoffs of money formerly paid directly to contractors, currently has the parking lot sweeping industry under some amount of financial duress. Since insurance often comprises the second or third biggest line item on a contractor's expense sheet, one way to keep expenses down is to reduce your risk of insurance claims. Whether you are in the contracting or municipal sector, you owe it to your organization to do all you can to reduce vehicular incidents, especially since doing so will, at the same time, help ensure the safety and longevity of your sweeper operators.
As always, if you have any news of potential interest to the power sweeping community, please let us know. Between this publication, the WorldSweeper.com website, and the World Sweeping Association, we'll be sure to get the information passed along to interested readers.
Good Sweeping,



Editor, WorldSweeper.com
Executive Director, World Sweeping Association
Member, PAVEMENT Hall of Fame
PS If you're a contractor I urge you to check out the many benefits of membership in the World Sweeping Association. Also, if you haven't 'liked' our WorldSweeper Facebook page, what are you waiting for? That's where we offer a variety of industry previews and updates on an ongoing basis.


---
January Newsletter Contents
(Scroll down to read stories or click on links.)
---
Learning From and Eliminating Sweeper Operator 'Incidents'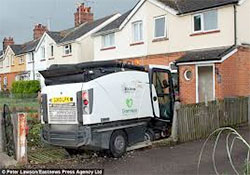 Scott Cerosky started providing insurance to the power sweeping industry over a quarter-century ago and transitioned to covering the entire pavement maintenance field soon after. This article with him discusses the trend of insurance claims he has seen due to operator errors.

This month's lead article, which also includes a 44-minute audio podcast with Cerosky, discusses the use of drive camera systems, training, micro-sleep events and more, as well as the variety of pro-active actions a municipality or contractor can take to prevent costly incidents from occurring.
---
North America Projected to Dominate Future Street Sweeper Market

Research Cosmos (RC) is a private company that charts the trends in various industries. In the RS Global Street Sweeper Market Research Report 2015-2023, 25 countries are researched for data. From the research, North America is projected to dominate the market for street sweepers in the foreseeable future. The report cites Europe as the expected second-largest market for sweepers, at least through 2023.

What will be driving the increasing market, according to the report, is the growing environmental consciousness (amid increasing water quality degradation) "since suction road sweepers are sustainable and have low environmental impact engines." Dust particle reduction, a byproduct of increasing urbanization, is also cited as a driver of the industry. The ongoing movement to alternative fuel technology in sweepers is expected to continue and strengthen.

Suction-based sweepers appear to be projected to increase by the most, since they are best at small particle removal and can be used equally well in urban and rural areas. They also offer, says the report, a higher level of productivity and increased cost-savings over mechanical sweepers. In part this is because air sweepers may be used well in wet as well as dry regions.

To read the report's synopsis, follow the link. However, since the report itself is $4,000 for a single copy, you will likely not be purchasing the information, which is more designed for reading at the manufacturer level.
---
Potential Reductions of Street Solids and Phosphorus in Urban Watersheds from Street Cleaning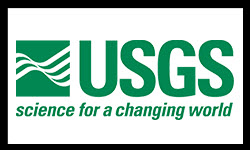 Material accumulating and washing off urban street surfaces and ultimately into stormwater drainage systems represent a substantial nonpoint source of solids, phosphorus and other constituent loading to waterways in urban areas.
The U.S. Geological Survey, in cooperation with the Massachusetts Department of Environmental Protection, the U.S. Environmental Protection Agency, and the city of Cambridge, Massachusetts, initiated a study. The intent was to better understand the physical and chemical nature of the organic and inorganic solid material on street surfaces, evaluate the performance of a street cleaner at removing street solids, and make use of the Source Loading and Management Model (SLAMM) to estimate potential reductions in solid and phosphorus loading to the lower Charles River from various street-cleaning technologies and frequencies. Although first published in 2013, this study link is new to the WorldSweeper website archives.
---
Perhaps the Original Elgin Pelican Sweeper Brochure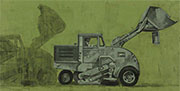 Imagine: A sweeper and a front-end unloader... both in one machine! That's how the Elgin Pelican – a New Concept in Modern Street Cleaning – was introduced in the linked early brochure. According to current Elgin personnel, the brochure was likely an introductory one for the machine, which was first marketed in 1964.
With the new Pelican, the brochure goes on, "One sweeper operator can now sweep the street and dispose of the sweepings without leaving his cab." Rather, this new system offered a three-step sequence, "sweeping... hopper elevated... dumping into truck."
And, because "two-way radios are also being used by many sanitation departments... Operator can easily check the amount of fullness of hopper, then radio ahead for rendezvous spot with disposal unit." You will also be able to read about the newly introduced Pelican's "12 fully proven exclusive Elgin features and benefits... making this combination 'sweeper-unloader' the greatest advancement in the street sweeper industry in the past decade."
Check out the 'new' Elgin Pelican.
---
Street Sweeper Operator Featured on DSNY Calendar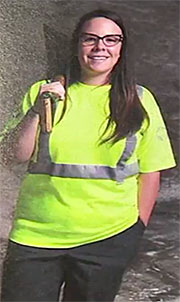 Last year the New York City Department of Sanitation (DSNY) decided to produce a 2019 calendar to shine a light onto some of its employees who often go unrecognized. When DSNY announced to its workforce of 9,000 that it was taking applications for the project, 300 workers applied, half of whom had their photos taken. Ultimately, only 14 made the cut.
Kristen Shalbinski, a female street sweeper who had worked in her position for only about a year-and-a-half, was among the lucky winners. Shalbinski's is the featured photo for the month of November. When Kristen was asked why she thought she had been chosen, she opined it might have been because they asked her to pose with her shovel, which she thought made her photo "charming."
In total, the 2019 DSNY calendar features employees who collect trash, sweep the streets, fix the trucks and work behind the scenes. One month features the only female sheet metal worker on the DSNY workforce. This project seemed like a good idea to pass along to our readers as one they might like to emulate – even though it's 'Not Exactly Sweeping!'
---