---

by Ranger Kidwell-Ross, editor
WorldSweeper.com

Is Sweeping Finally Becoming an 'Independent' Industry?
For many years the sweeping industry has been, in many important respects, a somewhat forgotten 'stepchild' of the pavement maintenance industry. Although included in a number of national conferences, from APWA to NPE, it simply hasn't had the size and scope for conferences of its own. Fortunately, that landscape is starting to change.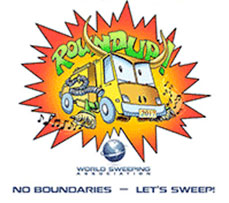 Last year the first conference designed strictly for power sweeping contractors, the World Sweeping Association's 'Sweeper Roundup,' was held in Kansas City, MO. The inaugural event brought together contractors from around the U.S., as well as attendees from Europe, to see the sweeping equipment and attend the four conferences. By all measures the event was deemed a success, with proceeds benefiting the WSA's Memorial Scholarship Fund.
Since 2012 the 1-800SWEEPER organization has gathered its members to an annual event designed to promote comradeship strictly among its membership. This year, the company's 'Sweeper Summit,' scheduled for November 8th and 9th in the Las Vegas area, has expanded significantly. For the first time, the Sweeper Summit was advertised as being open to all sweeping contractors and includes a lineup of four conferences and a panel discussion.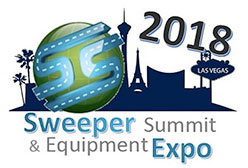 More important to the financial well-being of this year's Summit is the widespread attendance by the sweeper manufacturing community, whose attendance will both offset the expense of the show and provide an opportunity for attendees to 'kick the tires' of new sweeper models and supplier products in person. According to the organization's web promo, these will include all of the major sweeper manufacturers as well as a number of industry suppliers.
Although it's great to see this 'sweeper-only' event occurring, I believe there is one aspect that should elicit caution: Unlike last year's Roundup by WSA or the several traditional tradeshows that include sweeping as a component, the 1-800SWEEPER organization's agenda, by its very definition, ultimately excludes participation and involvement by all but one single contractor in each area code in the U.S. In that regard, a number of the top area codes are already taken.
Although the 'everyone's invited' Sweeper Summit appears admirable, attendees need to keep the sponsor in mind, especially when they mingle with those who have purchased the 1-800SWEEPER area code that encompasses their own market area. They also need to realize that, by attending, they are strengthening the finances of a serious competitor to their own business models. I predict that may well be a problem for the long-term viability of the Sweeper Summit event. On that score, time will tell.
Although I planned to attend the Sweeper Summit in person, in order to report back to the sweeping community about the event, the 1-800SWEEPER organization insisted that we would have to pay the $600 contractor attendee fee in order to do so. Requiring a registration fee for a media representative to attend – in order to provide trade show event coverage – is unprecedented in my 30+ years of attending trade shows on behalf of the sweeping industry. So, WorldSweeper will not be there to cover the Summit.
As always, if you have any news of potential interest to the power sweeping community, please let us know. Between this publication, the WorldSweeper.com website, and the World Sweeping Association, we'll be sure to get the information passed along to interested readers.
Good Sweeping,



Editor, WorldSweeper.com
Executive Director, World Sweeping Association
Member, PAVEMENT Hall of Fame
PS If you haven't 'liked' our WorldSweeper Facebook page, what are you waiting for? That's where we offer industry previews and updates on an ongoing basis.


---
October Newsletter Contents
(Scroll down to read stories or click on links.)
---
4-State Walmart Region Requires Photo Proof – Then Doesn't

The World Sweeping Association received an email early this month from one of the WSA members. In it, the contractor expressed dismay at a new reporting requirement received from the Walmart service director in his region. Effective immediately, s/he said, contractors sweeping Walmart parking lots in Alabama, Georgia, Mississippi and Tennessee would be required to take before and after photos each time they sweep a Walmart lot. These photos must be uploaded along with each invoice. Further, if the store is open when services are performed, the sweeper operator must get a managerial sign-off that the work was done.

WorldSweeper's Editor – who is also Executive Director of WSA – contacted Walmart management, initially via email and then via phone. Because of the spirited pushback by WSA, and based upon the information WSA provided, Walmart backed off instituting this new requirement. This showcases the value of being a member of WSA and the importance of addressing large organizations as an industry group. An article cataloging what occurred was created at the normally password-protected WSA website and WSA decided to make it available to readers of this WorldSweeper newsletter.

Check out this issue's feature story.
---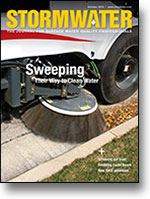 In its most recent issue, Stormwater Magazine's cover story covers the pollutant removal-centric sweeping programs of the Ada County Highway District, which includes Boise, Idaho; Twin Falls, Idaho; North Bergen and Bernards Townships, New Jersey; and, the City of Norfolk, Virginia, which is located at the junction of the Elizabeth River and Chesapeake Bay.

Anyone involved with street sweeping will want to read about how these municipal organizations address 'storm water sweeping,' since maintaining a high level of water quality is becoming one of the most important aspects of municipal operations as we advance further into the 21st century.

Read about what these organizations are doing.
---
Remembering... The Wayne FMC Series 900 3-Wheel Street Sweeper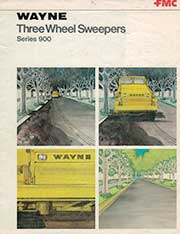 The Wayne Series 900 was a 3-wheel sweeper designed for street sweeping. At the time this sweeper was built, 1973, the company called its model line "America's choice in municipal sweepers and the standard by which all others are judged... due to their proven ability to excel in every important street sweeping function.

The Series 900 was called "the safest, most maneuverable street sweeper available today," with a "record for durability and low maintenance unmatched in the industry." The machine sported a V-8 engine, power steering and power brakes in order to give the operator "complete and effortless control." The link below offers a link to the Wayne Series 900 sweeper's entire 6-page brochure in PDF format, as well as links to a variety of vintage advertising material for other past sweepers.
Take a look at the Wayne Series 900 or our entire collection of vintage sweeper brochures.
---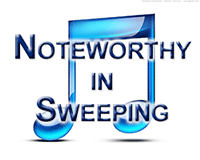 TV Episode Features Kansas City Contractor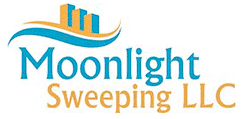 One of the potential areas of opportunity often overlooked by power sweeping contractors is that of cleaning the central business district of small towns. Many times, these areas have a business improvement district (BID) already set up and funded by the business community and/or local tax base to pay for keeping the area clean and neat.
Typically, the work involves cleanup of the sidewalks, changing out of garbage can liners, graffiti removal, gum removal and whatever else needs to be done to keep the business district sparkling. Often, BIDs are areas where there is a significant amount of foot traffic so the business community wants to keep it maintained as much as possible. All that foot traffic also means litter will collect up every day, creating the need for continual cleanup.
World Sweeping Association Founding Member, Ryan Bertholdi and his company Moonlight Sweeping, was a featured contractor at WorldSweeper in 2013. More recently the company, based in the Kansas City area, was featured on KCTV5's 'Do Your Job' series for their part in cleaning the downtown area of Westport, MO. Follow along with Ryan and the show's host, KCTV5's Gina Bullard, as she learns about the daily routine conducted by Bertholdi's Moonlight Team.
Check out the KCTV5 video.
---
Industry Pros Predict the Future of Sweeping, part six of six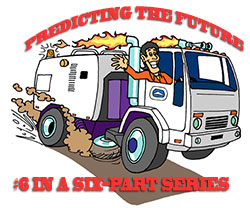 At this year's National Pavement Expo WorldSweeper's editor asked a total of 18 industry professionals to provide their prediction, on video, about where the sweeping industry is headed. These were compiled into 6 videos, each of which shared three predictions. These have been provided one per month since May of this year.

This linked sixth of six videos features the predictions of Tim Kukovica, Tim's Water Service; Tom Rokas, TYMCO Sweepers; and, Tracy Day, NiteHawk Sweepers. We also now have online in WorldSweeper's 'History' section a link to all of the videos, as well as many other stories about the history of sweeping. In future years these videos are sure to be an interesting read about where the industry actually went, as compared to the predictions!

Check out the sixth set of predictions or go here to see them all.
---
Eight Amazing Cleaning Machines You've Probably Never Seen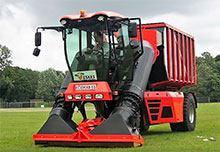 For those in the sweeping industry it's both fun and educational to see cleaning equipment that's either new or slightly different than those they typically use. In the linked video, you'll have the opportunity to see eight different cleaning machines in use, all ones you've probably never heard of.
For some of you it will make for good entertainment in a coffee break. Others may well find that one or more of the machines would be useful for jobs they currently perform, or as ideas for sideline services they might want to offer. Each has in common that it represents an efficient way of doing a particular type of job that is otherwise very difficult to accomplish.
Those of you who power wash sidewalks and other areas bounded by grass will be intrigued by the power washing attachment that cleans just the edges of the paved surface without disturbing the grass. Public works managers running a sidearm mowing program will learn about a ditch cleaner attachment for those types of machines. And, those are just two of the eight interesting and somewhat amazing machines included in this month's 'Not Exactly Sweeping' video link.