by Ranger Kidwell-Ross, editor
WorldSweeper.com

Remembering the Roots – and Predicting the Future – of the Sweeping Industry
---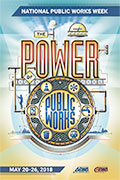 There's no better time to reminisce about the past and predict the future of power sweeping than during National Public Works Week. This year's poster, shown to the left, honors the vital contribution public works professionals – including many thousands of sweeper operators – make every day in communities all across North America, and invites the public to celebrate their quiet dedication and indispensable influence on our way of life. Click on the poster image to see a larger-sized version and here to buy one at the APWA Store for $13 (APWA Members) or $16 for non-Members.

---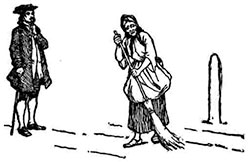 Many place the start of the U.S. sweeping industry to when Benjamin Franklin decided to sweep the area in front of his storefront, so as to make his shop appear more attractive to visitors. Seeing the difference, legend has it that a group of nearby store owners got together to hire someone to sweep the area in front of all of their storefronts. Or, perhaps lost to history, an enterprising entrepreneur may have seen the difference and then had the inspiration to call on those store owners to sell them on the idea of sweeping. For many decades, the only sweeping of streets and sidewalks to be done anywhere was performed by hand, using some sort of broom along with a container into which the collected debris was loaded for disposal. It wasn't until the later 1800s that mechanical sweeping machines, – initially pulled by horses – were invented to perform the job better, faster and with less manual labor involved. However, even in the 21st century the task of street, commercial and sidewalk sweeping is still being done manually in many countries. Primarily this is because labor in those countries is so (can we say it...) 'dirt cheap.' It's also due to streets lacking curbs and gutters or that the streets themselves are still made of dirt. Yet, in most countries around the world the task of sweeping – considered to be menial by the masses – is considered important enough to be sponsored by government resources.

After having Schwarze Industries as a client in the late 1980s, I founded the first magazine for sweeping in the early 1990s, American Sweeper. I did so because of my early recognition that many public works' managers didn't yet realize that a new era had dawned or, as one such person commented at the time, "I have to realize that we're now tasked with removing a variety of pollutants that can do serious, long-term, damage to our waterways and air quality, not horse poop and the like."

This issue of our newsletter offers several snapshots into how sweeping has been done over time – as well as some educated guesses about what will come next. First up, you'll learn about current sweeping practices in one of Africa's most beautiful cities, Cape Town. After that you can read two articles that tout the latest innovations in our industry: the first hydrogen fuel cell-powered sweeper and an all-electric vehicle on which the manufacturer offers a Schwarze slide-in sweeper.

These are followed by the next in our series of look-backs on earlier sweepers, with a vintage specifications' sheet for the Elgin Leach Fleet Wing. Looking to the future, you'll then have an opportunity to look on as three industry leaders provide their take on what the future of sweeping is likely to hold. And, if you truly want to affect the future of our industry in a positive way, be sure to distribute to your employees the info provided about the World Sweeping Association's Scholarship Program.

Finally, we offer an unlikely link in our 'Not Exactly Sweeping' section. May is the anniversary of the start of one of the most deadly eras in world history, the Spanish Flu pandemic of 1918 - 1920. Of the photos taken in that era, one that is perhaps the most iconic shows the masked face of a New York street sweeper plying his trade. Although absolutely in harm's way because of all the people constantly milling around him, the sweeper's continuation and dedication to his work is memorialized by the photo. That civic-minded example is a good reminder as you continue your own version of sweeping today and in future years.

As always, if you have any news of potential interest to the power sweeping community, please let us know. Between this publication, the WorldSweeper.com website, and the World Sweeping Association, we'll be sure to get the information passed along to interested readers.

Good Sweeping,



Editor, WorldSweeper.com
Executive Director, World Sweeping Association
Member, United States Pavement Hall of Fame
PS If you haven't 'liked' our WorldSweeper Facebook page, what are you waiting for? That's where we offer industry previews and updates on an ongoing basis.


---
April Newsletter Contents
(Scroll down to read stories or click on links.)
---
Sweeping in Cape Town, South Africa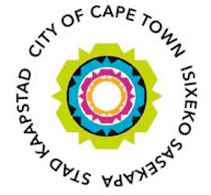 We are delighted to add yet another country to our worldwide coverage of the power sweeping industry. Cape Town, arguably the most beautiful city in South Africa, is on the brink of a water crisis of gigantic proportions. Current models predict that, even with the extensive conservation efforts currently underway, the city's 'Day Zero' will be between August and September of this year. That's when the city's dam levels reach 13.5% and Phase 2 of the City's disaster plan will kick in.

In the meantime, the city's streets – which are hugely impacted by both sand and debris – must be swept. This story about Cape Town's sweeping program, as well as its efforts to save water in the process, is brought to us thanks to long-time international sweeping equipment liasion, Malcolm Cameron.


Check out this issue's feature story.
---
Global Environmental Touts First Hydrogen Fuel Cell-Powered Sweeper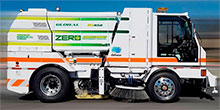 Global Environmental Products (Global) has long been a supplier of sweepers for the California Department of Transportation (Caltrans). Global management has announced it will be utilizing the fuel cell technology of U.S. Hybrid Corp. to produce hydrogen fuel cell-powered street sweepers, the first of which will go to Caltrans.

The powertrain was designed to propel the 11-ton sweeper through three duty cycles, according to Abas Goodarzi, president and CEO of U.S. Hybrid, maker of the sweeper's propulsion system. The first two consist of 25 miles of 55 mph highway driving to get to and from the work site and then an additional 25 miles of sweeping at 10 mph. U.S. Hybrid and Global already build a diesel-electric hybrid sweeper used by the New York City sanitation department, but this is the first fuel cell sweeper.

Find out more.
---
Tropos Motors Introduces Electric CUV Sweeper Platform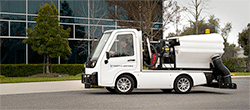 Tropos Motors has released a new configuration of its Electric Compact Utility Vehicle (eCUV) series called the ABLE Sweep. According to the Tropos press release, "The new bed package transforms the standard Tropos ABLE eCUV into a nimble electric sweeper in a market where purpose made sweepers and sweeper units mounted on pick-up trucks are too large, and smaller ride-on machines lack the performance that maintenance crews demand."

Distinguishing features include a 70-percent quieter operation than conventional models, the shortest turning radius in its class, backup sweeping capabilities, an enclosed cab for year-round operation, the ability to swap bed packages within minutes, and a clean air blower for removing debris from curb line. For more info on this unique sweeper chassis, use the link below.
Take a look.
---
Remembering... The Elgin Leach Fleet Wing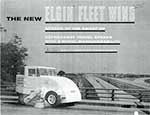 The Elgin Leach Corporation's Fleet Wing was the predecessor of today's Elgin's Pelican, still one of the leaders in the Elgin line of street sweepers. The brochure for the Fleet Wing touted the machine's "Expressway travel speeds" combined with "3-wheel maneuverability." That's because the sweeper could get up to a whopping 35mph! The conveyor system sported a "calenderized conveyor belt with integrally molded cleats" and the entire sweeping portion was run by PTO from the main transmission.

The gasoline tank was "terne-plated," a term one doesn't hear much anymore. In case you're not familiar, terneplate is an alloy of lead and tin, typically mixed in a ratio of four-to-one that is used as a coating. Elgin Pelican owners and operators, especially, will enjoy comparing the features available on the Fleet Wing with those of today's Elgin Pelicans. We have added the Fleet Wing's detailed specifications' sheet to our ever-increasing collection of vintage sweeper handouts.

Go take a look at the Fleet Wing and more.
---
Industry Pros Predict the Future of Sweeping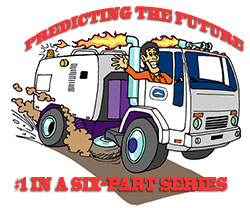 At this year's National Pavement Expo, WorldSweeper's editor asked a total of 18 industry professionals to provide their prediction, on video, about where the sweeping industry is headed.
This linked first of six videos, which will be released one-per-month in this newsletter through October, features the predictions of Bill Ackendorf, Sales Manager of Johnston North America; Chris Valerian, CEO of Sweeping Corporation of America; and, Dan Dotson, owner of Great Western Sweeping.
Check out the predictions.
---
Sweeper Summit Announced for November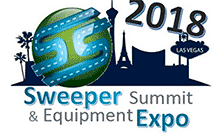 The 1800SWEEPER organization has announced it will hold a 2018 Sweeper Summit & Equipment Expo November 7th to 9th at the Hilton Lake Las Vegas hotel, in Henderson, NV. This year, Summit organizers say the event will be open to the entire power sweeping industry, not just members of 1800SWEEPER. Along with the equipment exhibits and educational sessions, organizers say there will be a prominent keynote speaker and industry-related supplier displays.

Although details of the Summit are still being finalized, organizers say that registration will be available soon. Check out the link below for more information.

Take a look.
---

Victory Sweepers' Monte Countess Shows Off Liberty DX Model
Monte Countess, longtime employee of Victory Sweepers, and with Schwarze Industries, Inc. for many years prior when that company was owned by the Schwarze family, offers over 30 years of experience in the power sweeping industry.

In this video filmed at this year's National Pavement Expo, Countess does a walkaround of Victory's Liberty DX model that was on the NPE show floor.

Check out the Youtube video.
---
Reminder About World Sweeping Association Scholarships


It's time once again to remind everyone to get info about WSA's Memorial Scholarship program up onto your bulletin boards and distributed to your employees. This marks the sixth year that WSA will be providing two scholarships of up to $2,000 each toward tuition and other education costs to two students connected with the sweeping industry. These may be employees, or children of employees, who are or will be attending an accredited university or technical school.

Here is a link to the WSA Memorial Scholarship page as well as all the application instructions. Click here for a ready-to-print PDF form you can use as a way to get the info to your employees. Chances are that some of your workers have kid(s) that would really benefit from getting a scholarship. The amount of each scholarship is $1,000, which is doubled if a winning student is connected to a company that is a WSA Member.

We encourage you to distribute info about the availability of these scholarships widely throughout your organization. Applications will be accepted until July 1st.

Learn more about WSA Membership, where the renewal rate is over 90%.
---
Emerald Expos Shifts NPE West 2018 Dates

Emerald Expositions has announced it has shifted the dates of its new National Pavement Expo West event by one day, according to Russ Turner, NPE West show manager. NPE West will now take place Nov. 1-2 at Mandalay Bay Resort and Casino in Las Vegas.

"You asked, we listened. After receiving feedback from the market, we have shifted our dates off of Halloween," Turner said. "The show now falls on a Thursday and Friday, which allows attendees to stay and take advantage of Las Vegas through the weekend. Even with this date shift, NPE West attendees and exhibitors will still have access to International Fastener Expo as part of your participation at NPE West."

Read more about NPE West.
---
Remembering Sweepers During the Flu Pandemic of 1918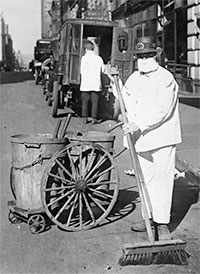 One hundred years ago this month, the battle against one of the deadliest events in human history began when an outbreak of influenza started spreading rapidly across the world. The 'Spanish Flu,' as it was to become known as, killed more than 50 million people – up to 6% of the earth's population – in just over a year between 1918 and 1919. The speed of the pandemic was shocking; the numbers of dead bodies overwhelmed hospitals and cemeteries. Quarantine centers, emergency hospitals, public use of gauze masks, and awareness campaigns were all undertaken swiftly to halt the spread.
The people tasked with sweeping the streets which, at the time, was done primarily using a push broom, were in the forefront of harm's way because they were among so many people coming and going on the streets. The photo shows a street sweeper in New York in 1918, wearing a facemask that he could only hope would keep him from getting the deadly disease. Although somewhat further afield than many of our stories that appear in this section, we chose the flu pandemic of 1918 in part as a reminder to our readers of just how far the power sweeping industry has progressed in the last 100 years.