by Ranger Kidwell-Ross, editor
WorldSweeper.com

---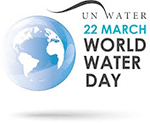 In recognition that power sweeping has been shown to be the most cost-effective way to remove pavement-based pollutants from our water, WorldSweeper's March newsletter is being published on March 22nd in celebration of the United Nations World Water Day.
---
The Only Constant is Change
This newsletter issue highlights the changes happening in our industry from many angles and in myriad aspects. What better kickoff than Michael Nawa's interview that catalogues his industry involvement for over 40 years, starting with a used 1978 Schwarze Mini-American sweeper (a previously unknown model even to me!) that had no dumping mechanism. Then, contrast that transition with the essay we have on the typical night of a street sweeper in India, a country that until not long ago was swept only with brooms, dustpans and wheelbarrows.

Schwarze has a new VP of Sales and Marketing, with the person formerly in his position, Greg Heyer, having been promoted to president of Old Dominion Broom. In addition, as you will read, 1-800-SWEEPER also has a new executive director. We offer our congratulations to all of those gentlemen as they take on their new responsibilities, some of which will no doubt center around making changes designed to further the professionalism of their respective organizations. We learn that Victory Sweepers' new parent company, Roots MultiClean, has beat out previous suppliers that included America's big three sweeper manufacturers to provide 10 sweepers to the Royal Thai Air Force. We can only wonder what that company's entrance into the American marketplace will portend for the future of the industry in the U.S.

Another sweeper manufacturer that appears to be pushing for more market share is MASCO, which for the first time in many years attended the recent National Pavement Expo. David Dyck, son of MASCO's founder, Larry, appears poised to take his parking lot machines – the only ones in the U.S. that sport rear-mounted sweeping heads – to the next level. Next month, we'll have the walkaround of MASCO's model 5000 Dyck did for us at the 2018 National Pavement Expo so you'll be able to compare that sweeper to others in the marketplace.

Perhaps the biggest change you'll read about this issue, though, is found in our 'Not Exactly Sweeping' article. If there's one vehicle that our readers have besides sweepers, it is a pickup truck. Most of you probably also have a number of pickups in your fleet. I find it exciting enough there is now an all-electric pickup in the marketplace: that it was awarded the 2018 Innovation Award at the Work Truck Show brings that news to another level. Although not available until 2019, the company says it has already received more than 6,000 fleet pre-orders for its mid-range pickup.

We present these many changes to the face of the sweeping industry, both in the U.S. and abroad, as a reminder that if you want to remain successful in this industry or any other, you need to both explore and embrace the many changes taking place.

If you need a reminder about how much our world has changed in just the last few years, I suggest you go find where you put that former staple of every office, the phone book. I know I haven't used a phone book in order to look up someone's number for several years. The question used to be "May I borrow your phone book?" Then, it became "Do you have a phone book?" It won't be long until the question will be "What's a phone book?!"

As always, if you have any news of potential interest to the power sweeping community, please let us know. Between this publication, the WorldSweeper.com website, and the World Sweeping Association, we'll be sure to get the information passed along to interested readers.

Good Sweeping,



Editor, WorldSweeper.com
Executive Director, World Sweeping Association
PS If you haven't 'liked' our WorldSweeper Facebook page, what are you waiting for? That's where we offer industry previews and updates on an ongoing basis.


---
March Newsletter Contents
(Scroll down to read stories or click on links.)
---
Four Decades of Wisdom – The Michael Nawa Interview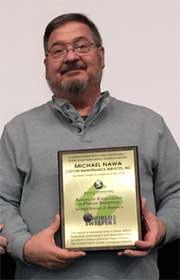 In September of 2017, Michael Nawa celebrated his 40th year in the sweeping and maintenance business in a markedly different fashion than he had celebrated any of the previous anniversaries: he sold his company, Pennsylvania-based Commercial Sweeping and Maintenance, Inc.

Nawa, who is the 2018 winner of the WorldSweeper/World Sweeping Association 2018 Award of Excellence in Power Sweeping (and the only two-time winner in the history of the award), agreed to participate in a wide-ranging interview designed to assist others to learn, in part, about the parking lot sweeping industry's transition from a little known service to one that is pervasive throughout the U.S. business community.

The article about Nawa, starts with Nawa's 1978 purchase of a used Schwarze Mini-American and continues on with how he conducted his successful sweeping and maintenance business for over 40 years. Coverage includes both an extensive article and an hour-long audio podcast. This article, provided as a courtesy by the World Sweeping Association – where Nawa is on the Advisory Board and has earned the title 'WSA Mentor in Chief' – will be available to non-WSA Members only until April 15th.
Check out the interview.
---
Schwarze Industries, Inc. Announces David Heigl as Vice President of Sales, Marketing, Customer Service and Product Management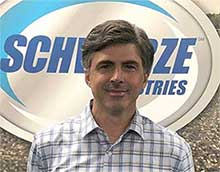 David Heigl, who is Schwarze Industries' new Vice President of Sales, Marketing, Customer Service and Product Management, comes to Schwarze with 23 years of Sales and Marketing experience. According to the company, Heigl has extensive expertise in global market analysis, product positioning and understanding the needs of a customer base. David attended Auburn University and earned a Bachelor of Science and a Master of Science in Operations Management.

A spokesperson for the Schwarze organization cited Heigl's "strong winning attitude and personality as assets that will complement and enhance Schwarze's ability to meet the needs of its customers as Schwarze continues to provide quality, innovative products to the marketplace."
Check out the announcement.
---
Victory Sweepers' Parent Company Supplies 10 Sweepers to Royal Thai Air Force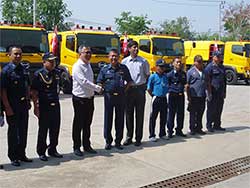 Under sunny skies, fluttering flags – accompanied by lots of shiny shoes and glittering medals – local Thai company, Paisanpipat, handed over ten high-speed runway sweepers to the RTAF. The Roots-built sweepers, made in Coimbatore, India, were the first new sweepers the Air Force had purchased for many years.

Part of the old fleet consisted of Elgin, Tymco and Schwarze sweepers, some of them twenty-five years old and all were well past their 'use by' date. The sweepers were mounted on Hino FG Series chassis supplied by Lanna Tech Fusion Co. in Bangkok.

Read all about it.
---
1-800-SWEEPER Hires Executive Director
The 1-800-SWEEPER service network of independently-owned power sweeping companies has announced Ben Steyer as its new Executive Director.

Ben has been involved in many different aspects of business built on his Bachelors of Business Administration degree from Tiffin University. His career started with a thorough understanding of accounting and organization which included tracking a vehicle fleet across the country.

Check out the details.
---
Philly Residents Turn to Crowdfunding to Get Streets Swept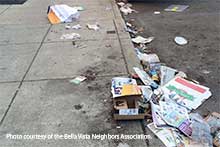 It's been nearly a decade since Philadelphia provided street sweeping services citywide, so residents in one of the neighborhoods, Bella Vista, decided to do it on their own dime. Citizens in other neighborhoods ask "What about the rest of us?"

Before the Great Recession of 2008, regular street cleanings were a basic right afforded to citizens in all of Philly's neighborhoods. But the program was completely dismantled in 2009 when the funds were diverted to other uses. Today, only areas within the boundaries of a special business improvement district qualifies for a city employee to come sweep it clean of debris. The Philadelphia City Council hasn't brought back sweeping citywide, it is said, because of citizen complaints about car removal on sweeping days.

Read about the problem in Philly.
---
A Night in the Life of a Street Sweeper Driver in India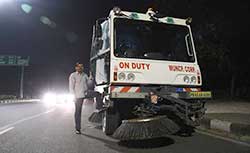 Longtime readers will know we look for articles and information that expands the knowledge of those within the industry about sweeping in various other countries. To date, we have information available in our International section that catalogue sweeping stories from 26 different countries in addition to the U.S. Three international travelogues by our editor have won national writing awards.

Sandeep Sinha is a journalist who has written a variety of articles on different types of machinery, including travelling atop a combine harvester, a road-roller and inside a train engine. In this case, he thought he'd give a turn at finding out more about what he called 'a road-cleaning contraption.' We've added Sinha's story to our India stories section.

Take a look.
---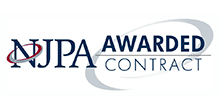 Global Environmental Products Awarded NJPA Contract
The management of Global Environmental Products, Inc. has announced it has been awarded an NJPA Cooperative Purchasing Contract effective February 20, 2018. NJPA's cooperative contract purchasing leverages the national purchasing power of more than 50,000 member agencies while also streamlining the required purchasing process.

As a public agency, NJPA establishes and provides nationally leveraged and competitively solicited purchasing contracts under the guidance of the Uniform Municipal Contracting Law. Joint Powers laws enable members to legally purchase through their awarded contracts. As a service cooperative, NJPA is a governmental unit of the State of Minnesota, all NJPA employees are government employees.

Check it out.
---
Work Truck Show's 'Most Innovative Vehicle' Award is Workhorse's W-15 Electric Pickup Truck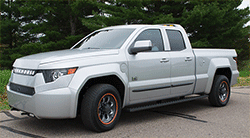 Winning the 2018 Innovation Award at the Work Truck Show this year is the first plug-in, battery-electric, range-extended pickup available from an American OEM. Made by Workhorse, of Loveland, Ohio, the company says the truck, based on 12 years of service, is designed to save 55-percent in total cost of ownership and deliver a 90-percent reduction in emissions versus a gasoline-powered pickup.
An integrated Panasonic Li-Ion battery pack delivers up to 80 MPGe all-electric miles, and an on-board two-cycle BMW gasoline engine powers the batteries to extend the range to 300 miles (comparable to the range of a competitively priced gasoline-powered truck). The all-wheel-drive electric vehicle offers a payload of 2,200 pounds and delivers 5,000 pounds of towing capability, with the additional benefit of easily powering plug-in or rechargeable electric tools on the jobsite. Available in 2019, the company says it has received more than 6,000 fleet pre-orders for the mid-range pickup via the company website, linked below.