---
Today marks the 13th anniversary of WorldSweeper.com.
---

by Ranger Kidwell-Ross, editor
WorldSweeper.com

A Timely Reminder to Practice Safe Sweeping
---

In my position as Editor of WorldSweeper, each week I see an average of at least one sweeper accident nationwide in the U.S. Typically, these involve sweepers being hit by other vehicles, sometimes with no injuries but even more often with multiple fatalities. Others involve accidents involving sweeper operators, sweepers being stolen and taken on 'wild goose chases,' often with police chasing after them. Although safety needs to be 'Job #1' each and every day, if you haven't already I suggest you find a way to emphasize safety in your organization even more during what's left of June, which is the National Safety Council's designated National Safety Month. Think about what you might do rev your team up on the topic of safety. Have a safety ideas contest with safety-oriented prizes; hold an employee meeting where the topic is jobsite safety and ideas to improve it; involve your management team in thinking up ways to bring home the message to your rank-and-file employees, etc. The National Safety Council offers a number of resources, as shown in the following graphic from its website, all designed to tackle the general topic of safety, whether at work, at home or somewhere in between.




If you're not already a member, this is a great month to join the World Sweeping Association, where members receive a safety bulletin every month from internationally-recognized safety pro, John Meola. If you join WSA in the month of June as a result of this message, you will receive a free copy of the 250+ page 'Fundamentals of the Power Sweeping Industry.' This publication, one that many have called the "bible of the contract sweeping industry," was written by me and is a $100 value. Your satisfaction in all regards is guaranteed. As for the topics in this month's newsletter, we bring you sweeping news from around the world including a review of IFAT, the world's leading trade show for sweepers among many other pieces of equipment. Our 'Ace Senior International Reporter" who attended, Malcolm Cameron, offers intriguing insights after his visit to the event.

What a combination of stories for you this month: a look back at the Elgin Pelican Americana, circa 1979; the second part in our series of U.S. industry pros predicting the future of the sweeping industry; and, a look at the world's first driverless street sweeper from China. We know you will find your reading both informative and thought-provoking!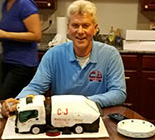 Finally, you know your employees appreciate you when... Ray Confer – World Sweeping Association Advisory Board Member, owner of C & J Parking Lot Sweeping and 2011 Award of Excellence in Power Sweeping winner – had a birthday this month and his staff presented him with a 'sweeper cake' complete with the company's logo. What's not to like!!
As always, if you have any news of potential interest to the power sweeping community, please let us know. Between this publication, the WorldSweeper.com website, and the World Sweeping Association, we'll be sure to get the information passed along to interested readers.
Good Sweeping,



Editor, WorldSweeper.com
Executive Director, World Sweeping Association
Member, United States Pavement Hall of Fame
PS If you haven't 'liked' our WorldSweeper Facebook page, what are you waiting for? That's where we offer industry previews and updates on an ongoing basis.


---
June Newsletter Contents
(Scroll down to read stories or click on links.)
---
Overview of IFAT, the 'World's Leading Trade Fair'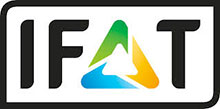 What began in 1966 as the International Trade Fair for Sewage Technology (IFAT) is now a platform for innovation that promotes the sustainable use of resources. Essential and effective for exhibitors, the event is also spectacular and inspirational for visitors.

When we learned that long-time Australian-based sweeper pro, Malcolm Cameron, was planning to attend this year's IFAT tradeshow, we asked him to report on what the show was like from a sweeping industry perspective.


Check out this issue's feature story.
---
Analysis of Sweepers at IFAT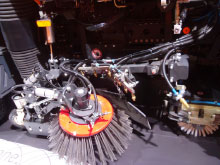 One factor standing out at IFAT 2018 in Munich was that, with all of the dozens of sweepers on display, none had any fundamental design change. In fact, quite a few had complicated their sweepers to such a level that they are sure to be a maintenance nightmare.

The mostly European sweepers at the show appeared to feature change for change's sake without an outcome that provided any real gain in productivity or efficiency. According to the report of long-time sweeper pro, Malcolm Cameron, most models sported change – but not innovation. Find out more.
---
China Debuts World's First Driverless Street Sweepers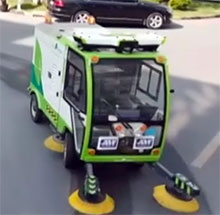 A pair of driverless street sweepers have been put into operation in an industrial park in Shanghai. One is about 18-feet (6 meters) long and the other, smaller one is about 9-feet (3 meters) in length.

The sweepers are equipped with radar sensors and artificial intelligence systems to help them avoid obstacles, pass through traffic lights and park at the designated spots. The sweepers are being built by a one-year-old Chinese AI technology company. The 'fleet' of two sweepers is believed to be the first of its kind in the world. The company's head says he believes that one driverless sweeper can replace perhaps as many as 10 regular, operator-driven, sweepers.

Take a look at the 20-second YouTube version or click here for the 20-minute, more detailed video in English.
---
Remembering... The Elgin Pelican Americana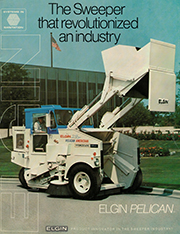 Elgin's 1979 Pelican Americana was called 'the sweeper that revolutionized an industry.' This machine replaced Elgin's previous 3-wheel sweeper, the Fleet Wing. The brochure for the Pelican Americana touted the machine's hydro-static drive, but the big innovation was a dumping system. The Americana's big breakthrough was the elimination of "double-handling" of debris. Although initially introduced in 1964, the Pelican Americana was termed a combination sweeper and front-end loader.

The foremost feature according to the brochure, which is linked below, was its "self-elevating, self-unloading hopper, capable of dumping automatically at any elevation from ground level up to 9 feet 6 inches high." If you're a 'sweeper person,' there's little doubt you won't be captivated by the linked 16-page brochure on the Elgin Pelican Americana!

Go take a look at the 16-page brochure for the Elgin Pelican Americana – and more.
---
Industry Pros Predict the Future of Sweeping, part two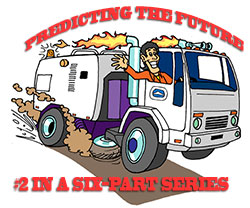 At this year's National Pavement Expo, WorldSweeper's editor asked a total of 18 industry professionals to provide their prediction, on video, about where the sweeping industry is headed.
This linked second of six videos, which are being released one-per-month in this newsletter through October, features the predictions of David Dyck, MASCO Sweepers; Debbie Jacketta, Jacketta Sweeping; and, Jack Doheny, Jack Doheny Companies.
Check out the predictions.
---
Final Reminder About World Sweeping Association Scholarships


It's your last opportunity to get info on WSA's Memorial Scholarship program up onto your bulletin boards and distributed to your employees. This marks the sixth year that WSA will be providing two scholarships of up to $2,000 each toward tuition and other education costs to two students connected with the sweeping industry. These may be employees, or children of employees, who are or will be attending an accredited university or technical school.

Here is a link to the WSA Memorial Scholarship page as well as all the application instructions. Click here for a ready-to-print PDF form you can use as a way to get the info to your employees. Chances are that some of your workers have kid(s) that would really benefit from getting a scholarship. The amount of each scholarship is $1,000, which is doubled if a winning student is connected to a company that is a WSA Member.

We encourage you to distribute info about the availability of these scholarships widely throughout your organization. Applications will be accepted only until July 1st.

Learn more about WSA Membership, where the renewal rate is over 90%.
---
Sweeping Waterways for Plastic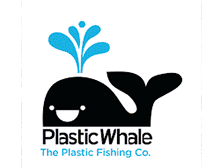 According to Marius Smit, founder of Plastic Whale, says this about the tourist tours he's set up where his customers 'fish' plastic out of the water from boats with small nets on long poles: "People love it! They get picked up by our skippers in boats, get a small fishing net, and start plastic fishing on the canals of Amsterdam. It's become a very popular pastime."
Since 2011, Plastic Whale has recycled about 146,000 plastic bottles and over 1,000 pieces of furniture and nine boats have been created from the plastic detritus. The company has hosted 15,540 fishermen in excursions with over 300 companies (billing the events as 'the most sustainable company event of the Netherlands) and with thousands of schoolkids and thousands of tourists. Says Smit: "We have produced 8.3 billion tons of plastic waste worldwide. We started small and there isn't any reason other people can't start small, as well."
Read more about how sweeping for plastic has become a tourist fad.