---

by Ranger Kidwell-Ross, editor
WorldSweeper.com

Fending Off $2,000 Worth of Disappointment
"The economy must be picking up steam considerably when no one wants to claim a $2,000 scholarship." That was my first thought when, for the first time ever, there was only one applicant this year for the two scholarships available through the World Sweeping Association's affiliated nonprofit, World Sweeping Foundation.

However, I suspect the reality is that many contractors did not take the time to advertise the availability of the scholarships to their employees. If you did pass out the information to your employees and put our print notice onto your bulletin board – but none of your employees had a son or daughter receiving higher education – that's one thing. If you didn't take time to tell your employees about the possibility of applying to get $2,000 toward their kids school expenses, that's another situation altogether. The WSA Memorial Scholarship Program is unique to the sweeping industry. This year a total of $4,000 was allocated for scholarships to two applicants. It's an absolute shame that only one person applied. Fortunately, the winner of the single scholarship awarded, Melyna Mulaj, sent in a very competitive application. She is definitely a worthy recipient.

At the same time, we know there were many other students out there who would have qualified as an applicant as being either an employee of a sweeping company or the son/daughter of one. If they didn't get around to applying, that's one thing. If the sweeping contractor/owner didn't notify their workforce about the WSA's yearly scholarships being available – that's truly a shame.

Take a moment to reflect on your employees who have children pursuing higher education and think about what a boost it would have been for your entire employee team when one of your worker's kids got a $2,000 scholarship toward tuition, books, etc. because they worked for your sweeping company... Please keep that in mind when application season rolls around again next year.

We have a wide variety of information in our articles this month so there's bound to be some that you will find of interest. And, as always, if you have any news of potential interest to the power sweeping community, please let us know. Between this publication, the WorldSweeper.com website, and the World Sweeping Association, we'll be sure to get the information passed along to interested readers.

Good Sweeping,



Editor, WorldSweeper.com
Executive Director, World Sweeping Association
Member, PAVEMENT Hall of Fame
PS If you haven't 'liked' our WorldSweeper Facebook page, what are you waiting for? That's where we offer industry previews and updates on an ongoing basis.


---
July Newsletter Contents
(Scroll down to read stories or click on links.)
---
A Contractor's Profile of Scarab's M65T Power Sweeper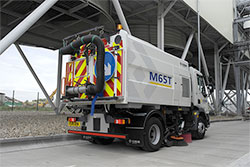 Tim Toler, owner of Clean Sweep Lot Services, LLC in Speedway, Indiana, purchased the first Scarab M65T sweeper sold in the United States. The WorldSweeper interview discusses his process in choosing the sweeper and his experience in operating it over the first two months of his ownership.

Toler's experience to date is that his Scarab M65T combines many of the capabilities of a regenerative air sweeper along with those of a mechanical broom sweeper. This has given him a machine that is attractive to many of his roadbuilding customers. Included is a 17-minute audio podcast interview with Toler.


Check out this issue's feature story.
---
Wilmington, Delaware, Launches Daily Employment Street Cleaning Program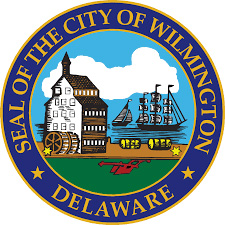 Mike Purzycki, Mayor of Wilmington, Delaware, has announced a new daily employment program for residents, one that is focused on cleaning city streets and neighborhoods. The way the program will work is that four non-profits, located in different parts of the city, are getting $30,000 each from the Real Estate and Housing Department to hire and manage five workers at a time.

Wilmington Hope Commission's Achievement Center is one of the partner non-profits. "This is a great opportunity funded by the city and it's giving our members a opportunity to make a livable wage. And we are ecstatic that the partnership is benefiting the community from the wages, also with the beautification," said Haneef Salaam, one of the Commission's re-entry peer mentors. Find out more.
---
NAPSA to Provide Online Operator Training

The North American Power Sweeping Association has announced it is now offering an online training course for sweeper operators. The online system, dubbed 'sweeper school,' is termed "...the power sweeping industry's most comprehensive, professional driver training course available today. The 18-module course, combined with 1,000 hours of incident-free sweeper operation and a passing score on an oral exam qualifies an operator to be called a 'Certified Sweeper Operator.'

The modules cover a wide range of issues, including health, vehicle maintenance, accident reporting and customer relationship management. Tuition is $90 per operator. For more information, access the link shown below.
Take a look at the program.
---
World Sweeping Foundation Awards Scholarship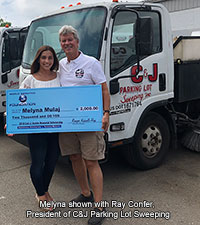 The World Sweeping Foundation, nonprofit arm of the World Sweeping Association, has announced the winner of the Carl J. Austin Scholarship for 2018. This scholarship is awarded each year to a student going on to higher education. To qualify, the student must be somehow connected to a sweeping contractor company, either as an employee or as the son or daughter of a company employee.

This year the award has been given to Melyna Mulaj, daughter of Melanie and Ali Mulaj. Ali is Shop Foreman for C & J Parking Area Sweeping & Power Washing of Warren, MI. In a reference letter, Melyna was called "a very focused individual and the most hardworking person I have ever known... regarding her school work and just as hard at her after school jobs."

Read more about the scholarship and Melyna.
---
Industry Pros Predict the Future of Sweeping, part three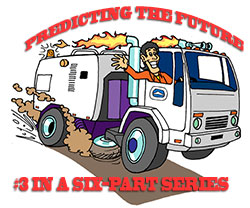 At this year's National Pavement Expo, WorldSweeper's editor asked a total of 18 industry professionals to provide their prediction, on video, about where the sweeping industry is headed.
This linked third of six videos, which are being released one-per-month in this newsletter through October, features the predictions of Sebastian Mentelski, Global Environmental, John Day, NiteHawk Sweepers, and Kevin Kroeger, DSS Sweeping Service.
Check out their predictions.
---
Brad Humphrey is 'The Contractor's Best Friend'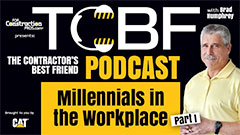 For decades, Brad Humphrey has been one of the primary presenters at the National Pavement Expo. His advice has resulted in scores of pavement-related businesses being run better and becoming more profitable. Now, Brad has begun a podcast through the auspices of ForConstructionPros.com.

Although this particular link is to the first in a three-part series on working with millennials, this podcast is also his third in the total series. If his podcasts are anything like his live presentations, you will certainly want to listen to them all!
Go to the podcast link.
---
Attenuator Trucks: Taking the Hit to Save Sweepers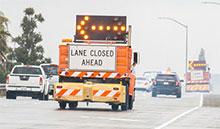 Every week fatal and/or near-fatal accidents involving sweepers are reported. Attenuator trucks, also known as 'safety cushion trucks,' have saved the lives of many sweeper operators.

A constant but usually unnoticed fixture on freeways, the drivers of the shadow trucks serve as blockers for the street sweepers, the police cruiser often with them, and the trash-removing crews that sometimes walk ahead at the front. Without the street sweeping convoys, freeways everywhere would be a minefield of debris. And without the shadow vehicles, even the imposing sweepers themselves would be targets for inattentive or intoxicated drivers.

This article catalogs the experience of some attenuator truck operators on California freeways, some of the nation's busiest. Street sweeper operators everywhere owe these operators a debt of gratitude for driving the attenuator trucks that have been responsible for saving so many lives.
Read about it.
---
NPE West Postponed by Emerald Productions

Emerald Expositions has announced the postponement of their NPE West expansion, previously slated for Nov 1-2 at Mandalay Bay Resort and Casino in Las Vegas. According to NPE Show Manager, Russ Turner, while they received positive feedback and support from exhibitors, some prospective attendees expressed concern that the 2018 dates in Las Vegas conflicted with the Halloween holiday and related family obligations.
"After careful consideration, our management team made the decision to delay the debut of NPE West until preferable dates can be secured," said Turner. "We are confident that the launch of a western show is right for the market and look forward to providing this much-needed platform for paving professionals." In the meantime, preparations are well underway for National Pavement Expo's return to the Music City Center in Nashville, Feb 26 – Mar 2, 2019.
Check out the NPE event scheduled for Nashville.
---
Doctors in Uzbekistan Forced to Sweep Streets on Fridays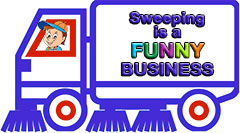 Patients of a state-run medical facility in a town in eastern Uzbekistan try to avoid Friday visits. That's the day doctors and nurses in Quvasoy have different duties to tend to – sweeping the streets and cleaning up garbage. "Our patients wait in lines for us to return from street-sweeping," reported a doctor from Quvasoy's main, state-run, medical facility.
Speaking on condition of anonymity due to fear of reprisal, an Uzbek doctor who works in the state-run facility said that the town's mayor, Adham Ziyavutdinov, was responsible for ordering medical workers to participate in compulsory cleanup duty, a practice that dates to the Soviet era. "Authorities don't think about the patients," the doctor said. "We are doctors, our job is to treat patients, not to sweep streets."