by Ranger Kidwell-Ross, editor
WorldSweeper.com

The Business of Power Sweeping in the Age of Doublethink

When I was a senior in high school back in the dark ages of 1968, I was also one of the leads in our school play, George Orwell's "1984." Sixteen years later, when 1984 finally arrived, I was happy to see that Orwell's dire predictions had not come true. Today, though, I'm struck by the many similarities to Orwell's dark dystopian vision. Despite the current stock market boom, I believe serious consequences are rising, ones that are already including power sweeping along with many other industries.

Let's face it: The business community is in for a rough ride if we're inhabiting a world where both 'alternative facts' and 'fake news' have become an accepted part of our language. The concept of common civility is also on the wane and, sad to say, the tradition I grew up with where a man's word was his bond has faded far into the rearview mirror.

Third party vendors are mandating boilerplate contracts designed to transfer liability to sweeping contractors whether they did anything wrong or not. Also, hardly a week goes by without me hearing from a contractor about a client who has ignored their contract. Today, I was told about one who paid $1000 less than the amount on the invoice. When contacted by the contractor, the client said he had decided after the fact that he should get a $1000 discount because he "hires the company frequently." Right...?

Some cities that are under a mandate to clean up their stormwater pollution decide to sweep more often but don't move parked cars. It is not an alternative fact that, if your street sweeping is being done in part for environmental reasons, parked cars need to be moved to have the necessary impact. Then, when you do mandate vehicle removal, do your best to help your citizenry get back their parking spaces ASAP.

There's no reason to keep ticketing after the sweeper has passed, either, other than to further rile up the people affected. Yet, this is occurring in some cities today. Instead, why not build an app that links to your GPS database so subscribers are automatically alerted when the sweeper has gone past their address?

Online message boards are rampant with complaints that circle around the above topics, including – and this is not fake news – a city where the complaint is that tickets were still being given out on posted sweeping days even though the street sweeping program had been suspended for the season. In what world does that make sense?

As far as I'm concerned, most all of us could benefit from taking to heart the ethics embedded in the famous sweeping-related quote from Dr. Martin Luther King, Jr. I encourage everyone to download and print the certificate we made containing it. The quote – and the person – are both great reminders of how each of us can better conduct our own individual lives. In the end, embracing that value is what's needed to get the world we live in back to a better footing on many levels.

If you are one of the industry suppliers providing WSA Members with savings on your goods and services, thank you for providing those WSA Member Benefits. Likewise, if you are one of WorldSweeper.com's advertising sponsors, thanks to you, as well, for the critical part you play in supporting 'Earth's Largest Power Sweeping Resource.'SM I am honored by your collective votes of confidence in what this organization provides to the power sweeping industry.

As always, if you have any news of potential interest to the power sweeping community, please let us know. Between this publication, the WorldSweeper.com website, and the World Sweeping Association, we'll be sure to get the information passed along to interested readers.

Good Sweeping,



Editor, WorldSweeper.com
Executive Director, World Sweeping Association
PS If you haven't 'liked' our WorldSweeper Facebook page, what are you waiting for? That's where we offer industry previews and updates on an ongoing basis.


---
January Newsletter Contents
(Scroll down to read stories or click on links.)
---
Download the MLK, Jr. Quote on Sweeping as a Frameable Certificate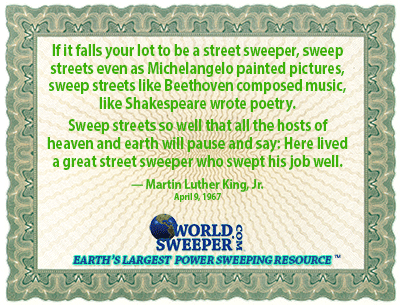 The famous quote about the importance of doing your job well – even if you're a street sweeper – is one of the most recognizable in the power sweeping industry. For the recent MLK holiday, the WorldSweeper staff made a certificate with the quote, suitable for framing.

To download a PDF version of the certificate, click on the image above or on the link shown below.

Download the certificate for your wall.
---
Elgin Sweeper Announces New Twist on Single-Engine Technology for Crosswind® Sweeper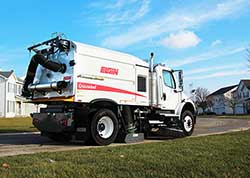 Elgin Sweeper, America's largest manufacturer of street sweepers, has introduced an innovative, single-engine configuration of its popular Crosswind® regenerative air sweeper. The machine is primarily used for cleaning large, paved areas such as streets, parking lots and airport runways. The innovation: A variable-speed device installed between the chassis engine and transmission on the new configuration allows the engine to simultaneously power both the truck and the sweeper.

"Until now, single-engine air sweeper technology required a cumbersome, multi-step process to switch between road and work modes," said Mike Higgins, vice president and general manager of Elgin Sweeper. "With the single-engine Crosswind sweeper configuration, Elgin Sweeper is radically changing sweepers for good. More municipalities and contractors are embracing the single-engine Crosswind for their street sweeping needs."

Read about it.
---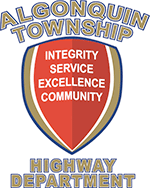 A Cautionary Tale About a Sweeper Purchase and Sale
An organization called 'The Edgar County Watchdogs' is raising questions about whether bid rigging occurred when the Algonquin County Highway Department sought bids for a new street sweeper, as well as how the Department's previous sweeper was sold. Founded in 2011, The Edgar County Watchdogs are a group of concerned citizens whose membership includes at least two individuals who are members of the Investigative Reporters and Editors (IRE) and Society of Professional Journalists (SPJ). The organization's purpose is to "foster accountability, truth, and transparency in our local governing bodies."

In 2017, the Watchdogs noticed what appeared to be a potential irregularity in the bid process for a new street sweeper for Algonquin Township. In the case of the Algonquin Township street sweeper, the specifications were an exact match to the winning bidder's product, the Watchdogs said. The winning dealer also allegedly prepared the contract specifications. In addition, the Commissioner sold the district's previous 2012 Elgin Crosswind with 25k miles on it to a neighboring township for $70,000, well under average market value. We're publishing this article as a reminder to insist on transparency in your sweeper bidding process, whether you are soliciting or submitting the bid. Your actions with the sale of your used sweepers may well receive the same scrutiny.

Check out the story.
---
National Maintenance Systems Sold to KBS

Kellermeyer Bergensons Services LLC (KBS) has acquired Rhode Island-based East Coast Lot and Pavement Maintenance/National Maintenance Systems, an exterior facility services company formerly owned by Uri Ben-Yashar.

KBS calls itsef "the largest provider of technology-enabled, integrated interior and exterior property services to multi-region and multi-site customers in North America." East Coast Lot and Pavement, as well as National Maintenance Systems, was headquartered in Rhode Island. Ben-Yashar will apparently stay with the combined operation.

Read all about it.
---
A Brochure of the Iconic Austin-Western Model 40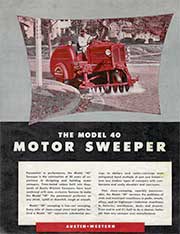 The Austin-Western sweeper was for decades in the early 20th century one of the most recognizable and photo-worthy sweepers in America. The mechanical broom-based sweeper looked like a combination of a large tractor in the front and a rickshaw in the back. The sweeper was touted as beign ideal for street surfaces of any kind, including cobblestone, wood block, concrete or asphalt, with no concern about whether the street was rough or smooth. However, the operator was out in the open since the Model 40 did not have an enclosed cab.

Looking through this brochure for the Austin-Western Model 40 is a walk back through time to how sweepers looked and were advertised in the early 1900s. The eight-page brochure is rich in photos and even has cutaways showing how the hopper and dumping system operate.

Take a look at the Austin-Western Model 40 brochure in PDF format.
---
Blast From the Past: Vintage Sweeper Postcard Area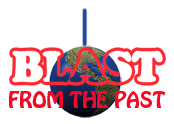 The vast WorldSweeper.com website contains over 5,000 files and photos on the topic of power sweeping, both in the U.S. and in 23 more countries around the world. In these busy times it's easy to lose track of some of the very special information available only at this website. With this new monthly feature we'll be targeting each month an article and/or area of the WorldSweeper website where the information remains timely and topical for those involved in the power sweeping industry.

We have chosen as the first entry a reminder about WorldSweeper's digital postcard sending site. In our digital postcard area it's a snap to send people a 'digital postcard' with your message along with the photo of one of a large number of old sweeper images that are there for you to choose from. If you wonder what a recipient will see, first send a sweeper postcard to your own email. Use to send a brief message to others in the industry, as a thank you note for a prospect for sweeping you've just met, etc. They're a unique and memorable way to contact someone!

Check it out.
---
Not Exactly Sweeping: Five Tips for Winterizing Heavy-Duty Diesel Engines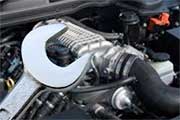 When preparing your fleet for winter, one of the most commonly overlooked items is the fuel itself. Fuel needs to be winterized, especially for trucks that are used throughout the winter. Although not targeted specifically toward sweeping, the linked information from FleetManagement is something everyone operating a diesel engine in the snow belt should review.