---

by Ranger Kidwell-Ross, editor
WorldSweeper.com

Awards Followed by Reminisces Followed by Rewards
It is with great pleasure I announce that the e-newsletter you are reading received one of the highest honors in the U.S. for writers and publishers, an APEX Award for Publication Excellence. I'm even more proud that this marked the 12th year in a row of WorldSweeper's 13-year existence that one of our power sweeping industry projects has won an APEX.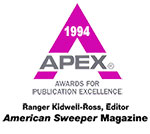 I first sent in one of my efforts, American Sweeper magazine, in 1994. Although the national APEX Awards were not well known at the time, having begun just five years previously, my thought was that if we happened to win it would be a boost to the credibility of the fledgling publication.
When the magazine also won in each of the next two years, I contacted the APEX Award organizers to see who else had also done so. My idea was to interview several of the other three-year winners about what it takes to be 'excellent' and, of course, at some point planned to mention in the article that we, too, had also been deemed excellent over that time period. When the head of the APEX organization got back to me, though, it was to report that ours was the only company that had won in each of the previous three years. So, no article on the topic ensued.
With that knowledge as my incentive, I decided to submit one or two projects per year at least until we came up without a win. Now, move forward a couple of decades... Last year, I knew when I submitted our entry – this newsletter – that if we won it would mark the 25th consecutive year. Now that we have reached that milestone, it may well mark the last year we send in an entry.
However, winning for a record-setting 25th year in a row seems to me like a great reason to have a celebration. In this case, that will take the form of a time-out, for me, from generating new material for our September e-newsletter.
Instead, we'll be featuring a selection of previous stories that I consider to be ones that are worthy of review by our readers. When I came up with the idea, a number of past stories came to mind that I think fit that exact criteria. This will also provide me with enough time to perhaps even take a brief vacation, one that doesn't involve gardening or working with my tractor.
I hope you enjoy the articles and info contained in our August newsletter. And, stay tuned to enjoy some of our 'greatest hits' in September! As always, if you have any news of potential interest to the power sweeping community, please let us know. Between this publication, the WorldSweeper.com website, and the World Sweeping Association, we'll be sure to get the information passed along to interested readers.
Good Sweeping,



Editor, WorldSweeper.com
Executive Director, World Sweeping Association
Member, PAVEMENT Hall of Fame
PS If you haven't 'liked' our WorldSweeper Facebook page, what are you waiting for? That's where we offer industry previews and updates on an ongoing basis.


---
August Newsletter Contents
(Scroll down to read stories or click on links.)
---
San Jose Report: Achieving a Better Street Sweeping Program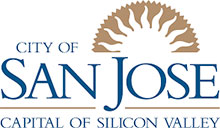 In 2016 the independent Auditor's Department of the City of San Jose, California, conducted an in-depth analysis of that city's street sweeping program. The resulting report – which is 72 pages in length – is entitled "Street Sweeping: Significant Investment and Re-tooling are Needed to Achieve Cleaner Streets."

The report, which we have linked below, is one of the most comprehensive and well-researched we've seen on the topic of street sweeping. We strongly suggest the San Jose report as required reading for all street sweeping managers looking for ways to make their own sweeping programs more cost-effective – and effective. As a follow-up, we plan to feature a podcast interview with the head(s) of the San Jose sweeping program in our November issue. In the podcast, we will discuss the changes that have taken place in the City of San Jose's sweeping program since the report was released in 2016.

Check out this issue's feature story.
---
Victory Sweepers Introduces Mark III Air Sweeper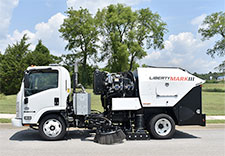 The management team at Victory Sweepers, a division of ROOTS Multi Clean Inc., is pleased to announce the company's new truck-mounted sweeper model, the Liberty MARK III. The latest sweeper from Victory Sweepers is designed for effective sweeping of roads, runways and construction sites.

This new Victory Sweepers' model offers a regenerative air design. Standard equipment includes a blast orifice sweeping head, 12-inch intake tube (intake suction located on the right side) and a 4.35 cubic yard, all stainless, high-dumping hopper. The MARK III is currently available mounted on Isuzu 14,500, 16,000, 17,950 and 19,900 GVW chassis, depending upon customer preferences and payload requirements. Find out more.
---
Citizens Demand Raise for Their Street Sweeper... in 1918

On August 29, 1918, citizens were so infuriated that the street sweeper for their area was being underpaid that they banded together to keep anyone from sweeping their seven-block area until the regular street sweeper got a raise from $30/month to the $40/month sweepers working in an equivalent area in the center of town were receiving.
Read all about it.
---
WorldSweeper's Award for Publication Excellence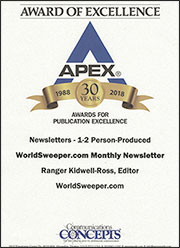 This monthly WorldSweeper.com e-newsletter received an APEX Award for Publication Excellence in 2018. According to the website at ApexAwards.com, "APEX 2018 awards were based on excellence in graphic design, editorial content and the success of the entry – in the opinion of the judges – in achieving overall communications effectiveness and excellence... writing entries were evaluated primarily on the basis of editorial quality."

This marked the 12th year in a row – out of WorldSweeper.com's 13 years of operation – that some aspect of the project has won an APEX Award for Publication Excellence. In 2018, 1,408 entries were evaluated in 100 individual categories. A total of 556 APEX Awards of Excellence were actually awarded, recognizing excellence in 100 individual categories.

Read more about WorldSweeper's awards this year and in previous years.
---
Industry Pros Predict the Future of Sweeping, part four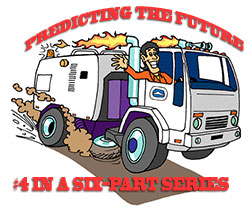 At this year's National Pavement Expo, WorldSweeper's editor asked a total of 18 industry professionals to provide their prediction, on video, about where the sweeping industry is headed.
This linked fourth of six videos, which are being released one-per-month in this newsletter through October, features the predictions of Malcolm Cameron, WJ Cameron and Associates; Mike Higgins, Elgin Sweepers; and, Ray Confer, C & J Parking Lot Sweeping.
Check out their predictions.
---
City of LA Testing Dulevo Zero Emissions Electric Sweeper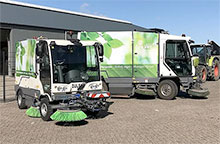 Cycle paths in the City of Los Angeles are now being cleaned with the Dulevo model D.zero, an Italian-made electric mini-sweeper. Dulevo, a company from Parma, Italy, touts the sweeper as "the first electric street sweeper characterised by 0 emissions and 100% performance."

Dulevo also recently won a public tender to provide 23 units of its 6000 High Dump model to the city of Denver, Colorado. Find out more.
---
NMSA's 2018 State of Stormwater Report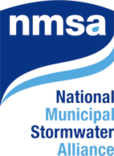 The Virginia-based National Municipal Stormwater Alliance (NMSA) has developed an inaugural 2018 State of Stormwater Report. The report, which NMSA terms "the first state-by-state snapshot of programs managing polluted runoff under the Clean Water Act," was developed by MS4 program managers.
The report provides an overview of municipal stormwater programs across the U.S., detailing the challenges and opportunities communities face in managing polluted runoff. It also provides a snapshot of MS4 program implementation, current regulatory issues, and a general estimate of the trend and overall quality of states' receiving waters.
"MS4s are tackling one of the most difficult water resource challenges today – managing stormwater and revitalizing urban waters," said NMSA Chair Scott Taylor. "Each state is attacking issues in somewhat different ways. This report takes a look at that for the first time, providing information critical to moving the needle on clean water."