by Ranger Kidwell-Ross, editor
WorldSweeper.com

The Ever Surprising Power Sweeping Industry
Friends ask me how I can come up with enough new information to fill up a newsletter each month on 'just' the topic of power sweeping. What I tell them is my real problem often is deciding how I can get in all the information about the industry that I want to include. Some of the stories I hear about can border on the amazing. For example, just in the past couple of weeks someone stole an Elgin Pelican belonging to one of the World Sweeping Association's Advisory Board Members and then tried to ram it into a police car. Really! However, since there turned out to be not much of a lesson to be taught from what occurred, that story didn't make the cut for this issue.

However, we did want you to know about Greg Heyer's move from being a VP at Schwarze Industries, Inc. to the presidency of another Alamo Group company, Old Dominion Brush Company. It's nice to see a large public company like Alamo Group recognizing the value of promoting from within its own organization for such a challenging position. Another news item since our last newsletter was that a street sweeper backed over a man in Bellevue, WA. You'll find an article on this one. I decided that story should be included because I knew we could find a way to make that tragedy into a teaching moment. So, in addition to the informational link on what happened, we came up with some ideas to help keep such a tragic event from happening to others in the future. We've fielded a number of calls from contractors wanting to know more about the 'selected asset buyout' of Victory Sweepers, Inc. by India-based Roots Multi Clean. We're pleased to be able to provide details on that transaction in the first person, in the form of our video interview with Robbin Hodges, Vice President of the new Victory Sweepers organization. Since Hodges was one of the people in the forefront of putting the deal together, if you want to know more then you'll find the video we conducted with him to be a valuable source of info.

Kudos to the City of Chicago for developing a real-time app that monitors the location of the machines sweeping Chicago streets. We hope it inspires other municipalities to follow suit. Over time, there's no question that those types of apps will get even more sophisticated. For example, we expect apps like these to soon be accessible via smartphones, which this one apparently is not. Also, we'd like to see car owners invited to move their cars back after the sweeper has passed a given location. Unfortunately, although Chicago residents can now find out the sweeper has gone past their house, they still have to wait out the posted signage timeframe for re-parking on their street.

In what has become a long-standing tradition, on the first of this month we posted an article about how, in this instance, a street sweeper was able to come to the aid of a homeowner plagued with a tumbleweed invasion in her yard and surrounding areas. Who wouldn't want to read about how a sweeper was able to solve that serious problem?

We also have a new walkaround in our series of videos from this year's National Pavement Expo. In it, David Dyck, of MASCO Sweepers, talks about his company's model 5000. Via today's world of online access, you can see the sweeper and hear all about it without having to travel to MASCO's California factory or have them come to you. Sometimes I know I start taking for granted the convenience of the web, but this is certainly an area where that 'picture worth 1,000 words' is greatly multiplied through the miracle of YouTube.

If you are one of the industry suppliers providing WSA Members with savings on your goods and services, thank you for providing those WSA Member Benefits. Likewise, if you are one of WorldSweeper.com's advertising sponsors, thanks to you, as well, for the critical part you play in supporting 'Earth's Largest Power Sweeping Resource.'SM I am honored by your collective votes of confidence in what this organization provides to the power sweeping industry.

As always, if you have any news of potential interest to the power sweeping community, please let us know. Between this publication, the WorldSweeper.com website, and the World Sweeping Association, we'll be sure to get the information passed along to interested readers.

Good Sweeping,



Editor, WorldSweeper.com
Executive Director, World Sweeping Association
PS If you haven't 'liked' our WorldSweeper Facebook page, what are you waiting for? That's where we offer industry previews and updates on an ongoing basis.


---
April Newsletter Contents
(Scroll down to read stories or click on links.)
---
An Interview With Greg Heyer, New President of Old Dominion Brush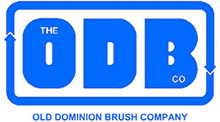 For the past six years Greg Heyer was the Vice President of Sales, Marketing, Customer Service and Product Management at Schwarze Industries, Inc., an Alamo Group company. At the first of the year, Greg Heyer was rewarded for his accomplishments as a Schwarze Industries VP by being selected as the President of one of the sweeping industry's most iconic organizations, Old Dominion Brush Company (ODB).

ODB has been selling municipal products since 1910 and, until the Alamo Group's acquisition in 2017, was privately owned during that time. In addition to its mature gutter and main broom lines for power sweepers, ODB also manufactures a line of dedicated leaf collection machinery. The linked article includes an audio interview of approximately 10 minutes duration.


Check out the interview.
---
Victory Sweepers' New Ownership Explained

Robbin Hodges, one-time CFO and Acting President of Schwarze Industries, Inc., has the new job of Vice President at Victory Sweepers. You will recall that Victory Sweepers is now a wholly-owned subsidiary of ROOTS Multi Clean, Inc. after Victory's sale out of bankruptcy a few months ago.

At the 2018 National Pavement Expo, Hodges sat down with WorldSweeper's editor to film a video about what the purchase means to both the future of Victory Sweepers and the customers it serves. Link is to an article that provides an overview of the information on the video, as well as a link to the video at WorldSweeper's YouTube channel.
Read and watch.
---
Improving Sweeper Safety for Bystanders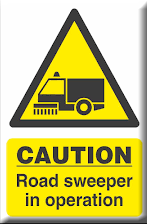 In February of 2018, a pedestrian in Bellevue, WA, was struck and killed by a street sweeper. Police reported that the man was kneeling down, perhaps tying his shoe, when he was struck.

The sweeper was reportedly equipped with a rear-facing camera but info on whether it was in use or being watched by the operator has not been released. Bellevue police say traffic-camera footage shows a pedestrian was kneeling down, possibly to tie his shoe, when a street sweeper backed up over him Monday morning, fatally crushing him.

Our article discusses the availability of a new generation of backup alarms, cameras and reminders about the use of safety lighting.

Read the article.
---
Chicago Rolls Out Online Street Sweeper Location App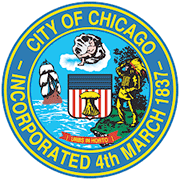 Chicago has announced a new online tool now available to residents and visitors alike to track street sweeping days on their block. The online-only app will assist citizens in avoiding the $60 tickets that are routinely issued when drivers leave their cars in designated sweeping zones.
The tool is similar to the city's snowplow tracker, said Marjani Williams, director of public affairs at the Department of Streets and Sanitation. The plow tracker has been popular, Williams said, with up to 30,000 users each day this past winter.
Check out the details.
---
Sweeper Solves Tumbleweed Invasion of Australia Outback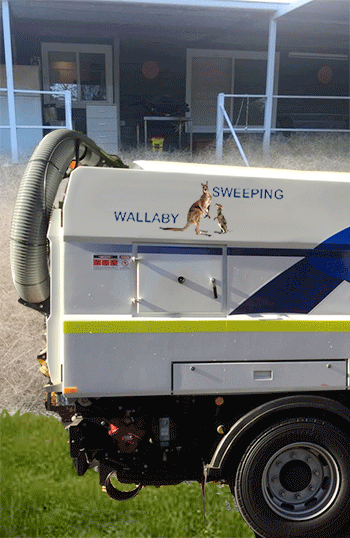 An Australian homeowner says she was out of ideas over how to get rid of a species of tumbleweed from her home. After posting images on social media asking for help with the plague of the grass – which was so out of control it forced the closure of the town's main road as it migrated across its path – a solution appeared in the form of a street sweeper.

The weed is a constant problem for the area while another form of the grass, known as Hillman's Panic – a species which was introduced from southern America – is reported to be spreading across NSW from Victoria and South Australia. Read the article, which was first posted on the first of April.

Go read the story.
---

MASCO's David Dyck Shows Off Model 5000 Sweeper at NPE
David Dyck, general manager for California-based MASCO Sweepers, provides insight into his company's model 5000 sweeper in this video walkaround conducted at the 2018 National Pavement Expo. The 5000 is similar to MASCO's more well-known 1600 model. However, the 5000 offers a larger 5-yard hopper, 30" x 8" fan and a larger 2.5l Ford MSG engine. Construction utilizes brushed 304 stainless steel for long life and to eliminate rust issues.

Newer innovations include 100-gallon water capacity with 5 sprayers and twin 18" gutter brooms that are hydraulically raised and lowered. MASCO sweepers are unique in locating the sweeping head at the rear of the sweeper for ease of maintenance. Dyck said that in the company's many years of repairing many brands of sweepers they've learned how much time can be saved with the head in that position. The rear-mounted sweeping head is also touted as reducing the incidence of flat tires during use.

Check out the Youtube video.
---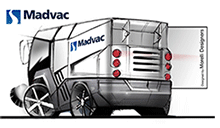 Exprolink's Madvac Sweepers Awarded NJPA Contract
The management of Exprolink, Inc. has announced it has been awarded a National Joint Powers Alliance (NJPA) Cooperative Purchasing Contract effective February 20, 2018. NJPA's cooperative contract purchasing leverages the national purchasing power of more than 50,000 member agencies while also streamlining the required purchasing process.

The NJPA is a national cooperative based in Minnesota. The intent of the organization's efforts is to simplify and improve the purchasing process for its end-users and widen its customer base throughout the United States and Canada through added product visibility and ensuring a 'best prices scenario' for the products it certifies. Exprolink, which is based in Quebec, Canada, was awarded a contract with jurisdiction in the U.S. and Canada for customer procurements of "Sewer Vacuum, Hydro-Excavation and Stret Sweeper Equipment, with Related Accessories and Supplies."

Check it out.
---
New Street Sweeping Game App and New Tip Posting at WorldSweeper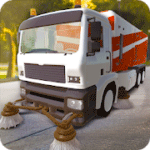 We linked a street sweeping simulation game in our 'Toys' section of the WorldSweeper website. Called 'Small City Road Sweeper," it is an app for Android. Here's what the promo for it says:
"This heavy equipment simulator cannot be compared to other simulator games. For instance, a car in car simulation games are much easier to drive in than driving a big road sweeper. Especially in these big city 3d surroundings. It takes a skilled truck driver to drive a street sweeper. Are you a skilled truck driver that maneuvers it way around the big city 3d and keeps it clean and it's citizens healthy."

We also have added a new tip about the possibility of negotiating for local services, so we thought it was a good idea to remind everyone about our 'Tip Clipboard,' which now has a total of 125 different tips for sweeping organizations. If you're not very familiar with the many good ideas at the Tip Clipboard, now is a great time to take a look.
Go check out the sweeper game app for Android (and others in our Toys section) or go to the Tip Clipboard.