by Ranger Kidwell-Ross, editor
WorldSweeper.com

An Ounce of Pollution Prevention

At a time when the recent flooding of the Greater Houston area, Florida and Puerto Rico remain in the forefront of America's collective consciousness, we encourage cities to develop preventive programs to help prevent widespread flooding in their own areas. Widespread street sweeping, coupled with cleanout of a city's catchbasins, can go a long way in keeping flood water at bay when heavy rains do occur.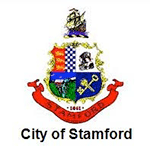 A poster city for this type of project is Stamford, Connecticut, which announced that the City will be conducting a city-wide cleanup project that started in the third week of September and will conclude in October. According to Stamford's Mayor, David Martin, "In addition to street sweeping, and catch basin clearing, City crews will take note of potholes, overgrown weeds and brush, and have these items addressed as well. Flooding and ponding on streets can often be attributed to clogged catch basins, so the street sweeping will help eliminate debris that ends up in catch basins, and ultimately in Long Island Sound."

No matter what your location, a regular program of street sweeping – combined with catch basin cleaning – has been shown to be one of the most cost-effective ways to prevent flooding when widespread rainfall occurs, as well as to keep storm water pollutants from fouling an area's streams and, ultimately, whatever body of water the streams flow into.

Many cities now have 'environmental fees' assessed to areas like garbage pickup as a way to prevent and/or mitigate storm water runoff pollution. Typically, these monies flow to the storm water or similar water quality agencies. As we have in the past, we urge all public works departments to combine their storm water and street sweeping departments in order to determine the best, most cost-effective frequency to sweep. Then, utilize this larger, combined, budget so as to minimize storm water runoff pollution.

As always, if you have any news of potential interest to the power sweeping community, please let us know. Between this publication, the WorldSweeper.com website, and the World Sweeping Association, we'll be sure to get the information passed along to interested readers.

Good Sweeping,



Editor, WorldSweeper.com
Executive Director, World Sweeping Association
PS If you haven't 'liked' our WorldSweeper Facebook page, what are you waiting for? That's where we offer industry previews and updates on an ongoing basis.


---
September Newsletter Contents
(Scroll down to read stories or click on links.)
---
A Look at America's First Independent Conference for Sweeping Contractors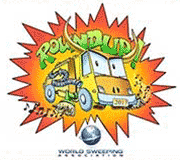 Attendee consensus was that the World Sweeping Association's Sweeper Roundup was a rousing success. Although hit with some attendee losses due to the hurricanes that devastated Texas and the East Coast at about the same time, almost 100 people still were able to attend this first-ever event for the United States.
From the beginning to the end, the overall 'vibe' was different from any industry-related conference that had gone before. Clearly it made a positive difference that all of the attendees specialized in power sweeping. The support from the sweeper manufacturing community and other product vendors, as well as a number of leading U.S. sweeping contractors, was tremendous.
Since the event's end WSA reports having received a number of inquiries from manufacturers about whether there will be a repeat event next year or the year after. Although that remains to be seen, you can definitely get a flavor for this year's Roundup by visiting the link below. The entire event was a benefit for WSA's Memorial Scholarship Fund.
Read all about it.
---
OSHA's Silica Dust Rule Took Effect September 23rd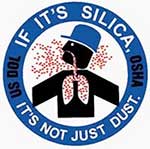 The Occupational Safety and Health Administration (OSHA) has issued a final rule to curb lung cancer, silicosis, chronic obstructive pulmonary disease and kidney disease in America's workers by limiting their exposure to respirable crystalline silica.

The OSHA Rule, which began for construction-related work (with companies with 10 employees or more) on September 23, 2017, is projected to have a significant impact on the power sweeping industry. At the link, WorldSweeper offers an overview, as well as a link to an in-depth look and interview with an expert on the topic.

Get informed so as to get prepared.
---
Schwarze Industries Spearheads 2017 Hurricane Relief Raffle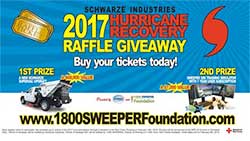 Schwarze Industries, together with the 1-800-SWEEPER Foundation, has created a unique opportunity for members of the power sweeping industry and others to contribute to the Red Cross Hurricane Relief effort following the catastrophic weather events occurring in August and September 2017.

Net proceeds from the raffle will be donated directly to the Red Cross to contribute to the needs those directly impacted by these devastating storms. The drawing of the winning raffle tickets will be held during the National Pavement Expo in Cleveland, Ohio on February 8, 2018. With only 1,000 tickets available, odds of winning one of the two prizes is 1 in 500.

More info and buy your raffle tickets here.
---
Berkeley Resident Develops Street Sweeping Alert App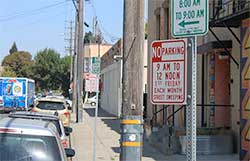 After receiving a mess of street sweeping tickets – at $49 a pop – Berkeley resident Michael Kurrels had had enough. To solve his dilemma, Kurrels developed "Don't Fear the Sweeper," an app that sends texts reminding residents to move their cars before street sweeping.

"Don't fear the Sweeper" texts users at 7 p.m. the night before their street is swept, reminding them to move their cars. Berkeley streets are swept once a month at various times and dates depending on the street, as well as the side of the street where the car is parked.

With phone apps so relatively inexpensive to produce, this type of program would appear to be one that many cities should undertake. If there isn't public money available, WorldSweeper suggests partnering with a local university's computer science department to create them at little to no cost to the municipality.

Get the whole story.
---
Elgin Sweeper Receives United Way of Elgin's 'Jack Shales Spirit of Community' Award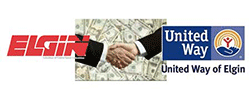 Elgin Sweeper has been named the 2017 recipient of the Jack Shales Spirit of Community Award by United Way of Elgin. The company was selected for demonstrating exceptional corporate responsibility and community involvement through the 2016-2017 workplace campaign for United Way.
"Elgin Sweeper is proud to partner with United Way of Elgin to meet critical needs for education, financial stability and healthy lives," Higgins said. "We have been a major contributor to United Way of Elgin for more than 90 of our company's 103 years in business. In the last 10 years alone, our employee and corporate gifts have totaled more than $750,000."
Get the details.
---
NiteHawk Sweepers Reminds About Section 179 Tax Deduction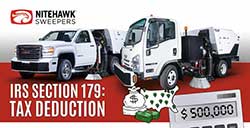 The folks at NiteHawk Sweepers asked us to remind everyone that the U.S. tax code still allows your business to depreciate up to $500,000 in capital equipment purchased and received in 2017.
To learn more about what may be a very important way you can add to your bottom line in the 2017 fiscal year, use the link shown below, which includes a brief video on the program.
---
Not Exactly Sweeping: Cheaper, Greener Biofuels Processing Catalyst From Sweeper Waste?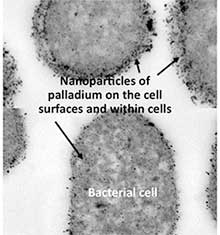 Biofuels are made from renewable materials such as plants or algae and offer an alternative to petroleum-based sources. The big problem, though, is that many biofuels are costly to produce because the precursor product, bio-oil, must be processed, which is costly.
Fuels that are produced from nonpetroleum-based biological sources may become greener and more affordable, thanks to research performed at the University of Illinois' Prairie Research Institute that examines the use of a processing catalyst made from palladium metal – perhaps gleaned from street sweeper waste – and bacteria.