by Ranger Kidwell-Ross, editor
WorldSweeper.com

The Importance of Factual Information re: Street Cleaning
As part of the information sources I routinely monitor, I recently came across an article about a candidate for New York City's 44th City Council District. Yoni Hikind, a Democrat, is suggesting a modification away from the sweeping program currently in place. The reason: Cars currently must be moved to allow the sweeper to do its job.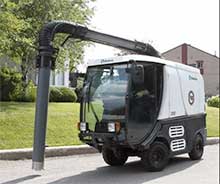 According to candidate Hikind, "The new state-of-the-art machines (the Madvac unit seen to the right is shown in the article) are capable of moving around parked cars and actually vacuum up the garbage and soot."

Although these smaller vacuum sweepers do bring additional maneuverability benefits over the larger sweepers traditionally used by cities – and after seeing them in widespread usage in Europe I've long wondered why they aren't utilized more often in U.S. cities, especially in downtown core areas – they are NOT a solution for debris removal from under parked cars.

Residents of cities are becoming increasingly frustrated by having to move their vehicles for sweeping, especially as alternate parking becomes more limited. It's easy to see the attraction of the Madvac class of sweeper IF they could approach producing the same quality of results achieved with car removal. However, this type of sweeper would probably be worth trying for areas where car removal is not feasible, since they can at least remove material from between parked cars.

Their relatively smaller hopper size creates challenges in terms of requiring frequent debris offloading, though. It would also take significant time to deploy the wander hose in between each car parked along a street. In terms of the relative ability to clean up the environment; i.e., remove stormwater runoff pollution, it is highly unlikely that the class of smaller sweepers can compete with the results obtained by a traditional air sweeper combined with a vehicle removal program.

As cities in the United States (and elsewhere) become more densely populated the politics surrounding alternate side parking on sweeper days seems sure to advance more to the forefront. If sweeper manufacturers could find some type of solution for maintaining environmental street sweeping programs without vehicle removal there is little doubt they could cash in on the pot of gold bound to be at the end of that particular rainbow.

As always, if you have any news of potential interest to the power sweeping community, please let us know. Between this publication, the WorldSweeper.com website, and the World Sweeping Association, we'll be sure to get the information passed along to interested readers.

Good Sweeping,



Editor, WorldSweeper.com
Executive Director, World Sweeping Association
PS If you haven't 'liked' our WorldSweeper Facebook page, what are you waiting for? That's where we offer industry previews and updates on an ongoing basis.


---
October Newsletter Contents
(Scroll down to read stories or click on links.)
---
Schwarze Industries Announces Pure Vacuum Street Sweeper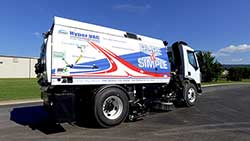 Schwarze Industries, Inc. has announced the development of its new HyperVAC pure vacuum sweeper. According to the company, its HyperVAC will offer a "revolutionary material transfer system that will improve sweeping quality and a new three-fold dust-laden air separator system that reduces the release of contaminants from the exhaust typically seen in previous vacuum sweepers."

The Schwarze HyperVAC also features a patent-pending debris moving technology that can scrub the road surface at variable speeds. This unique surface-scrubbing technology uses an array of digger brooms, similar to side brooms, and automatically adapts to the crown of the road, eliminating the need for a sweep tube transfer broom.

Get complete info.
---
WSA Contractor Profile on CAM South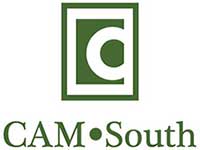 Prior to purchasing Alabama-based CAM South in 2014, Andy Coolidge had spent 20 years in the operations management of properties, including parking lots. Coolidge has remade CAM South into a fast-growing, full service provider of exterior property services, going from the 'one-and-a-half sweepers' included in the purchase agreement to an organization that deploys 30 people every day. That makes this is a rare opportunity for our contractor readers to hear what steps Coolidge took in order to have CAM South become so successful.

This is an article and audio podcast that WSA is making available to the entire industry through the month of November, after which it will be password-protected like the other 90+ Contractor Profiles on WSA's website, available only to current WSA Members. Have you checked out the many other benefits of WSA membership lately?

Get complete info.
---
Interview With New Owners of the National Pavement Expo

The National Pavement Exposition (NPE) is the leading tradeshow for the power sweeping industry. The next show, which will be held February 7th through the 10th of 2018, will be held at the Huntington Convention Center in Cleveland, Ohio. Since the NPE has never been in Cleveland this will be the first opportunity for many attendees to experience first-hand the sights of Cleveland.

WorldSweeper's editor interviews Russ Turner, an employee of Emerald Expositions and Associate Show Director for the National Pavement Exposition. In the interview, Turner discusses the new ownership's plans for the 2018 event and beyond. Note that discounted pricing is available on 2018 NPE seminars only until October 27th.

Read about it and/or listen to the audio interview.
---
UK Engineers Partner with Johnston to Develop Autonomous Electric Street Sweeper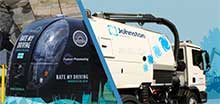 The autonomous vehicle arm of sports car manufacturer, Westfield, has announced plans to develop the UK's first fully autonomous pure-electric road sweeper. The company will be joining forces with Johnston Sweepers and machine vision expert Fusion Processing, Ltd. to develop an entirely new vehicle.

The initial aim of the project is to develop technology that could be used for the detection and removal of foreign objects and debris from airport runways and aprons, with intent that the system could also be used to improve the efficiency of road sweeping. The vision for road sweeping applications is to replace the large and heavy diesel vehicles currently used with fleets of smaller, lightweight vehicles that would be stationed in strategic areas and head out regularly to clean their local streets. "Rather than having a vehicle sitting there 80 per cent of the time not doing anything these vehicles will be 90 per cent utilised," says Westfield CEO, Julian Turner.

Get the whole story.
---
Street Sweeping Around the World: Jamaica

Sweeping in Jamaica is different than in first world countries because the majority of sweeping in the country is done manually, using on-the-ground workers outfitted with brooms and collection bins.
Our article includes an overview of Jamaican sweeping practices provided by a U.S. contractor with extensive ties to Jamaica. Along with that is the story of Diane Pennicook, a street sweeper near the town of Mandeville, who discusses the dangers of her profession given the 'maniacal' manner in which people drive in that country.
---
Not Exactly Sweeping: Blade Runner 2049 Features Realistic Electric Sweeper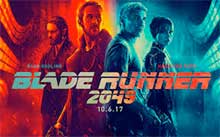 Prior to its release, the Blade Runner 2049 movie received an enormous amount of hype by the film industry and elsewhere. One of the aspects that received notice was the combination electric street sweeper and snowplow that was fabricated so meticulously as to look as though it would work efficiently in real life.
If you see the movie be sure to watch for the sweeper!