by Ranger Kidwell-Ross, editor
WorldSweeper.com

Predicting Impact of Shopping Mall Closures and Uncertain Federal Infrastructure Boost
According to a recent article in CNN Money, the worst is yet to come for American shopping malls. Due primarily to the impact of the rise in internet shopping, anchor stores around the U.S. have been closing locations. When that happens, it typically causes a loss of foot traffic for other retailers in the mall. And, because many retailers signed co-tenancy agreements in their leases with malls, they are eligible for a rent reduction or, in some cases, can even get out of their lease when an anchor store closes.

Less rental income means mall owners often look to cut expenses for services like parking lot sweeping. Some experts predict that a quarter of American malls will close in five years – around 300 out of 1,100 that currently exist. For those in parking area sweeping, now is the time to consider this prospect along with the diversification that will be required to weather such an economic storm.

A similar potential crisis is looming in the public sector. Although a major boost in U.S. infrastructure spending was a central component in the campaigns of most of the presidential candidates, including Donald Trump, with the tax cut looking (as I write this) like a done deal, there is less likelihood of as much money now being made available for the investment in new roads and bridges so badly needed in the U.S. Such an investment would have been a big shot in the arm for those in construction sweeping, as well as for manufacturers of sweepers and other construction equipment.

With planning, though, the above need not be a 'gloom and doom' scenario. Knowledge is power: the power to modify your business structure so as to account for these still relatively longer term changes. Consider additional services you can perform as part of your existing business. Do more for current customers as well as think about other allied fields you might now expand into, such as utilizing smaller sweepers for warehouse and/or parking garage sweeping. Here is a link to the CNN Money article. If you might be affected, I encourage you to read not only that article but also some of the related stories linked from that one.

I have been reminded by my LinkedIn friends that the World Sweeping Association has just attained its 5th anniversary. During that time WSA has been honored with the same number of APEX Awards for Publication Excellence. If you are one of our 160 WSA Members, thanks for choosing to continue 'upping your game' through the educational and cost-saving benefits WSA provides. If you're not yet a WSA Member, why not try out WSA Membership via our 60-day Money Back Guarantee of Satisfaction?

2018 also marks the start of my 31st year in the power sweeping industry. If you are one of the industry suppliers providing WSA Members with savings on your goods and services, thank you for providing those WSA Member Benefits. Likewise, if you are one of WorldSweeper.com's advertising sponsors, thanks to you, as well, for the critical part you play in supporting 'Earth's Largest Power Sweeping Resource.'SM I am honored by your collective votes of confidence in what this organization provides to the power sweeping industry.

Good Sweeping,



Editor, WorldSweeper.com
Executive Director, World Sweeping Association
PS If you haven't 'liked' our WorldSweeper Facebook page, what are you waiting for? That's where we offer industry previews and updates on an ongoing basis.

---
December Newsletter Contents
(Scroll down to read stories or click on links.)
Defending Against Risk Transfer Contract Clauses

It is rare that we offer as our feature article a story that was written for another venue. However, we feel that the accelerating problem of liability transference merits center stage. Scott Cerosky, an insurance professional specializing in the pavement industry, has reviewed many contracts. In the linked article, which is a 'must read' for all power sweeping contractors, he details a number of the clauses that can spell big trouble for the contractors who sign them.

The problem stems from third party vendors and savvy property owners who have recognized the benefit of transferring potential liability to others via supplying and/or negotiating contracts to their sole advantage. The link to the article, which first appeared in PAVEMENT Magazine, is shown below.

Read the info.
---
Global Environmental Products Offers 'Drone's Eye View' Product Video
Global Environmental has produced an outstanding product line promo video that utilizes aerial, distant and closeup camera viewpoints to showcase the capability of its Global M3 and Global M4HSD street sweepers.

As you will see, the company has utilized a number of unique and interesting vantage points to illustrate the narrow turning radius of its M3 model as well as the capability of its model M4HSD in sweeping heavy debris.

Check out the video.
---
1-800-SWEEPER Celebrates 6th Sweeper Summit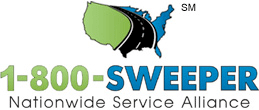 1-800-SWEEPER, a nationwide service network of independently owned power sweeping companies, reported the results of hosting its 6th annual Sweeper Summit 2017 from November 8-10, 2017 in San Antonio, Texas.

This year's invitational event assembled approximately 120 member partners and 20 manufacturing vendors. Hands-on equipment exhibits were new to the 2017 Sweeper Summit. According to the company's press release, the Sweeper Summit is unique in that it allows managers and CEOs in the power sweeping field to not only receive training in industry-specific benchmarking and best practices but to also engage with vendors about the latest equipment and technologies in the field.

Read the entire press release.
---
The Wayne Sweeper Loader (circa 1971)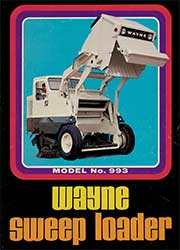 In 1971, the Wayne organization called its Model 993 Sweep Loader "The Fourth Dimension in Wayne's Total Sanitation Concept." This designation was, the company's brochure copy explained, "built around the use of the Wayne Three-wheel street sweeper, the three-wheel SWEEP LOADER street sweeper, the four-wheel street sweeper and SANIVAC, the multi-purpose vacuum power unit. Working alone or in different combinations these four units can perform more than thirty-five different sanitation operations."

Even back then, though, sweepers were being sold for their ecological value in cleaning up the environment. The brochure continues to explain that "Street Sweeping and Sanitation operations are becoming more complex and demanding as today's ecology minded citizens ask for better pollution control."

Take a look at the Wayne Sweep Loader brochure in PDF format.
---
New Generation of Oils Taking Hold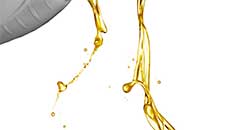 Lower viscosity oil options now offer higher fuel economy and longer drain cycles. In the nearly one year since the official transition to the latest generation of engine oils, industry executives said the process has gone just about as smoothly as anyone could have hoped for.

Among the payoffs, for fleets already taking advantage of the CK-4 or FA-4 oils, have been increased fuel economy and longer drain cycles. This article, first published at FleetOwner, discusses the next generation of oil, which are thinner but just as durable and are able to withstand a high-shear engine environment.

Read all about it.
---
Not Exactly Sweeping: The Singing Street Sweepers are Back on the Streets of Belfast!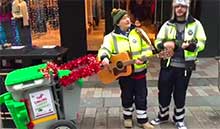 Those jolly Singing Street Sweepers are back entertaining Christmas shoppers on the streets of Belfast, Ireland, again this year. As you will know from our previous December newsletter editions over the last few years, this pair of cheerful Belfast council workers have have become perennial favorites, spreading cheer and happiness in their home town.
It's not all unabashed merriment, however, as the Singing Street Sweeper's, as usual, have altered the lyrics of a Christmas classic to warn shoppers against littering. This year, they put their own spin on 'Walking in a Winter Wonderland'. The new lyrics go: "Please don't be litter dropping, when you're out Christmas shopping. Keep Belfast neat, when you're out on the street, walking in a winter wonderland."