by Ranger Kidwell-Ross, editor
WorldSweeper.com

Getting Ready to Make U.S. Sweeping History

According to the CIA's World FactBook (who knew?!), there are about 2,674,825 miles of paved roadways in the United States. Added to that are parking lots for the more than 214 million cars in the country. That all totals up to a lot of pavement just here in the U.S. Yet, the contractors in the industry tasked with cleaning it all has never had a conference just for them. Until now.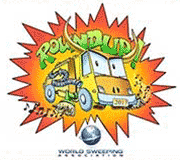 The upcoming World Sweeping Association's 'Sweeper Roundup' emerged from a conversation I had with Gale Holsman, president of American Sweeping, Inc., at this past year's National Pavement Exposition (NPE). Although the NPE is a fine show, Gale and I lamented that no one had ever started a conference just for sweeping contractors. So, the upshot was we decided to do so.
Whether it will eventually become a yearly or semi-annual event is anybody's guess. However, as the sweeping industry continues to grow it would seem to be inevitable. That said, there is only one 'first time,' and the bragging rights of having been there will go only to those who are attending this year. If you're a sweeping contractor, that should include you and/or other representatives of your company.
We're proud of the quality slate of presenters we've gotten on board for the Roundup. The event locations near American Sweeping's office in the outskirts of Kansas City, MO, are also outstanding. Our slogan for this first event is 'No Boundaries – Let's Sweep!, a good reminder for all. As of press time, we expect sweepers from Elgin, Global Sweepers, NiteHawk, Schwarze, Ravo and Well Made Manufacturing. Demos will be available for all of them. Plus, we will have a Sweeper Rodeo that's being designed so as to draw belly laughs from onlookers and participants alike.
If you've already signed up to attend, look forward to having a great time with people much like yourself. If you haven't yet made the decision to 'just do it,' now's the time. Don't miss out on this one and only first conference ever just for sweeping contractors. If you're not in Kansas City from September 15th through the 17th, you know you'll regret it in the years to come!

As always, if you have any news of potential interest to the power sweeping community, please let us know. Between this publication, the WorldSweeper.com website, and the World Sweeping Association, we'll be sure to get the information passed along to interested readers.
Good Sweeping,



Editor, WorldSweeper.com
Executive Director, World Sweeping Association
PS If you haven't 'liked' our WorldSweeper Facebook page, what are you waiting for? That's where we offer industry previews and updates on an ongoing basis.


---
August Newsletter Contents
(Scroll down to read stories or click on links.)
---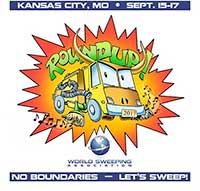 Less than one month to America's first-ever independent conference for power sweeping contractors!

How could you miss out on going to the World Sweeping Association's 2017 Sweeper Roundup this September 15-17?!
---
Well Made Manufacturing: Making a New Kind of Parking Area Sweeper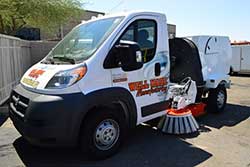 The goal of Wells Ledger, president of new parking area sweeper manufacturer, Well Made Manufacturing, is to build a sweeper that's low on maintenance. However, says Ledger, we'll be using as many off-the-shelf parts as possible, to allow our customers to source many replacement parts at low cost locally.
The new sweeper, called the 'Twister Alley F1,' is a twin-engine sweeper mounted onto a Dodge ProMaster chassis and offers a 2.9 cubic yard hopper. The company is also selling its sweepers with a five-year "curb brooms for life" program.
Read the article.
---
Two Articles Tout Storm Water Advantages of Sweeping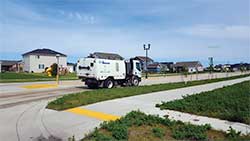 Both public works' officials and sweeping contractors need to stay current with the many cost-effective advantages sweeping provides in the area of storm water runoff reduction. Although in its early days this industry was thought of as more of a cosmetic solution to street debris, sweeping is now increasingly being seen as the front line solution in reducing the pollution that is increasingly fouling our waterways, as well as our air via small-micron pollutants.
This concept has been detailed in two recent magazine articles. Four individuals in the Schwarze organization teamed up for one of these, entitled "Runoff Pollution Prevention," which appeared in a recent issue of Storm Water Solutions. The other, written by WorldSweeper's editor, appeared in a recent issue of PAVEMENT Maintenance and Reconstruction magazine. Entitled, "Power Sweeping Contractors: Leading in the Defense of Clean Water," the article is a reminder to sweeping contractors and city sweeping managers of the cost and other advantages sweeping provides in keeping our water and air more pristine.
---
City of Los Angeles Adding Technology to Reduce Sweeper-related Tickets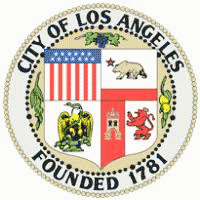 Kudos to the City of Los Angeles for being one of the first cities in America to begin using available technology to reduce the impact on its residents having to move their cars prior to sweeping. All of the city's sweepers already have GPS. What the $500,000+ pilot program is doing is implementing software that will send text messages to residents once their location has been swept, allowing them to move their cars back into place.

The pilot program is expected to take eight to 10 months to implement for the Woodland Hills and West Los Angeles areas, at a cost of $573,316. If the program were to go citywide, Los Angeles could lose between $4.5 million and $11.8 million in current parking citation revenue.

Get the whole story.
---
WSA's 2017 Scholarship Recipients Announced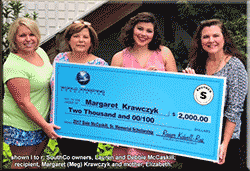 The World Sweeping Association has announced its scholarship winners for 2017. Margaret "Meg" Krawczyk, sponsored by SouthCo Commercial Curb Appeal, was the recipient of the 2017 Dale McCaskill, Sr. Memorial Scholarship. Since SouthCo, where Meg's mother is Chief Financial Officer, is a WSA Member Company, Meg's scholarship amount was doubled to $2,000. She will be attending Charleston College, in Charleston, SC.

This year's winner of the Carl J. Austin Memorial Scholarship is Jeffrey Crumpton, who was sponsored by CAM South of Birmingham, Alabama. Jeff works at CAM South and is attending Jefferson Community College in Birmingham. In addition to taking college credits, Jeff works overtime in order to assist his family. Since CAM South is a WSA Member Company, Jeff's scholarship amount was also doubled to $2,000.

Take a look at this year's winners or see an overview of the WSA Memorial Scholarship program.
---
Soundcore Acquires Reilly Sweeping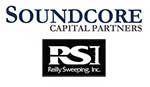 Sweeping Corporation of America, a Soundcore Capital Partners portfolio company, has acquired Fairless Hills, PA based Reilly Sweeping, Inc. According to Soundcore management, this combination forms the largest self-performing power sweeping company in the United States.
With this acquisition, SCA now operates a fleet of 350 units through 21 locations in the eastern-half of the United States. Brothers Patrick, Sean and Michael Reilly have become shareholders in SCA and will continue in senior leadership roles.
Get the details.
---
Best Practices: Warehouse Floor Maintenance 101

Sweep before you scrub, buy equipment that's easy to use and strive for three Michelin stars when developing a strategy to keep your warehouse and DC floors clean and clear of debris.
This article, which appeared in Modern Materials Handling, emphasizes the importance of sweeping warehouse floors prior to scrubbing them. That's done to remove any gloss on the floor and, more importantly, to pick up anything that might accumulate along the scrubber's squeegee blade and, thus, inhibit the machine's performance. The article also discusses the reasons why warehouse floors should be swept and scrubbed regularly, which is great information for contractors who provide this type of service.
---
Lego Sweeper Actually Cleans Wayward Legos From Floor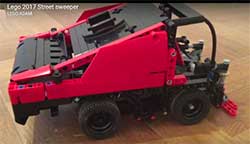 If you're going to all the trouble it takes to build a sweeper – any kind of sweeper – it better work, right? That's the opinion of 'Lego Adam,' in any event, the person behind building a sweeper from Legos.
The sweeper he built has rear steering with front pickup system powered by a differential and 1M motor. That gives it enough power to scamper across a wooden floor and grab stray legos. Yeah, we know it doesn't have all that much to do with actual sweeping, but it's fun to watch the miniature sweeper dash across the floor, initially picking up only some of the legos it targets and scattering a few around in its attempt to contain them. Now THAT sounds more like some of the real-life sweeping you've seen, right?!