by Ranger Kidwell-Ross, editor
WorldSweeper.com

Rounding Up The Latest Sweeping News
The economy appears to be improving and its no longer freezing and icy most anywhere in the U.S., at least. Even here in the Pacific NW we're seeing some sun after a second year of shattering rainfall records from 1895. Best of all, most sweeping contractors report that business is booming. Finally...!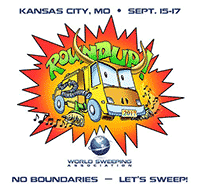 That means it's time to think about how you can make your sweeping company even more successful next year – along with having lots of fun with other sweeping contractors later this year – by attending the WSA's 2017 Sweeper Roundup this coming September! We have only a few remaining items to finalize.
In the meantime, please consider becoming a Sweeper Roundup sponsor. Here is a link where you can preview the Roundup as well as read how your company can become a sponsor. Just from having mentioned sponsorship to some of our industry contacts, the organizations you see below have already pledged to contribute $2,000 toward the success of this first-of-a-kind sweeping industry event. Need more reason to do so: Any money left over from the Roundup will be contributed to the World Sweeping Association's Memorial Scholarship Fund, a great cause that is sweeping industry-specific.

Think about it while you read through the sweeping industry news that's further down the page. Our lead article on 'omissions,' especially, is one that any contractor who does street sweeping will want to review closely. All of the rest will provide you with new information – just like attending the WSA Sweeper Roundup in September will do! Look for our early bird registration form to appear via email in the very near future.
Thanks to everyone in the industry for your continued interest in, and support of, WorldSweeper.com and the World Sweeping Association. If you are one of our regular sponsors, thank you so much for the critical part you play in supporting 'Earth's Largest Power Sweeping Resource.'SM If you sell to the sweeping industry but don't yet advertise with us, please consider doing so.
Conversely, if you're a contractor I urge you to check out the many benefits of membership in WSA. And, last but not least, if you are any way involved in the power sweeping industry – as I have been since first producing the SuperVac Quarterly for the Schwarze family back in 1988 – thank you for wanting to read the 'sweeping news you can use' I've been providing for the last 29 years... and continuing.
As always, if you have any news of potential interest to the power sweeping community, please let us know. Between this publication, the WorldSweeper.com website, and the World Sweeping Association, we'll be sure to get the information passed along to interested readers.
Good Sweeping,



Editor, WorldSweeper.com
Executive Director, World Sweeping Association
PS If you haven't 'liked' our WorldSweeper Facebook page, what are you waiting for? That's where we offer industry previews and updates on an ongoing basis.
---
April Newsletter Contents
(Scroll down to read stories or click on links.)
---
Omissions: Are You Covered? Probably Not...
Contract language regarding "omissions" has become commonplace in construction-oriented sweeping contracts. In addition to "commissions" – things that someone "commits," like a car accident, or a spill, or a banana peel left on the ground that someone slipped on, etc... – some contracts now have clauses for "omissions," as well. I.e., things you DIDN'T do that your client decided you were supposed to.
You may be surprised to find that your vehicle and general liability insurance do not cover "omissions wording." BTW, World Sweeping Association member contractors received this information last November index via WSA's award-winning, twice-monthly, e-Newsletter. Because of the importance of the information and as a courtesy to the sweeping industry, for a limited time the article is being made available to non-members.
If you are a sweeping contractor but not yet a member of WSA, here is a link where you can join with 150 of America's leading sweeping contractors who are staying on top of power sweeping issues as they arise. We guarantee you will receive much more than your $325/year investment.
Read the article.
---
Schwarze Industries Introduces Free Extended Sweeper Engine Warranty

Schwarze Industries announces the introduction of a free 5-year/5000-hour extended warranty program on its A7 Tornado, A8 Twister, and the A9 Monsoon sweeper engines.
We have Schwarze's press release on the information online in our Industry Updates section.
Read the press release.
---
Sweeping in Italy: An Overview

Our Italian sweeping industry correspondent, Giovanni Fossa', has provided us with information about how street sweeping is conducted in Italy. Although Giovanni works for a municipality in Vicenza, Italy, he doesn't work specifically in the area of sweeping. However he is, as he describes himself, "an enthusiast of trucks."
As readers may recall, Giovanni first became interested in the sweeping industry when looking for more information about a 1974 Mobil he and others were looking to restore for a proposed municipal equipment museum that has since become a reality.
In this new article, Giovanni Fossa' provides WorldSweeper readers with an overview of how, why and by whom sweeping is accomplished in his native Italy. He also includes information and websites of the primary manufacturers of the sweepers used in Italy.
Get educated.
---
Electric Street Sweeper Introduced in Sejong, South Korea
Sejong, the de facto administrative capital of South Korea, introduced a new set of street sweepers that will be cleaning its streets. However, the sweepers will be running on electric power instead of diesel.
The vehicles, developed by RETECH, can operate for eight hours after four hours of charging, and are noise and pollution-free. Each unit is expected to save 25 million won in maintenance costs, including fuel, compared to conventional diesel models.
Here's what the RETECH vehicle looks like. Use the link to see more, including the machine's specs.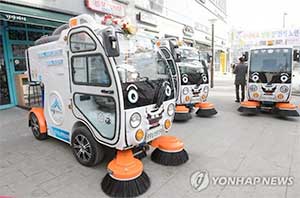 Read the article.
---
Soundcore Capital Partners Concludes Major Sweeping Company Acquisitions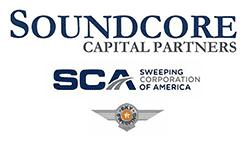 Soundcore Capital Partners, LLC, a New York-based private equity firm, has announced completion of several major contractor acquisitions in the power sweeping industry
Included are Sweeping Corporation of America, the largest sweeping company in the U.S. Southeast, as well as Ohio-based Sky Sweeping. These are the first contractor acquisitions of what the Soundcore organization anticipates will eventually be many more.
---
Litter-Pickin' Kangaroo Upstaged by Reality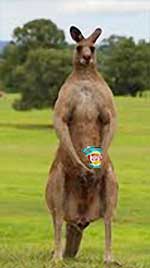 We enjoyed the many comments we received about this year's WorldSweeper April Fool's Day article about kangaroos being trained to pick up litter at Australia's Currumbin Wildlife Center. Two of these were of particular note, however.
The historical background: Several of the Fool's Day articles we wrote in past years became reality since their posting. These include 2010's 'NASA Announces Power Sweeper for Spaceflight Mission:' NASA subsequently did request RFPs for that task though not, of course, to sweeper manufacturers. Our 2011 spoof, Chinese Manufacturer Announces First Solar-Powered Street Sweeper, became a reality just a year or so later, as well.
The real-world validation of this year's 'Wildlife Sanctuary Teaches Kangaroos To Pick Up Litter' broke all records for being actually true, sort of. One of our respondees referenced a YouTube video showing a baby elephant that went on litter patrol all on its own initiative.
Finally, another reader responded that "any animal could do better than Laurel and Hardy," along with sending a brief YouTube clip showing those two gentlemen's antics in cleaning up on a military base. Spoiler alert: Even a kangaroo could do better...