by Ranger Kidwell-Ross, editor
WorldSweeper.com

Expanding the Scope of WorldSweeper
When I moved our website from AmericanSweeper.com to WorldSweeper.com eleven years ago, it was with two stated goals: to become the largest repository of power sweeping-related information on the planet and to expand that information well beyond the borders of the United States. I am proud to report that we have achieved both.
This issue also concludes the coverage of my recent sojourn to Australia and India in order to bring you sweeping-related information. As you may have noticed in previous newsletter issues, we have been bringing you an increasing number of sweeping stories from other parts of the world, in hopes of establishing a better connection between all who are involved in this industry. For example, this newsletter issue includes information that originated, in addition to India, from Canada and China. Our World Sweeping Association also now includes three members from Australia and several from Canada, with more to come.
This issue's coverage of my recent trip to India, where I toured factories owned by Roots Multiclean, the first India-based sweeper manufacturer to build street-class sweepers for export – in this instance to Australia – offers our readers a look into both the India itself and the world of sweeper manufacturing in a country that is rising in importance in both world affairs and as a manufacturing powerhouse.
When I started writing to and about the sweeping industry nearly 30 years ago, almost no information was available to those sweeping the parking lots and streets of America. There was little information about how those in the American sweeping industry operated, let alone info about what was being done elsewhere in the world.
Today, we offer a wealth of studies, reviews and other information at the extensive WorldSweeper.com website. Our website section on International Sweeping includes articles from 26 countries around the world, alphabetically from Armenia to United Arab Emirates. Plus, the around 150 contractors in the World Sweeping Association have 250+ informational articles and nearly 100 audio podcast/written article 'contractor feature spotlights' available to help them improve their own business methods.
We're proud of the information we bring to the worldwide power sweeping industry each month and hope that our readers, from throughout our ever more information-linked world, find the information we provide useful for learning how to do an ever better job of keeping our planet's paved surfaces better cleaned and the resulting pollution from them minimized.
As always, if you have any news of potential interest to the power sweeping community, please let us know. Between this publication, the WorldSweeper.com website, and the World Sweeping Association, we'll be sure to get the information passed along to interested readers.
Good Sweeping,



Editor, WorldSweeper.com
Executive Director, World Sweeping Association
PS If you haven't 'liked' our WorldSweeper Facebook page, what are you waiting for? That's where we offer industry previews and updates on an ongoing basis.


---
September Newsletter Contents
(Scroll down to read stories or click on links.)
---
Visit to India and Sweeper Manufacturer Roots MultiClean

Travel with WorldSweeper's Editor, Ranger Kidwell-Ross, as he continues last month's 2016 Australian Odyssey on to Southern India, home of Roots Multiclean, the company that is now producing a street-class regenerative air sweeper for the Australian marketplace. Roots is an Indian manufacturing powerhouse that already produces small walk-behind sweepers, ride-on scrubbers, power washers and more.

Plus, the company makes between 6 and 7 million vehicle horns per year that are sold in over 60 countries worldwide, including all the horns sold under the Bosch and Harley-Davidson names in the United States. Tag along as Ranger visits several of the Roots Multiclean factories and brings to WorldSweeper's readers information about the Roots organization, as well as utilizes photos, videos and dialogue to bring you fascinating insights into life in India.
Check out the seven new stories that make up the Indian sweeper (and much more!) travelogue.
---
The Maharaja's Rolls Royce Sweeper Fleet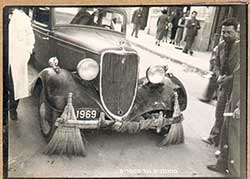 The world's most famous car brand, Rolls Royce, is also associated with India's largest state, Rajasthan. That's because a famous buyer of this car was Jai Singh, the Maharaja of Alwar, who always bought three automobiles at a time. One day during his visit to London, Maharaja Jai Singh was walking in casual dress on Bond Street. He saw a Rolls Royce showroom and went inside to inquire about the price and features of their cars. The showroom salesmen thinking he was a poor Indian national, insulted him and showed him the way out.

After this insult, Maharaja Jai Singh came back to his hotel room and asked his servants to call the showroom to inform them that the Maharaja of Alwar was interested in purchasing a few cars. What he did with his resulting fleet of six Rolls Royce cars shows what can happen when people are judged by their appearance. It also illustrates that no matter how 'high flying' your company's brand might be, it can be taken down a notch with a single mistake in judgment by your employees!
---
Schwarze Industries Hosts 1-800-Sweeper Conference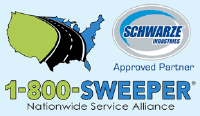 Schwarze Industries recently hosted the 1-800-Sweeper Regional Roundup at the Schwarze facility in mid-September. The meeting was open to 1-800-Sweeper's current members as well as those the organization's management invited in order to decide if they wanted to become members. Discussions reportedly centered around best practices and customer support.

1-800-SWEEPER is a nationwide service network of independently owned power sweeping companies designed to bring them under a unified marketing and service structure.
---
BidSource can be Boon to Contractors
Are you familiar with BidSource? This is a company that monitors nearly 400 daily and 1800 non-daily newspapers for bids in 24 states, including the entire East Coast. Monitoring also extends west through Pennsylvania, Ohio, Minnesota, the Dakotas and Arizona. Additionally, well over 1,700 websites are monitored. These include local sources, as well as state, federal, educational and other entities that bid on goods or services.
BidSource provides tailored monitoring for customers, from local to nationwide, and offers a free two-week trial to assess the service. If you are in one of the states covered and would like to investigate further, use the link below to access to the company's brochure. (Note: If you were a World Sweeping Association member contractor, you would have received this information several months ago in WSA's award-winning bi-monthly e-Newsletter. Not a WSA Member: Why not join WSA today?!)
Take a look at the BidSource brochure.
---
Piranha Brushes Carving Out Market Niche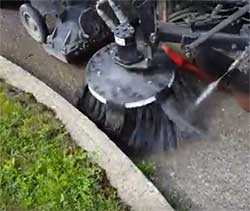 Near Montreal, Canada, the sweeping contractor owner of Balais Nomad Sweeping faced the challenge of cleaning plant material from curblines without use of environmentally-damaging pesticides. Unhappy with any solution currently on the market, the company developed an innovative set of heavy duty gutter broom add-on segments that extend bristle life, take a load off hydraulics and aggressively scrub caked-down material while they eliminate weedy curblines.
These patent-pending broom segments are now in use and being praised by over 40 cities in the U.S. and Canada. And, we were told, to date, all users of the Piranha brush have been so pleased with the product that they have re-ordered. Our coverage includes a YouTube video of the brushes in action as well as a 10-minute audio podcast interview with Christian Robertson, the inventor of the product.
Take a look at these innovative curb broom add-ons.
---
Johnston North America Donates $500 to WSA's Memorial Scholarship Fund

Sweeper manufacturer, Johnston North America, has donated $500 to the World Sweeping Association's Memorial Scholarship Program. Todd Parsons, General Manager for Johnston North America, said he instigated the donation as a way to support the positive impact of the World Sweeping Association's industry-leading scholarship program.
"At Johnston NA we support our customer base in a wide variety of ways. Contributing $500 to the World Sweeping Association's Memorial Scholarship Program seemed like a natural addition to what we do.
WSA's program helps to remember two leading figures of the power sweeping industry, the late Carl Austin and Dale McCaskill, Sr. Even more importantly, the WSA scholarship money is being used to help relatives of power sweeping contractor employees further their education. This can only bring additional professionalism and positive publicity to our industry as a whole."

Since 2013, WSA's Memorial Scholarship program has provided a total of $16,000 in scholarships to relatives of sweeping company employees (not principals) in order to assist them in furthering their educations. Use the link below to learn more, download applications and/or donate to the continuation of this program.
Learn more about the WSA Scholarship Program.
---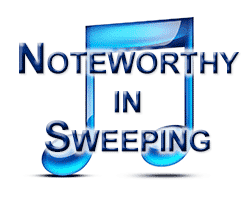 Noteworthy in Sweeping: Sunil Yadav: Getting an Education in Order to Make a Difference

Beating all odds, 36-year-old Sunil Yadav, a street sweeper employed with the Brihanmumbai Municipal Corporation (BMC) has swept his way to success by securing an MPhil degree from Tata Institute of Social Sciences (TISS) in Mumbai, India. Yadav, who is deployed at Nana Chowk in Central Mumbai for the cleaning job, now aims to pursue a PhD degree to understand the problems plaguing the sweeper class and wants to find solutions to it.
Before traveling to India, as well as while in-country, WorldSweeper's editor, Ranger Kidwell-Ross, attempted to make contact with BMC in order to interview Sunil Yadav. Unfortunately, the language barrier or other obstacle proved too steep for that to occur.
A worthy addition to WorldSweeper's Noteworthy in Power Sweeping section.
---
Not Exactly Sweeping: Chinese Street Sweeper is First Crash of Tesla's Autopilot System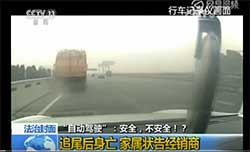 Tesla confirmed for the first time on September 14th it is investigating a fatal Model S crash that took place in China this past January. A 23-year-old driver was killed, Reuters reports. China's CCTV news outlet published dashcam footage from the vehicle itself, which shows it striking a street-sweeping vehicle in the far left lane of a highway.
The link includes video footage from the Tesla's dashcam that shows the accident. The video shows the Model S striking the street sweeper which is partially parked in the left, 'fast,' lane.