by Ranger Kidwell-Ross, editor
WorldSweeper.com

Addressing Sweeping Contractors' Advancing Liability Issues
In my nearly three decades of working with power sweeping contractors I've never seen them facing more serious issues. First off, sweeping contractors are being presented with 'must sign as is' contracts that have mutated their long-time message of "we'll be your eyes and ears on the property at night" into contract language that makes them the primary entity responsible for most all accidents and, oftentimes, many other legal liabilities whenever they occur on the property.
My question is: "Why should a contractor who is providing periodic sweeping services be any more liable for the upkeep on a commercial property than any other service company, for example the truck drivers who deliver goods?" Such contract language often means the contractor's insurance company has to initially defend any and all who are named in a lawsuit. This list inevitably includes the property ownership and the third party vendor, if there is one, and may well include other service entities like landscapers.
Pay-if-paid and pay-when-paid clauses fit into the same category. If a sweeping contractor is hired by someone to do a specific job, it should be up to the hiring organization to ensure payment. I've heard of sweeping contractors signing contracts containing these types of clauses that are 'three generational;' i.e., general contractor hires a subcontractor that hires a subcontractor whose job description includes hiring the sweeping contractor. Is it realistic that the sweeping contractor can – or should have to – find out when or if the general contractor was last paid?
Many third party contracts also routinely include noncompete clauses stating that if the third party vendor loses their contract with Big Box Store then the sweeping contractor can't continue providing services. Some also do not allow the contractor to contact and/or bid on contracts with anyone in their market area that the third party vendor representative says they've contacted.
These types of clauses would be nonsensical if they weren't so serious. Unfortunately, the many sweeping contractors who sign them are experiencing artificially high operating expenses whether they realize it or not. Adding insult to injury, third party vendors routinely stretch out contractor payments far over the time periods in which invoices have been agreed to be paid, as well as invent nit-picky reasons that allow them to not pay for a sweep or two per month.
We're proud to report that our affiliated World Sweeping Association, along with insurance pros at Crum & Forster for the liability aspects, are taking a lead role in coming up with possible solutions to these issues. If you are not yet a WSA Member, I urge every contractor reading this to join today.
As always, if you have any news of potential interest to the power sweeping community, please let us know. Between this publication, the WorldSweeper.com website, and the World Sweeping Association, we'll be sure to get the information passed along to interested readers.
Good Sweeping,



Editor, WorldSweeper.com
Executive Director, World Sweeping Association
PS If you haven't 'liked' our WorldSweeper Facebook page, what are you waiting for? That's where we offer industry previews and updates on an ongoing basis.


---
October Newsletter Contents
(Scroll down to read stories or click on links.)
---
Movie Sponsorship $$ Sought for Longtime Sweeper Aficionado, McKinley Page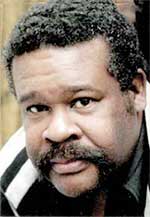 McKinley Page knew he wanted to be a sweeper operator ever since he was four years old and saw a 1950's-era Elgin Street King broom sweeper go by on the road in front of his house. After that, he even hated going to school on the days he knew the sweeper would be coming by. Through the years, McKinley has been both an operator and a collector of vintage Elgin sweepers. Today he owns a 1962 Street King, a 1960 Elgin White Wing and a 1964 Elgin Pelican. Plus, he makes working models of sweepers and has pursued an acting career in his spare time.
Page's sweeper-infused life caught the attention of filmmaker Avery Brooks, of Golden Isles Productions, who wants to make a movie about Page. Although two leading sponsors are on board, including Elgin Sweeper Company, additional sponsors are needed in order to make the movie a reality. That's why Brooks turned to the sweeping industry and WorldSweeper. If you would like to know more and/or provide support for this interesting project, please call Brooks at 912-399-3594 or send her an email to goldenislestv@gmail.com.
---
Elgin Works With TreesCharlotte to Sponsor Tree Planting at Elementary School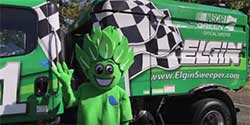 Elgin Sweeper and its track sweeper with EcoInfusedTM technology made a difference with TreesCharlotte at Hickory Grove Elementary School in Charlotte, North Carolina. "One of our central themes at Elgin Sweeper is the positive impact sweeping has on the environment," said James Crockett, the company's Strategic Product Manager.
"We believe there are many ways to get this message out, and one of these channels is to partner Elgin's EcoInfusedTM sweeper technology with NASCAR Green at every NASCAR race event weekend. NASCAR Green was organized to lead a charge in sustainability and doing business in an environmentally-friendly manner. So, Elgin saw this partnership with TreesCharlotte and NASCAR Green as another means to lead in this industry effort and, at the same time, infuse the concept of environmentalism into the youth of America."
Crockett, along with managers from its Charlotte area dealer, Public Works Equipment and Supply Inc., put on work gloves and personally planted several of the 102 trees put into the ground, while also sweeping the Hickory Grove Elementary School parking lots during the daylong event.
Take a look at the YouTube video from the event.
---
Valdosta Georgia's Clean Sweep Project Receives National Innovation Award

An advanced City of Valdosta Engineering project, titled "A Clean Sweep of Data Collection," has been recognized by the National Association of Development Organizations (NADO) for its creative and efficient approach to street sweeping, which involves installing High Definition, GPS-equipped cameras in the Stormwater Division's sweeper truck, allowing the staff to track, map and record video of the truck's route throughout the city.
---
Green Machine Closes Factory Citing Slow Sales and Fire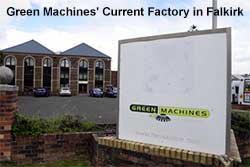 The Green Machines street sweeper manufacturing facility in Falkirk, UK, is reported to be closing. Instead, the company will start making its sweepers through a third-party supplier based in lower-wage Macedonia, a small country in the Balkan Peninsula in Southeast Europe. The company, formerly known as Applied Sweepers, currently employs approximately 53 workers, all of whom will be without jobs when the factory closes its doors for the final time reportedly at some point before Christmas.
Austria-based Otto Rainer of M and F Management and Financing took over the firm from America-based Tennant this past February. M and F Management distributes Tennant's products to a number of countries including Central and Eastern Europe, the Middle East and Africa. Mr. Rainer, CEO of Green Machines International, was quoted as saying: "The company sees the move as a viable solution to ensure continuation of the Scottish-born brand and ensure it can effectively compete in the marketplace."
Green Machine grew from humble beginnings, with founder Allan Galashian building the first street sweeper in his garage in Grangemouth back in 1965. Today the Green Machine product line has distribution throughout the world.
Read the article.
---
Australia's CleanSweep Aims to Improve Industry Professionalism by Example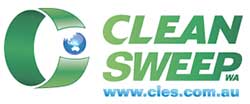 CleanSweep is based in Perth, Australia, and sweeps throughout the Australian state of Western Australia. This interview was conducted in late May of this year when WorldSweeper's editor, Ranger Kidwell-Ross, attended Australia's largest tradeshow, Civenex. It is located at the World Sweeping Association website.
Cleansweep uses nine Johnston-605 sweepers as well as three sweepers developed by UK manufacturer Stock's to cover the contracts they have within the state of Western Australia. All the sweepers Cleansweep owns are vacuum-assist broom sweepers. David Robartson, CleanSweep's GM, says that, although he thinks regenerative air sweepers are good products, "I don't believe they are suited for the type of work Cleansweep does, which involves picking up sand as well as a lot of coarse materials in waterways and on roads that aren't always maintained." The story, which provides an interesting insight to sweeping in Australia, also includes an audio podcast with Robartson.
Read about CleanSweep and/or listen to the podcast interview.
---
National Pavement Expo Changes Hands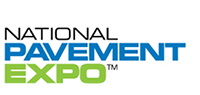 AC Business Media has announced that Emerald Expositions will be the new owner of National Pavement Expo (NPE), the well-known annual trade show and conference for those in the sweeping and pavement maintenance industry. Emerald Expositions is a leading operator of large B2B trade shows, producing more than 80 trade shows and conference events each year.
The new ownership has announced that NPE 2017 will continue to be served by AC Business Media (ACBM) with Amy Schwandt as the Show Manager and Allan Heydorn as the Conference Manager. Carl Wistreich and Anil Narang, co-owners of National Pavement Expo, said, in part, "We are glad that it will be in the capable hands of one of the top trade show operators in the world. We believe Emerald Expositions will provide many benefits to our loyal attendees and exhibitors."
See the one-page press release announcement as a PDF file.
---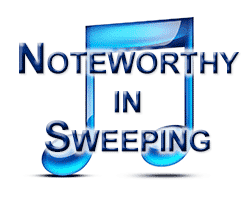 WV City Donates Surplus Street Sweeper to Neighboring City

The West Virginia Cities of Lewisburg and Ronceverte are located a scant five miles from each other. Lewisburg has owned its Elgin Crosswind Fury for long enough that it recently budgeted to purchase a replacement. Their innovative solution for disposal of their used one was a win/win for both neighbors.
---
Super Sweep is Bringing Super Quality to Metro Vancouver Sweeping Market

Super Sweep Street Cleaning, Inc. was founded by Andrew Hunter in September of 2015. They were chosen to be the World Sweeping Association's Featured Contractor on the one-year anniversary of the company to show how quickly success can happen. The article also catalogs some of the kinds of things that relatively new sweeping contractors might be helped by learning over the first few months and years they are in business.
When he started Super Sweep, Hunter already knew from experience what to expect from a well-run sweeping operation. That's because, in prior work as a builder and renovator, he had used a number of sweeping companies to support his projects. Even though prices he was charged had been steadily rising, Hunter says he saw a need for improvement in how many of them operated. So far, his multi-faceted sweeping company has received nothing but accolades and has been steadily expanding its footprint in the Greater Vancouver, BC, Canada marketplace.
---
Not Exactly Sweeping: San Francisco Sweeper Followed by 'Remoras'


Parking spaces are tough to get in San Francisco, especially when cars are moved on street cleaning days. Check out this 50-second video that catalogs the action when a sweeper goes by on a San Francisco street...
See what happens when a sweeper finishes a San Francisco street.