by Ranger Kidwell-Ross, editor
WorldSweeper.com

Investigating the Power Sweeping Industry in Australia and India
As this May e-newsletter reaches your in-box, I will have just left the U.S. on an industry-based excursion to Australia and India. The adventure will begin by meeting up with an incomparable traveling companion, Malcolm Cameron, the long-time international salesperson for Schwarze Industries who is now doing similar work freelance. We last traveled together in 2003 when we went from England through Scotland at the beginning of another sweeping industry excursion. I'm proud to recall that the travelogue I wrote during that trip led to a very rare U.S. APEX Grand Award for Publication Excellence.

On May 18th and 19th we will be attending CivEnEx, the largest municipal and contractor equipment trade show in Australia. CivEnEx is being held in Hawkesbury, a very old locale about two hours west of Sydney. Malcolm's family, who came to Australia in 1800, have a long connection to that area so I'm sure we can bring you some 'color commentary' from there, as well.

Through my reporting, you'll be able to see aspects of the CivEnEx show, which will include coverage of the display that Schwarze Industries will have. I'll also be providing a firsthand look at a new sweeper being introduced by one of Australia's long-time sweeper distributors, Rosmech. Although the sweeper was designed by Rosmech personnel, the machine is being built in India.
During my time in Australia, Malcolm has scheduled for me interviews with several prominent Aussie contractors, including Envirosweep, located in Adelaide; Spotless, in Melbourne; and, Cleansweep, in Perth.
Perhaps even more exciting – since I've never been there – we'll then go visit where the Rosmech sweeper is being built in India. While in that country I also plan to interview several sweeping contractors as well as municipal street cleansing managers. As I write this, the remaining details of those interviews are still being arranged.
I welcome the opportunity to share firsthand some insights about how sweeping is done in other parts of the world. As may be seen by sweeping-related articles that appear in many of our newsletter issues these days, including this one, the industry is becoming ever-more cosmopolitan. Along with that, the availability of sweeping equipment and methodology is rapidly becoming universal in nature. I'm proud of the not insignificant role WorldSweeper plays in expanding the reach of power sweeping best practices and other information among so many of the countries in the world.
As always, if you have any news of potential interest to the power sweeping community, please let us know. Between this publication, the WorldSweeper.com website, and the World Sweeping Association, we'll be sure to get the information passed along to interested readers.
Good Sweeping,



Editor, WorldSweeper.com
Executive Director, World Sweeping Association
PS If you haven't 'liked' our WorldSweeper Facebook page, what are you waiting for? That's where we offer industry previews and updates on an ongoing basis.


---
May Newsletter Contents
(Scroll down to read stories or click on links.)
---
4 Sweeps a Week: How Much Street Cleaning is Too Much?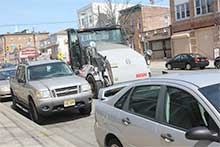 In Jersey City, NJ, one of the most frustrating parts of daily life for many residents, like Kate Stepleton, is parking their cars within the parameters of the city's four-times-a-week street sweeping rules. If you fail to park legally, that's a $50 alternate side parking ticket.

New Jersey writer, Laura Herzog, provided a well-researched article about the current street sweeping practices in Jersey City, where sweeping is performed as many as four times per week. Quoting from a number of contacts, including WorldSweeper's editor, Ranger Kidwell-Ross, Herzog discusses the decisionmaking of Jersey City officials, as well as provides quotes from affected citizens.

Check out the story on the NJ.com website.
---
Jakarta, Indonesia, Moves to Machine-Based Sweeping

The streets in Jakarta, Indonesia, can be in terrible shape after it rains. Even a tiny amount of flooding can leave the streets covered in residual mud and debris after a big downpour – debris that can also quickly clog drainage pipes and cause even more flooding.
This article discusses the decision made by Jakarta's governor to spend $2billion Rp (@ $30million US) to purchase a fleet of Dulevo sweepers in order to move to machine-based sweeping. You'll also learn more about the Dulevo sweeper.
---
FMCSA Establishes New Rules for Obtaining Entry-Level CDL


The new federal standards for commercial, entry-level driver training (ELDT) have been published in the Federal Register. FMCSA says the notice of proposed rulemaking would enhance highway safety by establishing "a more extensive ELDT protocol" and by increasing the number of drivers who receive the training.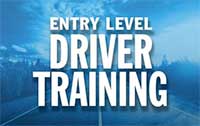 FMCSA proposes new training standards for individuals applying for an initial CDL, an upgrade of their CDL1 (e.g., a Class B CDL holder seeking a Class A CDL). The components of the training are generally subdivided into classroom theory and behind-the-wheel (BTW) segments to be completed on a training/driving range and on public roadways. The proposed training curricula also includes a unit addressing "the right of an employee to question the safety practices of an employer" without incurring the risk of losing a job "simply for stating a safety concern."
---
Sweeper Sharing Can Help Maximize Resources
When the sweeper that Pennsylvania's Sewickley Township had been leasing was no longer available, nearby Unity Township agreed to lease its Johnston air sweeper to them for 30 days at the unbeatable rate of $1.
Intergovernmental agreements such as this one typically are a great way save each municipality money. The nearby Townships in this area routinely work together with equipment sharing in order to maximize the resources of all. "This is the kind of arrangement that keeps every municipality from buying every piece of equipment that they need," said Sewickley's Joe Kerber. "It keeps everybody running in the black instead of in the red."
Read all about it.
---
Featured Contractor: Wolf Paving
Our World Sweeping Association Contractor Profile for May features an interview with Sean Wolf, a third generation family member of Wolf Paving, which was founded by his grandfather in 1941.
Sean started out emptying garbage cans and performing other low-level tasks for the company before he could drive. Ultimately, he worked his way up through the ranks by running every piece of equipment in the company, including its sweepers.
"I think I was cheap labor," Shawn recalled with a laugh. His brother, Devin, who is somewhat younger, followed the same path. Sean has a degree in marketing and his brother's degree is in finance. Both men and their education are now integral to the company. Article includes an 19-minute podcast interview between the company owner and WorldSweeper's editor.
Read about Wolf Paving and listen to the 19-minute podcast interview at the World Sweeping Association website.
---
Not Exactly Sweeping: Tire Valve Replacement Vital to Chassis Health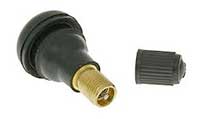 If you ask 50 tire experts to name the most important part of a tubeless radial truck tire assembly, you will probably get a number of different answers. In an article that was published at Fleet Owner, Kevin Rohlwing makes a coherent argument that, in a tubeless radial truck tire assembly, a high quality valve stem is the Rodney Dangerfield of the industry.
Read about the importance of tire valves. (Free signup to Fleet Owner website required.)