by Ranger Kidwell-Ross, editor
WorldSweeper.com

Power Sweeping Finally Losing Its Rodney Dangerfield Image
Rodney Dangerfield famously made a career out of his multi-faceted jokes that all ended with one conclusion: He could get no respect. For many years, power sweeping has shared the same fate. However, as the decline in water quality has become more widespread and the science around the value of power sweeping more persuasive, that image is fast joining the passenger pigeon and dodo bird in extinction.
For a decade at the WorldSweeper website – and in my American Sweeper magazine issues for 10 years before that – I've been preaching about how street sweeping, using an appropriate technology sweeper at an appropriate speed and frequency, provides the best first-line solution to storm water runoff pollution abatement. This information is now gaining credence in many areas of the U.S. and the world.
As it should, power sweeping is increasingly being recognized as the most effective – and cost-effective – first line of defense in removal of the runoff pollutants that are challenging nations' abilities to keep water clean for drinking, aquatic health and more. Citizens of many of the world's countries that celebrated World Water Day on March 22nd don't realize the extend of the debt they owe to the dedicated cadre of sweepers who remove pollutant-laden debris from the paved surfaces of their streets and parking areas.
Power sweeping's laudable environmental and other business aspects have also been discovered by big money interests. As you will see by reading our story in this issue entitled "The ABCs of Packaging Your Sweeping Business for Sale," sweeping contractor companies are being recognized as an attractive purchase target by a NY-based private equity firm, Soundcore Financial Partners, LLC. The analysis of this "smart money organization," which is in the business of buying and selling specific types of companies, recognizes power sweeping contracting as a recession-proof, repeat customer industry that provides intriguing opportunities for growth.
I am looking forward to gaining additional perspectives on the worldwide sweeping industry in the coming months. In mid-May I will be going to Australia to an equipment tradeshow and from there to India to meet with at least one street sweeping manufacturer from that country. I'm excited to see how the sweepers I'll be seeing in those countries are similar to, as well as differentiate from, the ones I'm so familiar with in the U.S. marketplace.
As always, if you have any news of potential interest to the power sweeping community, please let us know. Between this publication, the WorldSweeper.com website, and the World Sweeping Association, we'll be sure to get the information passed along to interested readers.
Good Sweeping,



Editor, WorldSweeper.com
Executive Director, World Sweeping Association
PS If you haven't 'liked' our WorldSweeper Facebook page, what are you waiting for? That's where we offer industry previews and updates on an ongoing basis.


---
March Newsletter Contents
(Scroll down to read stories or click on links.)
---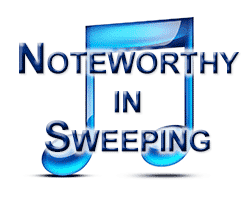 Noteworthy in Sweeping: McKinley Page, Sweeper Connoisseur Par Excellence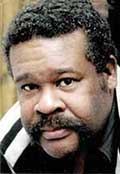 At a very early age McKinley Page was sitting in a sandbox in Newark, New Jersey making mud pies with a friend, Janice, when he heard a sound from several blocks away that totally caught his attention. He immediately jumped up, ran to the gate and watched in complete fascination as a gray and yellow street sweeper passed by, made a U-turn, then went back down the opposite side of the street in front of him. So began his personal fascination with vintage street sweepers from the '50s to the late '60s.
Following his passion, McKinley Page has since swept the streets of Newark – in his personal Elgin White Wing sweeper – simply because they needed sweeping. And, he found enjoyment in the doing of it. He's also been an actor, builder of realistic sweeper models and much more. Unlike so many humans, Kenny appears to have led a life of authenticity. He has followed his dreams – even though portions of it have been outside the box and then some. For example, how many of you 'sweeper people' reading this can say they lost their first girlfriend because their stronger love was for a machine – a street sweeper...
---
Long-time Industry Insurance Guru, Scott Cerosky, Honored at 2016 National Pavement Expo

At the recently concluded National Pavement Exposition, long-time sweeping industry insurance expert, Scott Cerosky, was given two awards by NPE staff. The first was the 'Alan Curtis Industry Service Award,' which was given to Scott for his efforts in clarifying insurance issues for sweepers and others, as well as for finding ways to both reduce premiums and improve coverage. At the same time, Cerosky was installed into the Pavement Hall of Fame.
Cerosky has specialized in the pavement maintenance industry for 23 years and developed his current program through Fairmont Insurance. His efforts demonstrated that each type of pavement maintenance-related work has its own unique exposures that should be recognized and understood. Having a clear understanding of this resulted in more accurate insurance classifications and better protection with the insurance programs he spearheaded.
---
The ABCs of Packaging Your Sweeping Business for Sale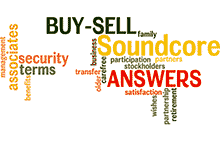 Because the universe of power sweeping contractors is relatively small, it is often difficult to find baseline pricing information for buying or selling their businesses. However, there are basic metrics that apply to this industry just as they do to any others.

Soundcore Capital Partners LLC is a New York-based private equity firm that is in the business of buying and selling companies. Further, the organization and its investor group is actively pursuing the acquisition of power sweeping contractors throughout the United States. So, at the World Sweeping Association we asked one of the company's principals, Erik Emmett, who is an attorney as well as Soundcore's Head of Deal Origination, to provide an overview of their process, along with any tips he has for how contractors may improve the viability of their companies prior to putting them on the market.

Read about how to package your company for sale.
---
Schwarze® Industries Announces an Enhanced SuperVac Gale Force Sweeper
The new design of the Schwarze Gale Force combines the functionality and performance elements contractors of all experience levels are looking for with the design and attention to detail that contractors need to attract and retain customers.
"The new enhanced SuperVac Gale Force is a perfect blend of functionality and affordability and continues our commitment to innovations while increasing our ability to meet the power needs of a wider variety of applications," says Greg Heyer, Vice President of Sales, Marketing, Customer Service & Product Management at Schwarze. The SuperVac Gale Force is now shipping.
Read all about it.
---
World Sweeping Association Seeking Scholarship Fund Donations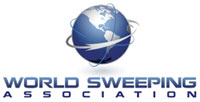 In the past three years, the World Sweeping Association has awarded $12,000 in scholarships in memory of long-time power sweeping luminaries, Carl J. Austin and Dale McCaskill, Sr. These have been awarded to students whose parents were employed in the sweeping industry or to someone working for a sweeping contractor who was also gaining higher education. This year that tradition will continue with two scholarships to be awarded of up to $2,000 each.

WSA is actively soliciting donations, either in cash or as donations of products or services that can be included in an online auction that will be held later this year. If you would like to donate you can do so via credit card or PayPal account via this link. Alternatively, if you would like to contact WSA about donating an auction item(s), please send WSA an email.
See previous winners, WSA's scholarship donation link, and download a notice of scholarship availability for your company bulletin board.
---
Featured Contractor: SweepCo
Our World Sweeping Association Contractor Profile for March is someone that many of our readers will have had contact with over the last 30+ years he has been involved in the power sweeping industry. Although recently he has become an owner/operator of the power sweeping company he called SweepCo, Mike Dyck's experience far transcends that of a typical contractor.
In 1975, Mike began working with his brother Larry's sweeper manufacturing company, Mr. Air Sweepers. In the intervening time frame, in addition to heading up the marketing program for Mr. Air (now MASCO Sweepers) Mike has assisted many individuals as they entered the power sweeping business, as well as helped numerous contractors with the problems they encountered as they grew their businesses.
Read about Mike Dyck's many years in the power sweeping industry.
---
Not Exactly Sweeping: Elgin Pelican vs. GoPro 4 Video Camera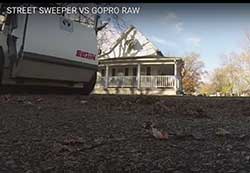 Ever stayed up late at night wondering what would happen if you put your GoPro video camera into the curbline so a beefy broom sweeper could sweep it up? If so, here's your chance to have a 'camera's eye view' of what might – and in this case, DID – occur... (And you get some brief views of the inside of the sweeper!)