by Ranger Kidwell-Ross, editor
WorldSweeper.com

Going Around the World to Investigate Power Sweeping
Those of you who follow this publication know that I recently traveled to Australia and India to see what I could find out about the power sweeping industry in those countries. It was an informative and fascinating trip and I know you'll enjoy the information I brought back.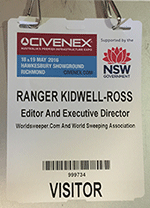 In this issue we have the first installment of what took place in Australia, at that country's premier equipment tradeshow, Civenex. The sweepers and other equipment were displayed outdoors, so the show offered a unique venue as well as a number of sweeper makes and models not seen in the U.S. marketplace. We also have a feature article on the World Sweeping Association's first Australian member, Enviro Sweep, which is that country's largest sweeping contractor.
While I was away, we received notification that the WorldSweeper.com website and the twice-monthly World Sweeping Association e-newsletter each won national awards for publication excellence. It is both exciting and gratifying to have this work – and the power sweeping industry – be recognized in this manner.
More than any other publication, ours is designed to keep you informed about the latest news in the worldwide power sweeping industry. I know sometimes when you're out there driving a sweeper it can seem like you're alone in that endeavor. However, as this issue makes clear more than most, it's an occupation you share with many thousands of others around the world.
Thanks to everyone in the industry for your continued interest in, and support of, both of our award-winning projects. If you are one of our industry sponsors, thank you so much for the critical part you play in supporting 'Earth's Largest Power Sweeping Resource.'SM If you sell to the sweeping industry but don't yet advertise with us, please consider doing so.
Conversely, if you're a contractor I urge you to check out the many benefits of membership in the World Sweeping Association. And, last but not least, if you are any way involved in the power sweeping industry – as I have been since first producing the SuperVac Quarterly for the Schwarze family back in 1988 – thank you for wanting to read the 'sweeping news you can use' I've been providing for the last 28 years... and continuing.
Good Sweeping,



Editor, WorldSweeper.com
Executive Director, World Sweeping Association
PS If you haven't 'liked' our WorldSweeper Facebook page, what are you waiting for? That's where we offer industry previews and updates on an ongoing basis.


---
July Newsletter Contents
(Scroll down to read stories or click on links.)
---
WorldSweeper and World Sweeping Association Win U.S. Awards for Publication Excellence
The WorldSweeper.com website, as well as the twice-monthly World Sweeping Association e-newsletter, have both received a 2016 U.S. APEX Award for Publication Excellence. The WorldSweeper Award is for the overall content and quality of information available on the website. This marks the 9th year in a row that some aspect of the WorldSweeper.com website has won a national APEX Award for Publication Excellence.
The World Sweeping Association's APEX Award was for the quality of the education and training value of WSA's twice-a-month e-newsletter, the WSA Update. We appreciate the recognition, as well as the increased positive visibility and professionalism these awards provide for the power sweeping industry as a whole.
---

Exclusive Coverage of Australia's Largest Industry Equipment Tradeshow, Civenex 2016
In May, WorldSweeper.com's editor, Ranger Kidwell-Ross, traveled halfway around the world to bring you information – including 10 product and information videos – from the Civenex tradeshow.
In this first installment we cover the background and the beginning of the trip, as well as the Civenex show. Next month we'll be adding more information about sweeping in Australia, including an interview with a principal with Rosmech Cleansing Solutions, the Australian distributor for Scarab Sweepers as well as its own model of regenerative air sweeper, the Rosmech R4.
Get started on a 'sweeping trip around the world.'
---
Street Sweeping Matters to Australia's Southern Downs Council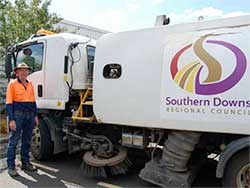 What municipal organization hasn't, at some point or other, fielded questions from citizens about why sweeping is taking place? When that occurred with Australia's Southern Downs Regional Council, the operator of the Council's sweeper took action to set the record straight. Taking the approach of providing documentation about the value of street sweeping is a great way to provide positive outreach and learning to your constituents.
This article is in our extensive website area that documents how many countries besides the U.S. sweep. However, the information is valid for illustrating the value of street sweeping anywhere in the world.
---

Street Sweeping 101
In advance of Stormcon 2016, coming up August 22-25 at the Indiana Convention Center, Forester's Stormwater Magazine has reprised Roger Sutherland's seminal 2011 overview of street sweeping. This work provides a comprehensive overview of how street sweeping has moved toward the foreground in recent years as a critical stormwater pollution removal technique.
The article covers factors that affect sweeping, as well as information on the types of sweepers available in order to assist in assessing the type of machine needed for particular areas. This is also a good reference for contractors who sweep for cities; the information will provide you with strong arguments for increased sweeping schedules at, perhaps, slower sweeping speeds, to get the desired stormwater pollution mitigation results.
Read all about it.
---
Schwarze Industries Announces Sponsorship with Free 2 Teach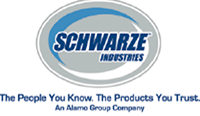 Schwarze Industries has announced a special sponsorship with Free 2 Teach, a not-for-profit organization that provides free resources to more than 3,800 full-time classroom teachers and their 52,000 students in Madison County's three public school systems.
Greg Heyer, Vice President of Sales, Marketing, Customer Service & Product Management of Schwarze explains, "In our growing area, Free 2 Teach plays an important role in fueling growth, improving the educational experience of our children and strengthening our community's future workforce."
---
WSA Featured Contractor: Australia's Largest Sweeping Contractor, Enviro Sweep
Enviro Sweep commenced operations in 1997 in Adelaide, South Australia, as a result of two business partners taking on a contract to clean gross pollutant traps. A road sweeper with a remote handhose was seen as something that might be a good machine to assist in removing silt out of these devices. So, a second-hand sweeper was purchased and utilized in that capacity. The men then had a natural curiosity as to what the rest of the machine was used for so the decision was made to start actually sweeping with it.
Today, Enviro Sweep has become the largest sweeping contractor in the Australian marketplace with nearly 100 sweepers and offices in Adelaide, Brisbane, Perth and Melbourne.
---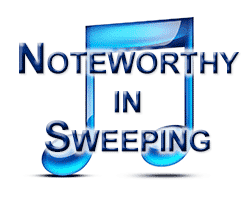 Jerry Smith, Lafayette, Indiana's Street Sweeper Extraordinaire, Memorialized on Downtown Wall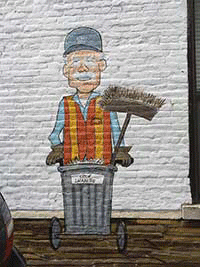 As you will recall from our January 2016 newsletter issue, for more than 25 years Jerry Smith cleaned the downtown core area of Lafayette, Indiana. About 10 years before Jerry ended his sweeping work, it was calculated he had picked up more than 15,000 container loads of material off the sidewalks and curblines of Lafayette by hand.
Now the city Jerry Smith served for so many years has commissioned a downtown wall mural to commemorate the man who came to represent the reason Lafayette's downtown area was so clean. If you'd like to see a larger version of the mural, click here or on the animated image above.
---
Not Exactly Sweeping: The Samba Sweeper of Rio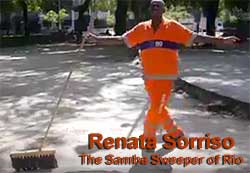 Here's something to help whet your appetite for the upcoming Olympics: The 'Samba Sweeper of Rio,' Renato Sorriso has spent his entire career sweeping the streets and collecting the trash of Rio de Janeiro's Madureira District. Says Sorriso, "Samba is the happiness of the people. Here we work for 360 days. Then, with the start of Carnivale, the city explodes.
Sorriso started combining sweeping with doing the samba back in 1997 and hasn't quit. He was even included in the Olympics introduction of Rio as the upcoming site of the 2016 games during the closing ceremonies in London back in 2012. The following 2-minute video is bound to put a smile on your face! Can't see YouTube on your office computer? If that's the case, here's the link.