by Ranger Kidwell-Ross, editor
WorldSweeper.com

National Pavement Expo Provides One Too Many Learning Opportunities
As usual, there was much to see and do at this year's National Pavement Exposition. The showing by sweeper manufacturers and related product vendors was perhaps the largest ever. In addition, NPE's educational sessions just seem to be getting better every year. However...
An unfortunate turn of events occurred at the NAPSA-sponsored 'Sweepers Night Out' event held at Dale Earnhardt Jr.'s Whisky River establishment. According to eyewitnesses, one of the employees of a Connecticut-based sweeping contractor apparently danced in front of a Whisky River bouncer who, without further apparent provocation, grabbed the man and threw him on his head such that he was put into a coma. Definitely a tragedy.
However, in addition to the human pain and suffering involved, the incident raised a number of other business-related issues one might not otherwise consider. For one, when something like this occurs what is the best protocol for the business owners to follow? "We think of this man, who is our Operations Manager, as a member of the family," the sweeping company's owner told me, "but of course we have to now consider all the business ramifications, as well as the personal ones."
Because the accident occurred during a company-sponsored trip to NPE, the accident probably is covered by workmen's comp; or is it? As Operations Manager, the man's phone had passwords, apps, codes, etc. that are an important part of the sweeping company's business operation. If those are not already backed up somewhere on-site, how are they retrieved? What plans are in place when one's Operations Manager is suddenly off the job for who knows how long? Unless someone who was a member of the man's family is at the event, which wasn't the case in this circumstance, even hospital access can become problematic.
And, none of the above even takes into account what will inevitably become a drawn-out legal affair that's bound to include all parties that were involved. Fortunately, in this instance, the man came out of his coma and was well enough to be transported home by train within a few days. However, it's almost a month later and he's still not back on the job.
I write about this incident in hopes it will become a reminder to our readers, whether a manager of a public agency or a sweeping contractor, to develop systems and protocols for when you lose a key employee. You never know who you might lose – including an owner and/or top manager – and when that might occur.
As always, if you have any news of potential interest to the power sweeping community, please let us know. Between this publication, the WorldSweeper.com website, and the World Sweeping Association, we'll be sure to get the information passed along to interested readers.
Good Sweeping,



Editor, WorldSweeper.com
Executive Director, World Sweeping Association
PS If you haven't 'liked' our WorldSweeper Facebook page, what are you waiting for? That's where we offer industry previews and updates on an ongoing basis.


---
February Newsletter Contents
(Scroll down to read stories or click on links.)
---
MASCO Sweepers Wins 2016 Award of Excellence in Power Sweeping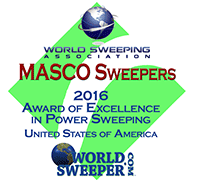 In 1975, Larry Dyck was building custom boat trailers while going to San Jose State. A boat racer customer, Leonard Vella, also owned a sweeping company that had a problem: To sweep parking lots it took a small Tennant sweeper that didn't work very well, as well as a pickup and trailer to haul it. Vella wondered if the kid who was so good at fabricating boat trailers might be able to build an air sweeper onto the back of a pickup truck.
In 1976, after some amount of trial-and-error fabrication, the Mr. Air Sweeping Company was co-founded by Dyck, along with partners Jim Mills and Frank Dorsa. Vella bought the company's first ten sweepers. The company's personnel are credited with founding the first-ever sweeping contractor publication, NewsSweep, and the first-ever sweeping association, the 'National Contract Sweepers Institute.' Along the way the firm's name was changed to MASCO. Now in its 40th year of operation, the company is the winner of the power sweeping industry's most prestigious honor.
---
WorldSweeper Brings NPE Show Highlights to Your Computer Screen

We are proud to offer a total of 16 videos, a 60+ photo slideshow and more as part of this year's coverage of the National Pavement Exposition (NPE), which was held in Charlotte, NC, this past January 27-30th.
Our editor, Ranger Kidwell-Ross, was onsite to catalog for our readers a wide-ranging selection of the activities that took place at NPE. This was one of the largest NPEs in memory, which would also seem to provide a positive portent for the year to come in sweeping and related industries.
Take a look at the information.
---
Schwarze Industries Announces Compact Wheelbase Freightliner M2 Chassis for A7 Tornado and A9 Monsoon
Schwarze Industries' Product Manager, Brian Giles reports that extensive voice of the company's customer research indicated that an increased maneuverability chassis was desired for sweeping areas that required tighter turns. That's because, over the last ten years, commercial chassis have increasingly long wheelbases to accommodate increased engine emission control devices.
As part of the process, Schwarze Industries worked closely with Freightliner engineering to relocate the exhaust after treatment from under the cab to between the frame rails.
Read more and see photo.
---
Featured Contractor: Pro Sweep Goes the Distance to Please its Customers
Bruce Christianson founded North Dakota-based, Pro Sweep, Inc., in 2000. Then, in 2010 he sold the company but stayed on as manager of the operation. When we conducted the interview in mid-January it was a balmy 25-degrees by day and minus 8-degrees at night, though the a few days previously, Bruce said, the daytime temperature had been -20-degrees below zero.
"I got started in the business due to being parked in a parking lot in January of 2000 when the lot was hit by a big gust of wind," said Christianson. "When I saw all the trash blowing I wondered if anybody swept it. The next day I went to my local grocery store and asked if anybody swept. The next day I did some research, probably through WorldSweeper, found out some pricing info to go back and tell him and since then we've been growing and expanding."
Read about Pro Sweep and listen to the podcast interview at the World Sweeping Association website.
---
Federal Signal's Environmental Solutions Group Acquires Westech Vac Systems, Ltd.
Vactor Manufacturing and parent company Federal Signal Corporation recently announced the acquisition of Westech Vac Systems, Ltd., a leading provider of rugged, high-quality vacuum truck-mounted solutions. Acquisition further extends group's reach into industrial, utility and oil and gas markets.
According to the Vactor/Federal Signal spokesperson, the acquisition helps to bring about technology and innovation that can be leveraged by Federal Signal's Environmental Solutions Group in both the U.S. and Canadian markets. As a Federal Signal subsidiary, Westech will continue to operate in Nisku, Alberta, Canada, as Westech Vac Systems.
Read more about Federal Signal's acquisition.
---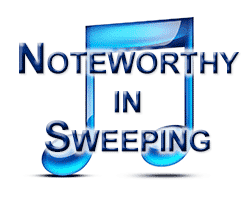 Noteworthy in Sweeping: 'Pete the Sweep' Woodmansey Turns 80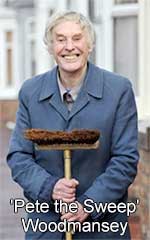 People from across Darlington, UK, got involved to throw a huge celebration in honor of street sweeping superstar Pete Woodmansey. 'Pete the Sweep,' as he is affectionately known throughout the area, has diligently cleaned the various communities across the town since retiring from his work as a council street sweeper in 2001.
Almost the entire town of Darlington, UK, turned out on February 15th to mark the 80th birthday of one of its most colorful characters. Mr. Woodmansey, who is a well-known figure around Darlington, has been widely praised by many residents for using his retirement years to keep the town's streets free from litter.
Read about Peter Woodmansey's Birthday Celebration.
---
Not Exactly Sweeping: Belfast, Ireland's 'Street Sweeper Buskers' Back With Valentine's Day Message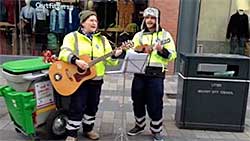 In a follow-up to the popular litter song we reported on this past Christmas Season, the Belfast Street Sweeper Buskers were back at it this past Valentine's Day weekend. The job of Rachael McCabe and Dan Leith is to promote the anti-litter message for Belfast.
With a new song in the spirit of Valentine's Day, the two hit the streets of Belfast recently to encourage people to "love putting debris into the bin and to love their city."