by Ranger Kidwell-Ross, editor
WorldSweeper.com

Looking Ahead to 2017
A few days ago, Jessica Stoikes, the Associate Editor of Pavement Maintenance & Reconstruction Magazine, contacted me to ask if I would provide her with my "highlights on the state of the sweeping industry and what might be in the pipeline for 2017."
It's always good to be prompted to think about such topics and I look forward to providing my readers with the entirety of my thoughts on the matter once Pavement's article is in print.
For the moment, though, I want to encourage each of you reading this to undertake the same challenge. Whether you are a contractor that operates a single sweeper or are the manager of sweeping for the City of New York, I suggest you will find it illuminating for you and the future of your organization if you take time to do the same.
It was a great exercise to write out what I consider to be the biggest industry challenges the industry will – or may – face in the upcoming year. You may find that the often somewhat lax time between Christmas and New Years provides a great time for such an exercise.
When you do, I hope sincerely the process will be similarly thought-provoking for you as I found when I did the same for Pavement's Ms. Stoikes. There is little doubt the result will assist you in your planning for a great 2017!
As always, if you have any news of potential interest to the power sweeping community, please let us know. Between this publication, the WorldSweeper.com website, and the World Sweeping Association, we'll be sure to get the information passed along to interested readers.
Good Sweeping,



Editor, WorldSweeper.com
Executive Director, World Sweeping Association
PS If you haven't 'liked' our WorldSweeper Facebook page, what are you waiting for? That's where we offer industry previews and updates on an ongoing basis.


---
December Newsletter Contents
(Scroll down to read stories or click on links.)
---
Michigan Contractor Gets Award From Governor
Ray Confer, the owner of C & J Parking Lot Sweeping, has operated his company for almost 40 years. At the same time, Ray has chosen to spearhead a phenomenal level of giving back to his community, in large part through his local Shelby Township Lions Club.
This past November Ray chaired a Lions Club event that spanned four wedding halls and had 900 attendees, with many area celebrities including congressmen and judges. To his astonishment, Confer was presented with a Special Tribute Award from Michigan's Governor, Rick Snyder.
Our interview with Ray Confer discusses his volunteerism as well as his extremely successful power sweeping company. Learn how doing for others can lead to phenomenal success as a sweeping contractor even though Confer – whose company was WorldSweeper's 2011 Contractor of the Year and is also on the Advisory Board of the World Sweeping Association – stresses that the business connection isn't why he is such a community supporter.
Read the feature article.
---
Walmart Allegedly Stiffs Contractors With Store Manager Contracts
We received a report from a long-time sweeping contractor that they'd done over $10,000 in sweeping based upon a request – and a contract – signed by a Walmart store manager. Then, Walmart allegedly refused payment because the contract wasn't through Service Channel.

When the World Sweeping Association asked its Members if any of them had experienced anything like that, another contractor stepped forward with a similar story. Based upon these two reports, we then investigated the situation via a series of emails with the person we were told handled this type of issue, Walmart Facility Manager, Darrell Bennett.

Before providing details, we advised Mr. Bennett that we needed his assurance that the contractors would be paid if: it was shown that a service contract had been executed between the store manager and the contractor; and, if there had been no complaints lodged against the contractor(s) providing the service to the store(s). We also wanted an assurance there would be no reprisals against the contractors for involving us in an attempt to get paid.

Mr. Bennett's response was, in part, "Legally I cannot provide any assurances for the items you request." Without these assurances, the contractors, who were afraid of reprisal on the Walmart locations they continue to sweep, chose not to pursue payment further.

If you are a contractor who has been in a similar situation with Walmart, we invite you to let us know. Your information will be treated as confidential until such time as you choose to disclose it to Walmart or elsewhere.

If you would like to review the email exchange between WorldSweeper/World Sweeping Association and Walmart, here is a link.
---
Elgin Sweeper Dealers Generate Reproduction of Company's First Model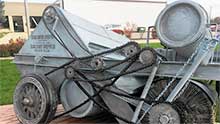 Only a few grainy pictures remain of the very first street sweeper model built by Elgin Sweeper Company in 1914. There are no remaining models sitting in a museum and no original plans could be found tucked into a file at the company.
That didn't stop the Elgin dealers from building a replica to celebrate the sweeper manufacturer's 100th anniversary. When Elgin's dealers decided they wanted to have a replica of the original Elgin sweeper built to commemmorate the century milestone, the available photos became the guide for building a 1/3 scale replica for display at the Elgin factory.
---
TYMCO to Offer 31 Service Schools in 2017
The TYMCO organization asked us to remind all owners of their sweepers that they will be able to choose from 31 scheduled TYMCO Service Schools in 2017. Owners and their representatives may come as often as they'd like, free of tuition charge.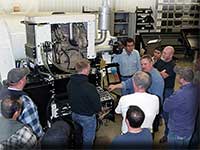 The company will provide ground transportation to and from your area hotel to its 3500 square foot, climate-controlled Training Center. Your lunch is even on them! To learn more about TYMCO Service School or register for 2017 classes, use the link below.
---
Are You Supporting the World Sweeping Association's Scholarship Program in Your Year-End Giving?

In 2013 the World Sweeping Association began a tradition of providing a pair of $2000 scholarships to offspring of those who work in the power sweeping industry. Not available to children of sweeping contractor owners, the intent is to encourage and assist children of rank-and-file sweeping industry employees where the money can make the most difference.
The program, called the WSA Memorial Scholarship Fund, offers a scholarship in the names of two long-time sweeping industry luminaries, Carl Austin and Dale McCaskill, Sr., both of whom were lost to the industry before their time. 100% of money donated to the program is added to the scholarship fund, with zero overhead deducted.
If power sweeping has brought you success, there's no better way to say "Thank You!" to the industry that provides for your business. To read about past scholarship winners and/or to donate, use the link shown below.
---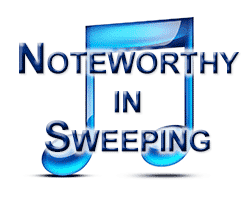 Noteworthy in Sweeping: Alert Sweeping Employee Found, Reported IED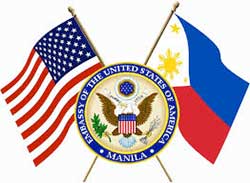 A street sweeping employee is considered the hero in a foiled bombing attempt on the US Embassy in Manila, the Phillippines. Street sweeper, Eli Balabagan, noticed an improvised explosive device (IED) located in a trashcan on her route. She had presence of mind to immediately inform the police, who took prompt steps to defuse the device.
Considered 'the hero behind the foiled bombing attempt,' Balabagan was awarded a certificate by Secretary of the Department of Public Works and Highways, Mark Vilar, during a ceremony on December 2nd. The recognition also included a cash award of P20,000 (about $400 US) for Balabagan's alert actions.
This article was included as a reminder to all sweeper management personnel to train employees of a course of action to take when unknown and/or suspicious items are discovered during their business activities. The world is increasingly being plagued by devices such as the one found by Balabagan and locating such things near or in trash containers is an increasing possibility.
---
Not Exactly Sweeping: Belfast's Singing Street Sweepers Spread Litter Reduction Message Through Song

The singing street sweepers of Belfast, Ireland, are back with a new Christmas message-in-a-song with 'Binter Wonderland.' The word 'binter,' used in this context, is a chide against those who would throw their cigarette butts and other litter onto the ground in public places.
With lyrics that start with "Please don't be litter droppin' when you're out Christmas shoppin'," the duo reinforces the Belfast street department's message of keeping their city clean – and provides a fitting end to the December 2016, Christmas issue, of the WorldSweeper e-newsletter! Click here or on the video graphic to listen to their song.