by Ranger Kidwell-Ross, editor
WorldSweeper.com

Navigating Power Sweeping's Dangerous Work Zones

This past week marked the 2016 National Work Zone Awareness Week. Of course, this is a topic that deserves more than just a single week of observation. In fact, I say let's multiply the need for a work zone safety awareness week by the number 52 in order to come up with the correct amount of emphasis.
The event was begun in 1999 when the Federal Highway Administration (FHWA), the American Traffic Safety Services Association (ATSSA) and the American Association of State Highway and Transportation Officials (AASHTO) joined forces to increase public awareness of work-zone safety issues. How important a milestone was it? The very next year, in 2000, it was made into an annual event.
Almost every day I receive an internet update about our industry that includes a tragedy of some sort involving an operation that included a sweeper. Many of these involve drunk or distracted drivers running into a roadway work crew or hitting the attenuator truck. Even more tragic, to me, are the accidents that appeared avoidable, ones that occurred because of inattention or distraction among the work crew itself.
Now, the week after the designated 'Work Zone Week' would be a good time to revisit this same topic that you should have covered last week. Here's why: Work zone safety is an everyday concept that deserves a strong emphasis this week and every week.
Take steps to eliminate all three of the primary types of distraction:
Visual – taking your eyes off the road.
Manual – taking your hands off the wheel.
Cognitive – taking your mind off what you are doing.
Don't let a work zone tragedy strike you or your organization. Emphasize work zone safety and eliminate distracted operations, last week, this week and every minute of every day. If you would like to access useful resources for guidance and training, use this link.
As always, if you have any news of potential interest to the power sweeping community, please let us know. Between this publication, the WorldSweeper.com website, and the World Sweeping Association, we'll be sure to get the information passed along to interested readers.
Good Sweeping,



Editor, WorldSweeper.com
Executive Director, World Sweeping Association
PS If you haven't 'liked' our WorldSweeper Facebook page, what are you waiting for? That's where we offer industry previews and updates on an ongoing basis.


---
April Newsletter Contents
(Scroll down to read stories or click on links.)
---
Quantifying Solids and Nutrient Recovered Through Street Sweeping in a Suburban Watershed

The primary objectives of the study linked were to quantify the influence of tree canopy (a source of organic debris), season, and street sweeping frequency on the quantity of solids and nutrients recovered from streets through street sweeping.
Total solids and nutrient loads (TP, TN, TOC) were recovered in 392 street sweeping operations over a 2-year period in residential areas of Prior Lake, MN. Analysis provided by University of Minnesota graduate student, Paula M. Kalinosky.
---
Elgin Sweeper Solicits Votes for Retro Sweeper Choices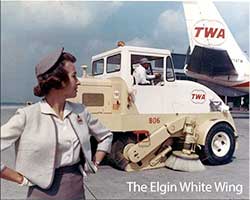 On the first of this month, America's largest sweeper manufacturer, Elgin Sweeper, collaborated with the WorldSweeper team to announce a contest to build a 'retro sweeper body' to fit its current Pelican sweeper fleet.

In case you missed this historic story when it was first announced, here's your opportunity to read all about it!
---
Featured Contractor: Pro Sweep: Putting the Plus in Service Excellence
Joe Baumgardner grew up working in his father's masonry supply business in Missoula, Montana. Although he was still involved in that company as an adult, Joe says he simply wanted to take on a project that would allow for more business growth.
He started with a snow-plowing company, but in 2000 was asked by a client if he could clean the winter detritus from their parking lot. After asking around and finding more sweeping business was available, he bought a Johnston 605 and expanded into the sweeping business. The company now employs between 15 and 20 people and has had positive growth in each of its 16 years of operation.
Read about Pro Sweep Plus and listen to the podcast interview with Joe Baumgardner at the World Sweeping Association website.
---
Italian Consortium Builds Sweeper With 'Artificial Intelligence'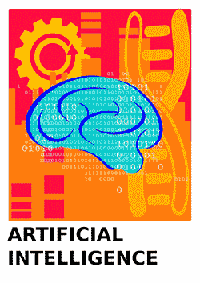 A consortium of three companies operating in the territory of Marsala, Italy, in a collaboration with the University of Palermo and l'Association CRITICAL, has concluded a project called "Sweeper mechanics auto road cabin with intelligent remote diagnostics." Includes YouTube link showing build process.
The innovative aspects of the two prototypes are sensors that detect the presence of data, in real time, that provides the status of the various components. The data are transmitted to a data processing center to diagnose, predictively, through artificial intelligence techniques such as neural networks and logic fuzzy, impending rupture or failure.
---

Federal Signal's Environmental Solutions Group to Acquire Joe Johnson Equipment
Federal Signal Corporation's Environmental Solutions Group has announced its intent to acquire Joe Johnson Equipment (JJE), a leading Canadian-based distributor of maintenance equipment for municipal and industrial markets. The transaction is expected to close by the end of the second quarter of 2016.
Under the terms of the acquisition, JJE will operate as part of Federal Signal's Environmental Solutions Group, a leading provider of street sweepers, industrial vacuum trucks, high-performance waterblasting equipment, sewer cleaners and vacuum excavators for commercial, municipal and industrial customers.
---

Not Exactly Sweeping: Bing Crosby, Street Sweeper Extraordinaire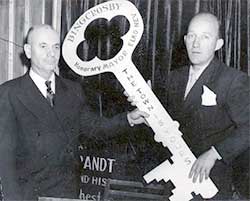 Perhaps the most famous photograph of Bing Crosby was taken on February 7, 1948, when Crosby was given the key to the city of Elko, Nevada, by the town's mayor, Dave Dotta. Dotta told Bing that the townspeople would make sure the singer carried out his duties, which included getting the snow plows out, directing traffic and street cleaning.
Crosby's training began immediately and that's when the famous photograph showing him sweeping the streets of Elko was snapped. The photo made quite a splash when it appeared in newspapers and magazines world wide.
See / read about perhaps the most famous picture of Bing Crosby – as a street sweeper.