by Ranger Kidwell-Ross, editor
WorldSweeper.com

From Pothole Pitted Pavement to Super Smooth Surfaces, Sweepers are on the Job
This winter was one of the worst on record for much of the Eastern portion of the United States, as probably half of you reading this are well aware. One net result is that extensive pothole damage on roadways in the Northeast part of the U.S. have municipalities scrambling to get their paved surfaces back in roadworthy condition.
One thing is for certain: Spring cleanup will be perhaps the most difficult ever for much of the U.S. power sweeping community. I encourage public works' directors to fast track the repair of pavement ahead of sweeping whenever possible, though the logistics of all that will certainly be a nightmare.
An entirely different type of 'fast track' is the topic of our lead story in this newsletter edition. We're proud to have an exclusive, in-depth interview with Jeff Miles, who has led the Elgin Sweeper initiative with NASCAR over the last decade. This has evolved steadily to where, in 2014, Elgin Sweeper Company reached an agreement with NASCAR to become the 'Official Sweeper of NASCAR Green.' Whether you're a racing fan or not, you'll find the article about this process both entertaining and informative.
We're all familiar with the many advancements, in a variety of unrelated fields, that have occurred as a result of breakthroughs by NASA. Similarly, the Elgin Sweeper management team members have learned much by addressing the many challenges of designing a specially-built Elgin Crosswind that can handle all the rigors of cleaning during NASCAR races. Elgin's EcoInfused Crosswind (Gen 6.0) that will be used during the 2015 NASCAR season, as its Gen 5.0 was used in the 2014 NASCAR season, is poised to become the first-ever vehicle to be present at all 38 NASCAR Cup Races. How cool is that?!
Our other articles in this issue will keep you in the forefront of what's happening in the power sweeping industry, as well. As always, if you have any news of potential interest to the power sweeping community, please let us know. Between this publication, the WorldSweeper.com website, and the World Sweeping Association, we'll be sure to get the information passed along to interested readers.
Good Sweeping,



Editor, WorldSweeper.com
Executive Director, World Sweeping Association
PS If you haven't 'liked' our WorldSweeper Facebook page, what are you waiting for? That's where we offer industry previews and updates on an ongoing basis.


---
March Newsletter Contents
(Scroll down to read stories or click on links.)
---
Fast Track to Safety: Elgin Sweepers' NASCAR Sweeping Program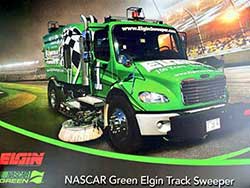 Jeff Miles, the branch manager for the Kansas City office of Key Equipment and Supply Company, has long been involved with NASCAR. Currently, for example, Miles drives for the Richard Petty Driving Experience on the weekends and has driven on pretty much every significant racetrack in the United States. "In terms of our Elgin Sweeper NASCAR safety program," said Miles, "I tied together to my passion of racing with the one for bringing sweeping solutions to municipal agencies cleaning turnpikes."
Though Elgin Sweepers is about to unveil its 'Gen Six' NASCAR Track Sweeper, starting with this year's race season the Elgin sweeper will be the only vehicle scheduled to appear at all 38 NASCAR Cup Races. Our coverage includes an entertaining 42-minute audio podcast with Jeff Miles that no sweeping industry racing fan will want to miss.
---
Schwarze Industries 'Adopts' Solar Panel for Veterans

By joining SolarCure's "Adopt-a-Solar Panel" Marketing Program, Schwarze sponsors a solar panel that will be installed as part of a complete solar array on the roof of the Veterans of Foreign Wars Post 6061 thus truly making a lasting difference in the lives of Veterans. This solar panel installation will provide extra income through SRECs and generate free and clean energy for at least 25 years. With reduced or eliminated electricity bills, it will allow the VFW to allocate more funds toward their organization's mission and re-invested back to Veterans!
---
Elgin Sweeper Enters Second Year of Partnership with NASCAR Green® to Support Track Drying Initiative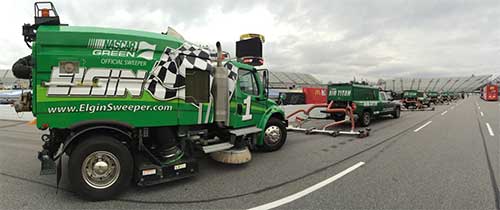 Elgin Sweeper provides unique solutions for racetrack sweeping, conditioning and maintenance throughout the racing season. This year, Elgin Sweeper will continue to be present at each NASCAR race event weekend to support NASCAR's Air TitanTM equipment to dry rain-soaked racetracks, saving jet fuel and reducing NASCAR's overall carbon footprint.
"Elgin Sweeper's relationship with NASCAR is ideal for racing fans and our municipal and contractor customers," said Mike Higgins, vice president and general manager of Elgin Sweeper Company. "We are proud of our ongoing partnership with NASCAR to help racing fans learn more about innovative green programs and energy solutions – and to help reduce the number of NASCAR races postponed or shortened due to wet weather conditions."
---
Featured Contractor: What Stays in Vegas... Gets Removed by Bailey's Sweeping Service

In 1988, John Bailey was the manager of a shoe store in Las Vegas. His inspiration to get into the power sweeping business came during a conversation with an old man who cleaned windows. "I asked him what kind of business he thought I should get in," said Bailey. "He then asked me if I had thought about cleaning up parking lots. I'd never thought about that or seen it done before but I went out and watched a sweeping company at work for a couple nights here in Las Vegas. Now here we are, 25 years later."
After asking around, Bailey procured a contract for a grand total of $200 a month to sweep a parking lot. That was enough for him to go get his first sweeper, which was called a 'Trailer Vac.' Bailey's Sweeping Service still has its Trailer-Vac, as well as about a dozen other units and 25 employees that run sweepers and much more – including cleaning garbage and recycling receptacles through its Bailey's Classy Cans offshoot – throughout the company's Greater Las Vegas/Henderson market area.
---
Schwarze Industries Welcomes New Regional Sales Manager
Schwarze Industries is pleased to announce the hire of Martin Murrietta, as Regional Sales Manager. Murrietta began with Schwarze on March 2, 2015. Murrietta will serve the West Coast Territory for the Schwarze Contractor SuperVac Series products.
Martin comes to Schwarze from Rexel Electrical and Datacom where he held the position of Outside Solar Sales. Martin brings to Schwarze over 19 years of sales experience and 10 years of service in the United States Air Force.
---
World Sweeping Association Adds Three New Benefits
The World Sweeping Association has announced three new Member Benefits to its already extensive list. VBeltSupply.com is America's largest internet supplier of ISO 9001-certified V-belts, plus other specialized metal parts including bearings. WSA Members now receive a 10% discount off VBeltSupply's already low prices.
WSA Members now also receive a 15% discount on tire sealant from LiquiTube, which is an environmentally-friendly, non-corrosive sealant that goes into tires prior to inflation. Reviewers cite enormous benefits in keeping tires inflated properly and for tires not going flat even after multiple punctures.
Finally, WSA now offers a free initial consultation and discounted SEO and local search services from Contractor Power Marketing (CPM), a full service internet marketing company that specializes in contractors. CPM allows WSA Members to obtain expert service and just the right amount of it for their business, same as they would do with their accountant.
Review the many benefits of World Sweeping Association Membership.
---
New York Post Uncovers Hypocrisy With NY Street Sweeper Parking Situation

An opinion piece in the New York Post discussed the topic of, and difficulties surrounding, New Yorkers having to move their cars when a sweeper is due to sweep their streets. Post opinion piece writer, Karol Markowicz, calls the regulations surrounding the system "the scourge of most ordinary working people, who can't afford the astronomical cost of garage parking (more than the price of housing in other cities), is the alternate-side-parking rules."
Although a bill was introduced last summer to let drivers park on the restricted side of the street once the streets been cleaned, Mayor de Blasio opposed the bill. Rather, de Blasio sided with the Sanitation Department – which said it feared workers wouldn't be able to do their jobs effectively. The writer takes exception to that opposition, questioning why that would be the case. Also, apparently only in Park Slope, de Blasio's 'home turf,' cars are allowed to double-park on alternate-side days. If you want to see how political the situation is in America's biggest city, use the link below.
---
Chinese Street Sweepers Work Hard for Little Money and Lack Protection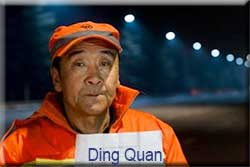 Being a street sweeper in China is not much fun. Their salaries are usually poor, and places for them to shelter from the elements are thin on the ground. Pictures of sanitation workers in northeast China eating snow to quench their thirst surfaced on the Internet in January of 2015, provoking a widespread 'dewy-eyed' online response.
Then, in March, when street sweeper Ding Quan, 58, paused to warm himself at a roadside fire after putting in a hard shift in driving snow, little did he suspect that it would cost him job – or that the power of the widespread internet response would gain it back for him.
---
Gasoline Now Cheaper Than Sparkling Water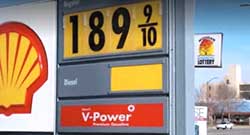 "Gasoline is now so cheap that it costs 89 cents less than a gallon of sparkling water and more than a dollar less than a gallon of Pepsi." So says economist Mark Perry with the American Enterprise Institute. "When gasoline is the cheapest liquid you buy except maybe for some bottled water," Perry wrote on his blog, "you know that gasoline is a real bargain at $2, just as it would be at $4. It's something of a miracle."
Fuel is one of the largest budget components of everyone involved in the power sweeping industry. It's an expense that takes a big bite of everyone's bottom line. However, this brief article and video showcase just what a bargain fuel is compared to many other, more mundane, liquids we purchase and use every day. Some of the other more pricey liquids on the list are Nyquil, which costs more than $100 per gallon based on a cost of 84 cents per ounce, and premium vodka at a price of more than $75 per gallon when you're paying $30 for 1500 ML.