by Ranger Kidwell-Ross, editor
WorldSweeper.com

This Newsletter Wins U.S. APEX Award for Publication Excellence to Mark WorldSweeper.com's 10th Year
The WorldSweeper.com website was first launched on June 21st of 2005 thanks to the support of most all of the manufacturers in the U.S. power sweeping industry. The site's initial foundation included the 10 years of compiled and archived stories from American Sweeper magazine, which I produced in the prior decade.
At the time, as an online-only venture the site faced many uncertainties and even more potential pitfalls. Based on American Sweeper's positive track record, though, manufacturers including Allianz, Elgin, NiteHawk, TYMCO and Victory Sweepers were initial sponsors of the site. They all took a 'leap of faith' based on my previous work reporting on the power sweeping industry. Then, starting with a January/February 2006 edition, I started a quarterly e-newsletter. These remained quarterly for four years until 2010 when the newsletter transitioned to the monthly format provided today.
Through the years we've reported on virtually every major issue – and many more minor ones – that have confronted the power sweeping industry. These topics have spanned the spectrum, from new sweeper models, to environmental improvement via sweepers, to the rise of the third party vendors that now pervade the contract sweeping marketplace. During that time, I'm proud to report that we continued the unparalleled tradition of having at least one of our WorldSweeper projects chosen as the winner of a U.S. APEX Award for Publication Excellence in each year of the last decade. Eight of those have involved the WorldSweeper.com website and/or this newsletter.
Three years ago, the decision was made to branch out into developing an alternative sweeping association, as well. I'm proud to report that the World Sweeping Association today has a total membership of over 150 and, more importantly, we have a renewal rate of over 90%. Plus, we just learned that for the second consecutive year the WSA website won a national APEX Award for Publication Excellence for the depth and quality of the information on the site. In addition, we also received an APEX for this monthly WorldSweeper e-newsletter you're reading.
Thanks to everyone in the industry for your continued interest in, and support of, both of these projects. If you are one of our industry sponsors, thank you so much for the critical part you play in supporting 'Earth's Largest Power Sweeping Resource.'SM If you sell to the sweeping industry but don't yet advertise with us, please consider doing so.
Conversely, if you're a contractor I urge you to check out the many benefits of membership in WSA. And, last but not least, if you are any way involved in the power sweeping industry – as I have been since first producing the SuperVac Quarterly for the Schwarze family back in 1988 – thank you for wanting to read the 'sweeping news you can use' I've been providing for the last 27 years... and continuing.
As always, if you have any news of potential interest to the power sweeping community, please let us know. Between this publication, the WorldSweeper.com website, and the World Sweeping Association, we'll be sure to get the information passed along to interested readers.
Good Sweeping,



Editor, WorldSweeper.com
Executive Director, World Sweeping Association
PS If you haven't 'liked' our WorldSweeper Facebook page, what are you waiting for? That's where we offer industry previews and updates on an ongoing basis.


---
June Newsletter Contents
(Scroll down to read stories or click on links.)
---
How to Create a 'Culture of Safety' in Your Organization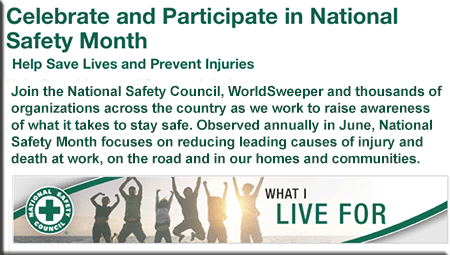 June in the U.S. is National Safety Month. Please use this as the reason to emphasize safety in your organization even more than you do today. Check out the 'Safety' category at this WorldSweeper website, as well as other resources including the article by John Meola we discuss and link below.

Axiom #1: The most important part of your Safety Program is the part that combines the employee and the job at hand... SAFELY.
Axiom #2: The more hazardous or complex the industry, the more advanced your program needs to be. (Hint: Power sweeping and related work activities are often both complex and hazardous!)

So says safety expert, John Meola, one of the top safety teachers and trainers in the United States. In commemoration of June as U.S. National Safety Month, Meola offers his take on how to develop a 'culture of safety' in a sweeping-related organization. We encourage you to read the information and then implement his many safety ideas into your company. No matter what task you or an employee are involved with, remember that safety is job #1!
---
NiteHawk Sweepers' Open House Celebrates New Location and Promotes DAV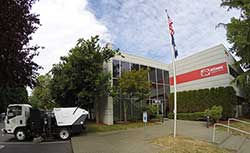 On June 11th, NiteHawk Sweepers celebrated its new, expanded location with an open house that included vendors and promoted giving to the Disabled American Veterans (DAV) organization. In line with the company's support of the DAV, the event also featured an appearance by Rear Admiral Bill Center, who retired after 35 years of active duty service. Rear Admiral Center spoke about the importance of supporting disabled American veterans and the involvement of NiteHawk with doing so.
Attendees also included two of the top members of NiteHawk's parent company, Alamo Group. Ron Robinson, Alamo Group's CEO, welcomed all to the event and discussed with enthusiasm the growth and levels of customer satisfaction that have characterized NiteHawk Sweepers since their purchase by Alamo Group.
---
WorldSweeper, World Sweeping Association, Win National Awards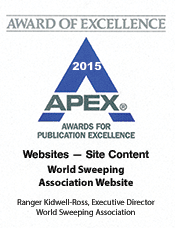 We're pleased to announce that WorldSweeper.com's editor, Ranger Kidwell-Ross, has won an APEX Award for Publication Excellence for one or more of his projects for an unprecedented 22 years in a row. In the history of this national competition, no other individual or organization in the U.S. has ever won an APEX that many consecutive years.

Two awards were received this year. One was for the WorldSweeper e-newsletter you're reading, marking the 8th year in a row the WorldSweeper.com website has won an APEX. If you are not receiving the newsletter each month, here's the link to sign up. In addition, for the second consecutive year an APEX was awarded for the quality of the extensive site content at our affiliated organizaton, the World Sweeping Association (WSA). Ranger Kidwell-Ross also serves as Executive Director of WSA.
---
Clean Streets, Clean Cities: The Water Quality Benefits of Street Sweeping
In its June issue, Stormwater magazine published an article that provides a snapshot of what several cities in the U.S. are doing in terms of sweeping programs that have the goal of helping to abate stormwater runoff pollution. Cities included in the review include San Diego; Kings Mountain, NC; Longview, TX; and, Bethlehem, PA.
The individual city reviews not only offer a view of what these different cities are doing in terms of stormwater pollution reduction via sweeping, but each has chosen a different make of sweeper for the job. These brief city overviews will provide insight as to program types chosen by the city managers, as well as why they chose the particular brand of sweeper they're using for the job. Sweeper brands reviewed include machines by Elgin, Schwarze Industries, Stewart-Amos and TYMCO.
---
Featured Contractor: APEX Maintenance has Found its Niche
After selling a successful national business, Dan Earl retired at age 35. However, within a couple of years he found himself bored. So, in 2008 Earl bought a landscaping and sweeping company because that fit his criteria as a local business where he wouldn't have to travel and could be available during the day for his young children.
Within the first year Earl made a number of changes, including selling his newest sweeper, getting out of the landscaping business and 'firing' about 60% of the clientele he'd purchased with the firm because they weren't making the company money. Now, seven years later, Earl says he's built a profitable sweeping company that is just the size he wants it, at four employees, and he has resisted all offers to make the firm larger. His analysis for this and much more offers insight in a thought-provoking interview that, among other topics, touts the rationale for staying small.
Read about APEX and listen to the podcast interview at the World Sweeping Association website.
---
Noteworthy Sweepers: Individuals Who are Making a Difference in Their Communities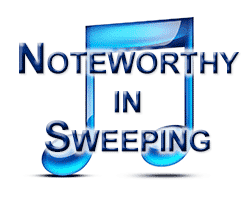 As many of you reading this would agree, the sweeping industry is one that's little known or thought of by the general populace. This new occasional feature in the WorldSweeper e-Newsletter is designed to showcase people involved in sweeping somewhere in the world who have made a positive impact in their local, regional or national arena.
In a number of countries, sweeping the streets is an industry that's considered to be a lower-echelon type of business. Yet, sweeping is an industry that's in place around the world and, within it, individuals and businesses involved in our industry are making a difference to their surroundings. This new feature from WorldSweeper is designed to document and catalog some of the outstanding efforts that are credited to some of those involved in the business of keeping our world a better, cleaner place via pavement sweeping.
---
Less Than 10 Days Left to Apply for WSA Scholarships
As previously announced, the World Sweeping Association is offering two scholarships of up to $2,000 each for academic year 2015/2016, the Carl J. Austin and Dale McCaskill, Sr. Memorial Scholarships. This marks the third year in a row that WSA has offered scholarships in the name of each of these late sweeping industry icons.
Students who are pursuing any type of higher education and who are also 'connected' to a sweeping company in some manner are eligible. These may be children of employees (but not principals) – or even current employees themselves. Each scholarship is in the amount of $1,000; however, if a winning recipient is connected to a WSA Member company the scholarship amount is doubled, to $2,000. Applications must be postmarked no later than July 1, 2015.
Get Scholarship Notice and/or Apply or Check out WSA's Scholarship Donation Link
---
Not Exactly Sweeping: Freecycle Network Needs Help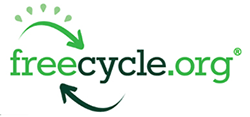 The Freecycle Network is the largest nonprofit recycling and re-use web community on the planet. Freecycle.org keeps over 32,000 items a day out of landfills and in use as a result of the efforts of over 7,000 volunteers in more than 5,000 local communities. Due to the non-profit's extensive use of volunteer labor, the organization is able to operate on a very slim budget.

By June 30th, Freecycle is challenged to have to raise at least 10% of its annual donations from the public in order to not lose its charitable status due to IRS regulations on the percentage of donations that come from that source. If this is the type of organization you would like to support, now is the time to give a couple bucks to the cause to keep the organization's momentum rolling into its new fiscal year. Click on this link or on the 'donate' graphic to make a tax-deductible donation. Your donation of any size will go directly toward keeping over a thousand tons a day out of landfills, each and every day.